Here's the source link, from http://www.slovakcooking.com" rel="nofollow - http://www.slovakcooking.com

http://www.slovakcooking.com/2010/recipes/sausages/" rel="nofollow - http://www.slovakcooking.com/2010/recipes/sausages/
4 lbs pork, black pepper, 2 cloves garlic, paprika (sweet red pepper), red pepper, salt, pork intestines or sausage casings
Grind the meat, 4 lbs pork
Then add about 2 cloves of crushed garlic (postrúhaný cesnak, too much garlic will make your burp!),
two teaspoons of ground black pepper (mleté c(ierne korenie),
about 1.5 teaspoons of salt (sol(),
a small teaspoon of caraway (rasca),
about 4 teaspoons of paprika (sladká paprika),
and another teaspoon of crushed spicy red pepper (štipl(avá paprika, if you like it hot).
Mix together. Then remove the blades and the exit grid, and replace with a feeder tube.
Stuff and link.
Place sausages on a wooden stick and then off with them to the smokehouse.
(this is the traditional way):
You take lavór – round wash basin – and make fire in it using wood and saw dust (piliny). You then put a metal sheet, like the kind used for roofing, over it, leaving only few small holes for the smoke to escape. This goes into a wooden outhouse-like structure. Hang the sausages at least 3 meters (10 feet) above the flame. This is very important, if you placed them lower, they would cook or burn. You leave them in here like this for 3 to 3.5 days, making sure the fire keeps burning and making smoke.
NOTE; I added the appropriate amount of cure #1! Not in the recipe.

I just used my cold smoker and the AMPS!
I had to substitute anise for caraway, but I have some now!:thumb: Next time, and there will be!
Mezz in Plaze!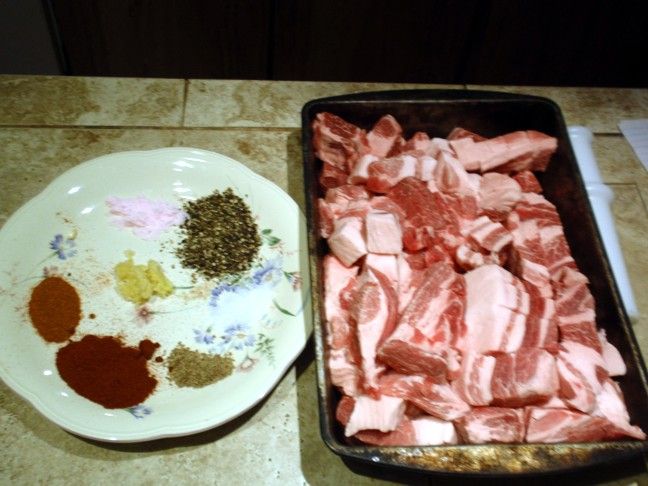 All stuffed an ready for the cold smoker.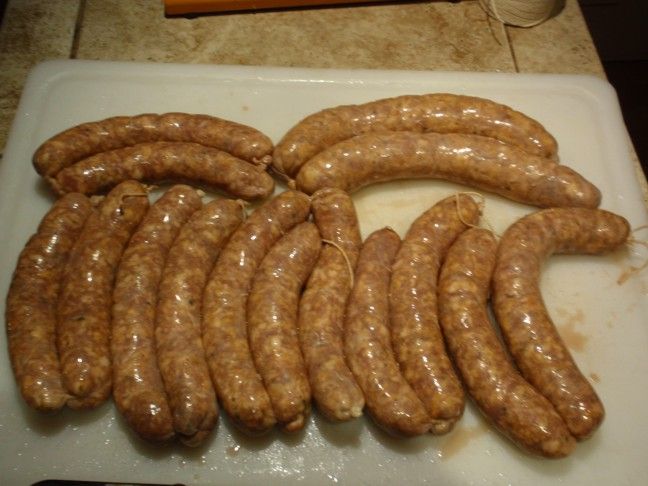 Gotta do a test cook!!! This is not smoked yet, jest a test.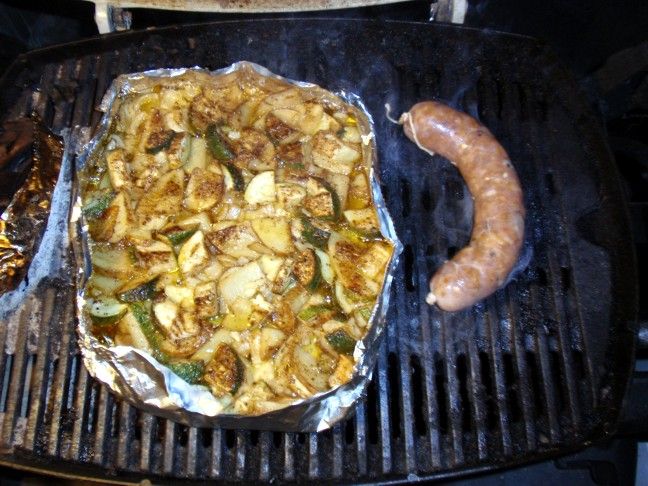 Onna plate, UmMmMM GuuD!
An into the cold smoker.
The AMPS at work.
I should mention that I put these in the dry curing chamber for a day to "dry" a bit.
All smoked up an ready fer de cookin! For those that do not know, this is a "fresh" sausage, and requires full cooking (165°) for eatin.
The start of the REAL test!!
Taters a boilin.
All inna de pool!
An onna plate!!!!
GuuD Chit!