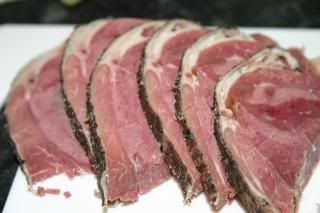 Mutton Ham
This classic kiwi favourite is something really from yesteryear. Not only is it a dish rarely home made these days, but also rarely seen, full stop. It is a
quick and easy
way to turn a leg of mutton into something special.
Interestingly the use of a different name for the cooked meat of an animal beef for cows, pork for pig etc came from the Norman conquest of England in 1066. Prior to that name of the live animal was used; roast pig, cow etc
Mutton is the name given to the meat from the sheep that is more than two years old, hogget (a Scottish term) is up to two years and lamb is up to one year old.
Mutton ham is cured like one would a ham. Mutton ham is a wonderful alternative to the usual 'pig ham' and can be easily and safely be made at home.
Serve it as you would a hot 'pig ham' or chill it, slice it and use as you would for cold 'pig ham'.
Ingredients
1 leg of mutton

150gm brown sugar

1tbs ground ginger

1tbs ground cloves

1tbs ground mace

1tbs white pepper

150gm sea salt flakes
To cure the 'ham'
Combine all then spices with the sugar

Place the mutton leg in a roasting tray and rub the sugar cure into well and evenly

Allow to stand for 2 hours and then rub in the salt

Place, covered in a cool dark place (preferably not the refrigerator; but it must be no higher than 6ºC) for 6 days, turning the mutton twice a day and rubbing in any of the cure that has dropped off. The cure may become liquefied and this is normal, just spoon it back over the mutton and rub it back in

After 6 days, soak the mutton leg in water for two hours (less if you like a more salty ham) prior to cooking
To cook the 'ham'
Place into a large pot, cover with water and add some parsley stalks, rosemary, thyme, cracked peppercorns, a bayleaf and a little honey

Simmer slowly for approx. 45 minutes per kilo or until tender


-------------
Resident Peasant