Pozole

Printed From: Foods of the World Forum
Category: Latin America
Forum Name: Mexico and Central America
Forum Discription: Mexico and Central America
URL: http://foodsoftheworld.ActiveBoards.net/forum_posts.asp?TID=4418
Printed Date: 07 March 2021 at 08:01


Topic: Pozole
---
Posted By: gracoman
Subject: Pozole
Date Posted: 25 May 2015 at 14:03
---
Pozole is a dish with a rather disturbing history of ritualistic significance

The following paragraph is from Wikipedia:
Since maize was a sacred plant for the Aztecs and other inhabitants of Mesoamerica, pozole was made to be consumed on special occasions. The conjunction of maize (usually whole hominy kernels) and meat in a single dish is of particular interest to scholars because the ancient Americans believed the gods made humans out of masa (cornmeal dough). According to research by the National Institute of Anthropology and History and the Universidad Nacional Autónoma de México, on these special occasions, the meat used in the pozole was human. After the prisoners were killed by having their hearts torn out in a ritual sacrifice, the rest of the body was chopped and cooked with maize. The meal was shared among the whole community as an act of religious communion. After the Conquest, when cannibalism was banned, pork became the staple meat as it "tasted very similar", according to a Spanish priest.

The following is from What's4eats.com:
These days, Pozole is a special occasion dish in Mexico, especially in Guerrero State. Restaurants called pozolerías specialize in it. This dish is a well known cure for hangovers and is often eaten in the wee hours of the morning as a preventive. Pozole is also popular in New Mexico, where it is usually spelled posole.

The word pozole is Nahuatl in origin and means "foam," as the Aztecs believed hominy resembled a foamy froth.

Pozole Variations

Pozole Blanco (White pozole): Pozole varies according to region, but the above recipe is the most basic and is known as pozole blanco. It is popular in Guadalajara.

Pozole Rojo (Red pozole): Red pozole is popular in Michoacán and Jalisco States. It is the same as the above recipe, but dried chiles are added. Remove the stems and seeds from 3 to 5 ancho or guajillo chiles. Mix them with a little of the hot liquid from the stewpot and soak for 20 to 30 minutes until soft. Puree in a blender and strain through a sieve into the stew for the last 30 to 45 minutes of cooking.

Pozole Verde (Green pozole): Popular in Guerrero State. Follow the above recipe. Toast 1 cup of shelled pumpkin seeds (pepitas), and then puree the seeds in a blender with 1 to 2 cups of canned or fresh cooked tomatillos, a chopped jalapeño, a couple of leaves of lettuce, a few sprigs of chopped cilantro and a little liquid from the stewpot. Strain through a sieve into a hot skillet and boil rapidly for about 5 minutes to cook down a little. Stir into the stew for the last 20 to 30 minutes of simmering.

Pozole with Chicken: Many recipes call for a mixture of chicken and pork. First simmer a whole chicken until the meat is tender. Remove the chicken, cool, remove the meat from its bones and shred. Set the chicken meat aside and continue with the above recipe, adding the pork to the chicken broth you just made. Add the shredded chicken back in to the pozole along with the shredded pork.

Large batches of pozole are often made for special occasions, and the addition of a pig's head and pig's feet add immeasurably to both the flavor and texture of the final dish.

Sometimes a raw egg is stirred into the stew just before serving.

The recipe I use:

Smokey Luv's Pozole
My favorite leftover smoked pork recipe...
Pozole – Kevman's

Ingredients:
• 3 lbs smoked pulled or chopped pork shoulder
• 2 tablespoon cumin powder
• 2 onion, chopped
• 4 garlic cloves, minced
• 1⁄4 cup oil
• 1 teaspoon black pepper
• 1 teaspoon cayenne
• 1⁄4 cup chili powder
• 2 tablespoon salt
• 1⁄2 teaspoon oregano
• 2 quarts (almost 3 cans) canned white hominy, drained and rinsed
• 2 1⁄2 quarts (80 oz) chicken broth
• 2 cups canned diced green chilis
• 4 whole fresh jalapenos, chopped
• 4 garlic cloves, peeled

Garnish
• Splash of fresh lime juice
• Napa Cabbage, shredded
• Corn tortilla chips
• Fresh cilantro, chopped (garnish, optional)
• Radishes, sliced thin (garnish, optional)

Directions:
In a large stock pot, sauté the chopped onion and minced garlic in oil until translucent. Add the remaining spices, stir for a minute. Add the pork, and then stir in the canned hominy, chicken broth, green chilies, jalapenos, and whole garlic.

Cook at a simmer, covered, for 2 hours until the meat and hominy are tender, and the chilies and onions are well blended into the broth.
Degrease the stew, taste for salt, and serve in soup bowls with garnishes on the side.

I hope you all try this. It is spicy and delicious. You may, of course, vary the spiciness to taste.

http://s1293.photobucket.com/user/gracoman/media/SmokeyLuvsPozole_zpsa2c1b7dc.jpg.html">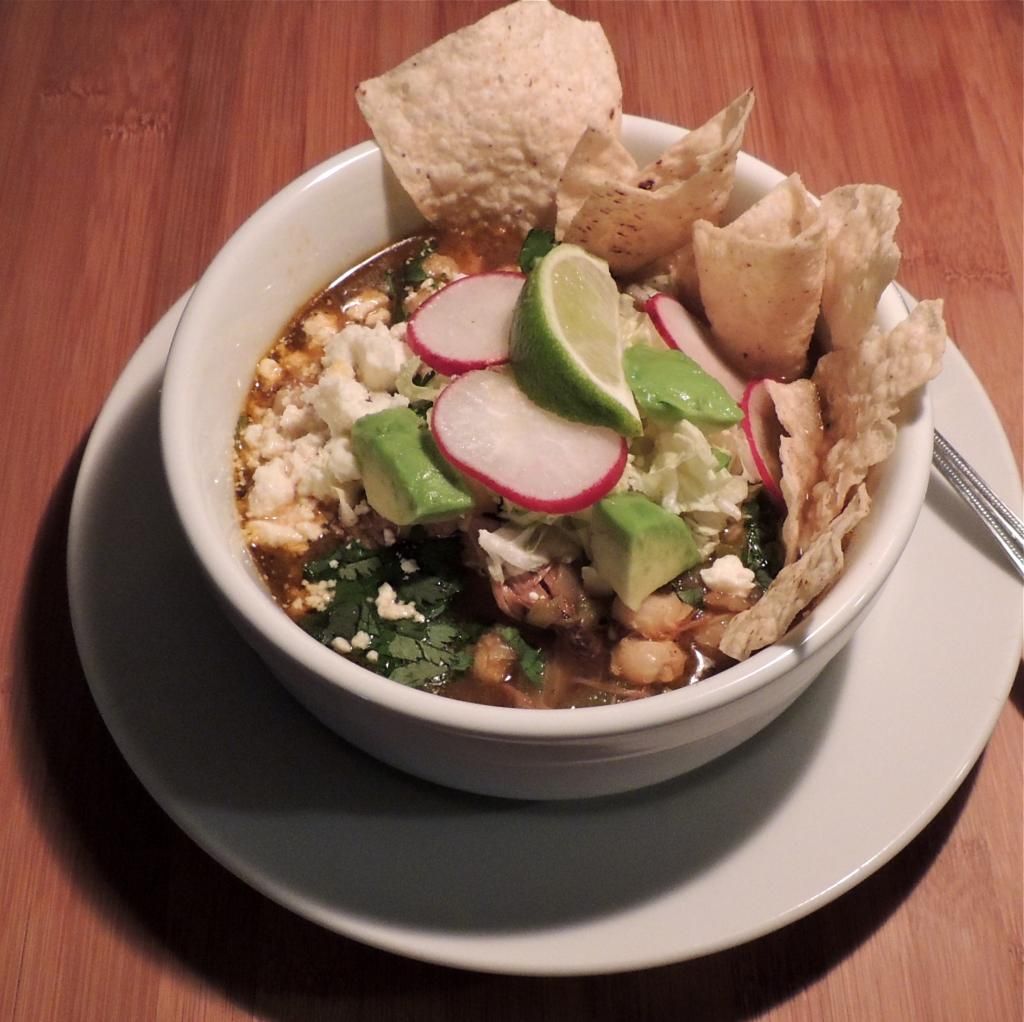 ---
Replies:
---
Posted By: drinks
Date Posted: 25 May 2015 at 14:39
---
Why does this sound as though it is a variation of menudo?
I have eaten a bunch of menudo and enjoy fixing it.
My wife will eat it IF I strain out all the chopped stomach pieces.
I do not like the optional pig's feet some use, really do not like the lard and the bunch of bones from that.
---
Posted By: gracoman
Date Posted: 25 May 2015 at 15:21
---
Given its ancient history, menudo might be a variation on pozole but quite a large one. They are both soups. I'll give you that.

From WiseGeek:
The foundation of all pozole recipes is hominy or nixtamal, dried corn that is treated with an alkali like lime. The corn is traditionally soaked in water and lime to loosen the outer shell and germ, and then it is repeatedly rinsed and ground to varying degrees of fineness, depending on the intended use. This process frees up useful vitamins and minerals in the corn so that they can be digested, and it is has been practiced in Latin America for thousands of years by native people.

I believe the word pozole is interchangeable with hominy as dried corn is sold labeled pozole. This ingredient is not part of menudo.

Both pozole and menudo are prized as hangover cures. I suppose there may be a relationship there
---
Posted By: drinks
Date Posted: 25 May 2015 at 21:25
---
Menudo is SUPPOSED to cure a hangover. or at least make it bearable.
The reason it is ready in most Mexican restaurants along the border on Sunday morning.
The Italian polenta ,which is just cooked cornmeal is nothing like pozole/menudo.
Menudo is made with one of the cow's stomachs, I do not recall the specific one now, I think it is the honeycomb one.
I do like it.
---
Posted By: HistoricFoodie
Date Posted: 26 May 2015 at 05:41
---
Although there is a similarity of ingredients, the two soups are not remotely alike.

Pozole is, essentially, a corn (hominy) and pork soup, heavy on the corn.

Menudo is a tripe soup that also contains corn feet), but not even close to the proportion of pozole. Tripe is the first or second stomach of a cow, ox, or sheep.

Any confusion between the two probably comes from the use of the word "pozole" as a synonym for "hominy." Thus, because recipes for menudo call for pozole, it could be confused with the soup called pozole. But they're really quite different.

-------------
But we hae meat and we can eat
And sae the Lord be thanket
---