Squash in sour cream sauce

Zucchini is just about the easiest thing a gardener can grow, and quite prolific. So prolific in fact that by now everybody has had enough to the point where gardeners cant even give it away. That's fine with me, I'll take all ya got, even those great big ones that hid from you and are now two feet long and nine inches thick!

Here's a few somebody just had to get rid of.
I use a potato peeler to skin them and a spoon to gut them.
I suppose a box grater can be used to shoestring them but I love the way my Cuisinart gets the job done.
I salt it liberally and let it sit for half an hour.
Meanwhile, I chop up a medium onion and fry it in bacon fat (You knew it was gonna be bacon fat
) until it's clear.
After the half hour I take up a double handful of the squash and squeeze the water out. I put lots of gorilla on it and tons of water come pouring out (The best explanation is that I want to be cooking fiber, not water).
After squeezing out the water I put the squash into my saucepan and add a couple of tablespoons of flour and a half teaspoon of white vinegar, and then toss it until the flour is well incorporated.
I add a couple of Tablespoons of bacon fat and put it over a low/medium flame. The point here is to fry the squash till it wilts.
The squash has gone limp and now I've added the onion and a bit of clean water. How much water depends on how much squash I have. Not ankle deep, but not over it's head either. Just waist deep will be fine and it'll turn into a nice creamy sauce without being too thin.
After simmering it for another three or four minutes I turn off the flame and let it cool a bit. When it becomes warm, but not hot, I add 1/2 cup of sour cream and then bring it back to simmering. The heat will break down the acid in the sour cream and in just three or four minutes I'll be left with a creamy sauce!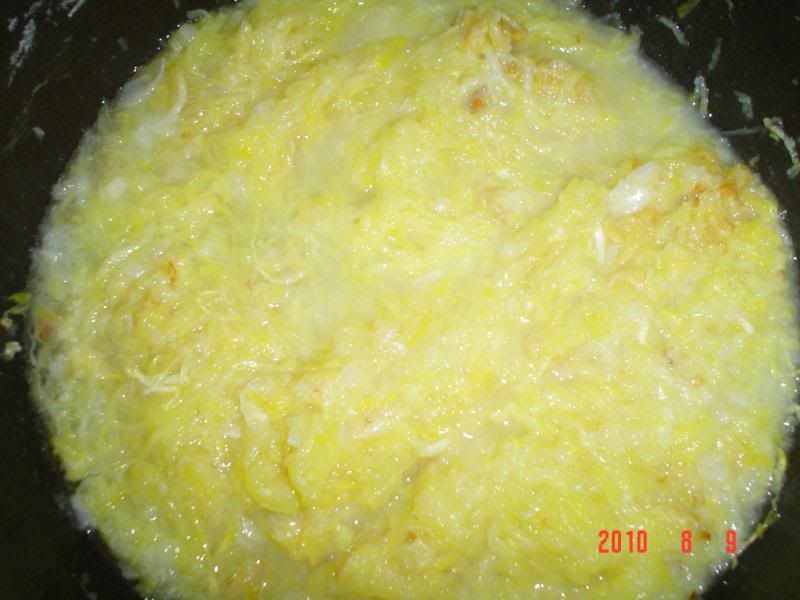 Off the stove, into a serving dish, and looky here I've added two Tablespoons of finely chopped fresh dill!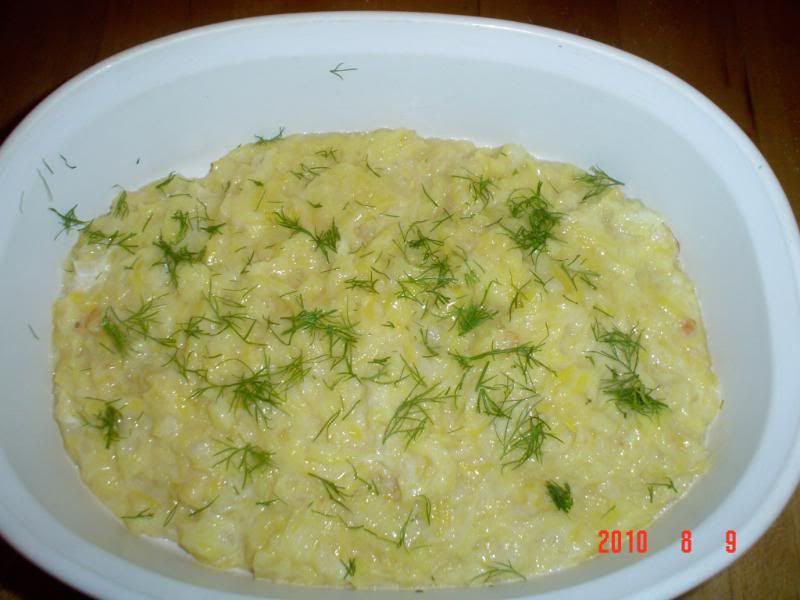 Hey, this isnt bad at all next to a grilled pork chop!
Not Shown; My apologies for not taking pics of the fresh tomato salad I made earlier in the day. By the time I finished preparing the main course I had put the camera away.
Consistency; Note how the squash kind of squatted when I put it on the plate but didnt actually run.
Pro Tip; Never ever give your neighbor this recipe. If you do, he wont have any extra squash to be giving you.