QUESADILLAS A LA VERACRUZ
(Veracruz Style Quesadillas)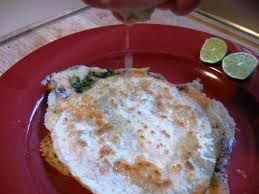 Veracruz, is a huge port city in the "center-curve" of Mexico on the Gulf Of Mexico Side. A large, very old city located on some of the nicest coastal areas of Mexico's gulf, it was the very first landing place that Hernan Cortez and his men made on the Aztec Empire. The rest is history.
Because of its perfect location, Veracruz became, and is, a huge bustling port city; a major site for Mexico along the lines of Los Angeles and Norfolk, to us here in the United States.
In addition to the shipping, Veracruz is located in prime, beautiful Gulf waters teeming with fish. Long before Cortez arrived, Veracruzian seafood made its way to the Aztec capital every day.
Veracruz has been and still is, a prime Mexican vacation destination, especially for those folks who want to eat seafood. Hotels, Spa's, and retreats have been part of Veracruz's history for as long as there has been a vacationing class of people. There is no shortage of help, cooks, nor service, in Mexico. Veracruz was a major destination for those with lots of money, and from the 1910's through the 1950's palacial resorts were built and run; First class hotels catered the fresh sea, its fresh food and clean comfort to those who could afford it.
Because of its coastal location, because of its reputation, the word "Veracruz" became synonymous with good seafood.
Quesadillas A La Veracruz are my dad's invention as far as I can tell. Who knows. He may have well stolen this idea from a hotelier in the mid 1950's; that would not be unusual for my dad.
The idea of a typical quesadilla, but taken to the next level, to be filled with sardines (of all things) is all my dad. If it had been tuna fish, or even some grilled fish, I would have dug in my boots and said, no; someone else invented this puppy. With sardines, I know my dad had his finger in this pie.
Sardines have that ubiquitous signature of my father. Nothing wrong with that, in fact, all great~ He is the poster child for the "tinned-fish" conglomerate.
Anyway, when we were living in Mexico, and having our "guy's weekends" my dad invented this. We all loved quesadillas, mind you, but they are traditionally a single fried corn tortilla filled with cheese, folded over, and very greasy. My dad didn't want all that oily stuff, so he invented the "dry quesadilla", meaning one made in a saucepan with a light coating of oil only, and not floating in a bubbling half inch of fat, and as an additional measure of convenience, he didn't even fold the quesadilla over in half- he just added another tortilla on top! That's my dad...... As soon as that baby started to turn brown, he flipped it over and "voila!" a toasted quesadilla that only needed to sit long enough for the other side to brown as well.
So in a further developement of this, any leftover "sardinas en escabeche" (meaning sardines in hot jardineria, which he loved even more than those packed in tomato sauce) he decided to add into to his quesadillas. These being so tasty, so SEAFOODY, they immediately became christened as VERACRUZ STYLE quesadillas, in honor of the seafood city of Veracruz. I loved them like crazy, my sisters not so much. I didn't care; I couldn't get enough of them.
We always ate sardines on weekends with my dad, so there were a lot to be had.
So, in keeping with family history I present Quesadillas A La Veracruz....get some flour tortillas, cheese, sardines, limes, cilantro and some other goodies if you like, and give this a try!
Any melty-type cheese is good, pepper jack is great cause it has some peppers in it. Mozz works, whatever you like. Unfortunately, Mexican queso fresco is not good since it does not melt well at all. Since I don't have the spicy sardines in "escabeche" I added one sliced serrano pepper.
First, spray a pan with cooking spray and turn heat to medium. Yep my dad's recipe pre-dated PAM, but he used to just rub a stainless saucepan wiith peanut or corn oil (with a paper napkin) instead of the lard from the Maxwell House can on top of the stove...it was still good.
Put the cheese on the tortilla, followed by the sardines and a slight sprinkling of cilantro until the cheese starts to melt....
Once the cheese starts melting and bubbling, add a bit of chopped serrano or whatever pepper you want, and then top with more cheese. In this case I used a couple slices of swiss, and the cover with the other tortilla.
Once this is all melty, take a spatula and turn the whole pie over, and let the other side brown too. When done, about 5 minutes max, take out of pan and squeeze fresh lime juice over it.
Once this is done, slice up and eat! No better seafood taste, so fresh, so clean, and so.....good! The tinned sardine flavour rides back into history and ends up tasting like fresh caught fish!