Rabo de Toro de Puente de la Reina
Oxtail from the Village of the Queen's Bridge in Navarre
At the Foods of the World Forum, our unofficial "Ambassador to Spain," Margi, provided a great description of the Iberian region of Navarre:
Margi wrote:

In the ancient kingdom of Navarre, there is a lot to discover: valleys chock-full of Bidasoa trees, Roncesvalles and the Irati Forest, similar to the northern California national protected forests; Roncal, where Roncal cheese has been produced since the Roman times; charming medieval valleys such as Estella, Sangüesa or Ujue; farmlands as emerald as Ireland; cardoon-, asparagus- and artichoke-dotted fields, and the artistic wonders of the museums, castles, monasteries, wine estates and olive trees.

The renowned city of Pamplona is the capital, made famous by the American writer, Ernest Hemingway, in The Sun Also Rises (also the film, starring Tyrone Power and Eva Gardner), and the yearly celebration held on July 6th - the festival day of San Fermín - called The Running of the Bulls. The Museum of Navarre is located in the ancient hospital, Nuestro Señora de La Misericordia; it is in the historic district and is built into the ancient fortress walls of the city. The Museum's assets include a permanent collection laden with historical art, from prehistoric to modern times. The Museo Catedralicio Diocesano hosts religious artwork including Romanic and Gothic 14th century pieces, paintings and documents dating back to the 9th and 10th Centuries.

This region is on the crossroads of the Santiago Way, the Jacobean Route. The unforgettable Inn that we stayed at, El Peregrino (The Pilgrim), is a small country hotel owned by Gabriel Stivalo and his wife Nina Sedano. The Inn is located in the village of Puente de La Reina, the Queen´s Bridge. This village houses a Romanic Church called Santa Maria de Eunate. There are 7 double rooms and 5 suites with internet access and a restaurant on the premises, which is positioned 15 to 18 kilometres from Pamplona City, enroute to Logroño, with La Rioja going west.

To digress to the key subject, gastronomy: this is beef-grazing turf, and spiced, braised oxtail is one of the most important dishes of this region. Embellished for centuries with folklore and traditional customs, this dish is slowly simmered in classic style.
I had made a similar oxtail dish before, using a slightly-different recipe that is ubiquitous to the region:
http://foodsoftheworld.activeboards.net/rabos-de-toro-san-fermn_topic2499.html
I also had made a very similar stew before, called
Estofado de Carne Toro
, that is traditional during the Festival of San Fermín:
http://foodsoftheworld.activeboards.net/estofado-de-carne-de-toro_topic666.html
It is only natural that - sooner or later - I would try this oxtail dish that Margi spoke so highly of, which melds both ideas; so, on 6 July 2013, I gave this a try, as people of Pamplona celebrated half a world away….
Here is the recipe:
Rabo de Toro de Puente de la Reina

Oxtail from the Village of the Queen's Bridge in Navarre

Ingredients:

3 oxtails (or beef tails), sliced into their natural sections
1 teaspoon salt
Freshly-ground black pepper
1/4 cup olive oil
4 ounces of Iberian Ham (substitute with Prosciutto di Parma), sliced finely into viruta strips
1 large onion, minced
2 cloves of garlic, minced
1 leek, white section only, diced finely
1 carrot, peeled and diced finely
2 pounds fresh juicy over ripe red tomatoes, peeled, skinned and minced
1 tablespoon Pimentón de La Vera Dulce
1 dried red tiny chili pepper (guindilla), or red chili pepper flakes in an equivalent amount
1 cinnamon stick, or 1 tsp. ground cinnamon
1/2 teaspoon ground, crushed black peppercorns
3 cloves
1 bay leaf
1 bottle Red Navarran or La Rioja Wine
Beef stock or broth, as needed

Optional - for the marinade:

Zest of 1 large orange and 2 lemons
A few peppercorns
Salt (about 1 teaspoon)
Cloves (4 or 5)
1 cinnamon stick


Preparation:

Optional: After the oxtails or beef tails are rinsed and patted dry, give them a bath for up to 2 hours in a marinade consisting of the red wine along with the zest from a large orange and two lemons, a few peppercorns, a teaspoon or so of salt, a few cloves and a cinnamon stick. When preparing the meal, strain and reserve the wine in order to use it as the braising liquid.

Season and dust the oxtails with salt, pepper and flour. Heat some olive oil in a heavy cazuela or Dutch-style oven. Sauté the oxtails until golden on both sides, then remove and tent under foil to keep warm.

Add the ham, onion, garlic, leek and carrot to the Dutch oven and gently cook until all of the vegetables soften, deglasing if necessary with a little of the wine. Be sure to caramelize the vegetables a bit; however, do not brown them. Add the tomatoes and spices, bay leaf and the red wine; let it all cook down until the tomato becomes a salsa .

Return the oxtail to the cazuela or Dutch oven and add enough beef stock, if necessary, to submerge the oxtails in the sauce. Cover and simmer on a very low, slow flame (fuego lento). The meat should simmer very slowly for approximately 2.5 to 3 hours - check it from time-to-time; it will be finished when the rabos are melt-in-your-mouth tender and the sauce is rich and thick.

Serve with hot, crusty, rustic bread and the same variety red wine that you have cooked the oxtails with.

Note - mashed or steak-fried potatoes are traditionally served as a side for this dish.
Following is my preparation of this dish on 6 July 2013, which I enjoyed very much. I found it to be very easy to prepare, when one pay attention to
mise en place
, and I ran into no unexpected pitfalls. The aroma was complex, exotic, and brought forth images of empty, dusty village streets as the sounds of cheers come from
la plaza de toros
...and it tastes even better. This dish is traditionally served in the warm months of the year, during the Festival of San Isidro Labrador (May 15th) and the Festival of San Fermín, which begins on July 6th; however, I believe that it would certainly be good any time; so if you like what you see, give it a try!
Because we have four children and my dad will often show up for supper on the weekends to see what is cooking, I made about a recipe-and-a-half. The oxtails that I used were beautiful
rabos
from locally-raised beef, including some from our family herd: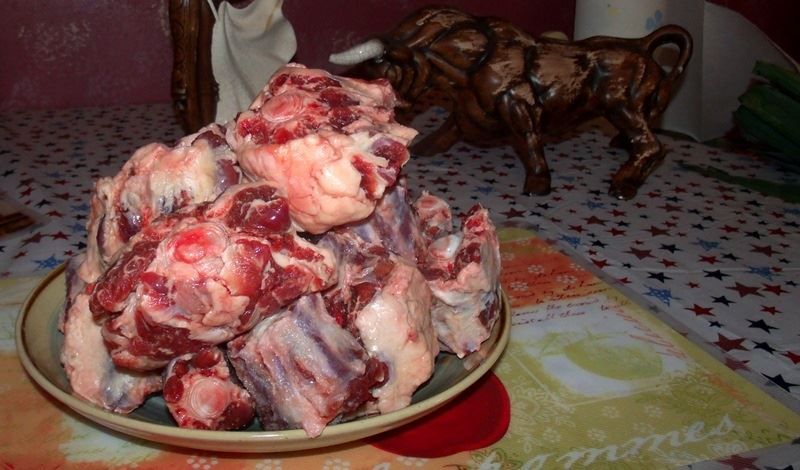 It looks like quite a bit, but keep in mind that there are different sizes of tail sections, and each has a bone in them. You will most likely need more than you think you do.
These oxtails seemed to be of much, much higher quality than the junk that I got from WalMart the first time that I prepared oxtail; these seemed much more meaty and were not completely covered with the thick layer of spongy fat that plagued my previous effort. Even better, the ones that I did purchase (not from the family herd) were only 3.00$ each, compared to the 10.50$ that I paid at WalMart; a huge difference, making this a very cost-effective meal, indeed.
The Beautiful Mrs. Tas - bless her soul - is not overly-fond of oxtail, so I did add some chunks of beef to the mix for her and anyone else who might be less-than-adventurous:
I am pretty sure that this beef was cut from a chuck roast, but it has been a while, so don't hold me to that; I do remember that this was also from our own family beef. In any case, if you have trouble finding good oxtails, any stewing beef would almost as well; I would suggest chuck or short ribs, but the cost will probably go up. If you have oxtails available to you, you would be doing yourself a favour on many levels by using them.
To begin: following the advice of Marji's butcher in Spain, Joaquin, I gave the
rabos
a bath in the red wine before flouring and browning them. The marinade consisted of the zest from a large orange and two lemons, a few peppercorns, a teaspoon or so of salt, a few cloves and a cinnamon stick, all added to the bottle of wine: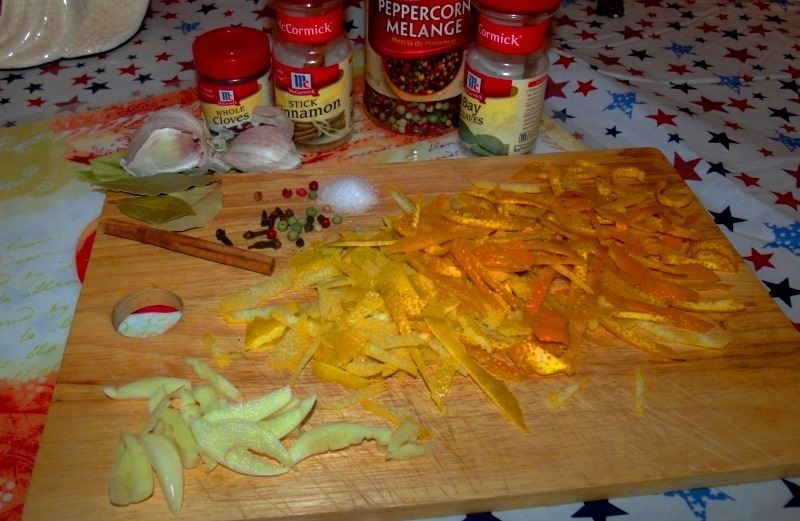 The result was very fragrant, and I would declare that Joaquin is a genius for this advice; his marinade is a wonderful enhancement to the dish that provides much ambience and depth: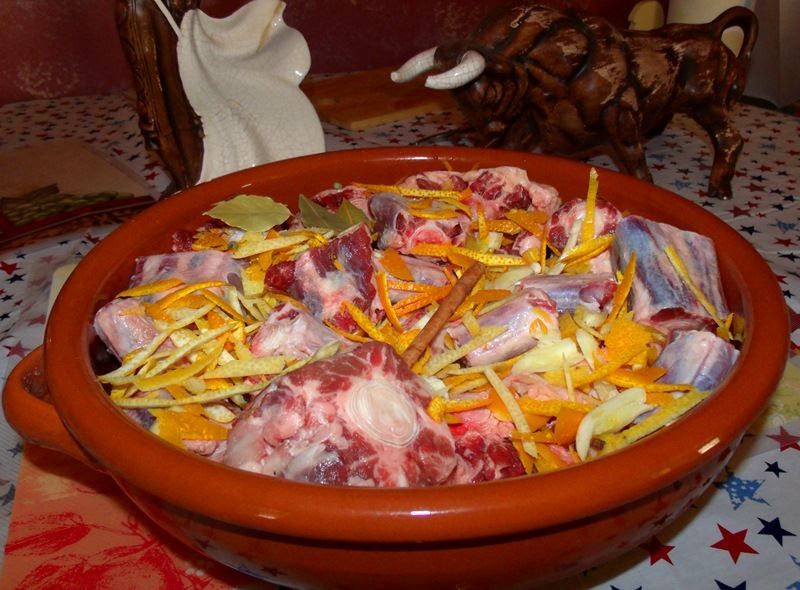 Here, my youngest son, Roger, mixed the beef around in order get it completely covered by the marinade: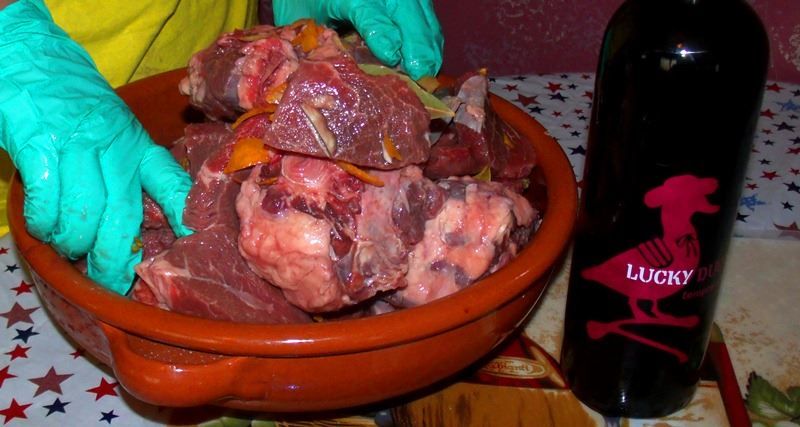 In spite of the photo above, I did make a substitution where the wine was concerned; I used a Cabernet Sauvignon for the marinade and braising liquid, and saved my Spanish Tempranillo for the meal itself. The recipe advises using the same variety of wine for both, but I only had one bottle of the Tempranillo, so I made a judgement call.
The oxtails marinated for 2 hours; the marinade was then strained and reserved in order to be used as the braising liquid.
While the oxtails marinated, I turned my attention to
mise en place
. There is no Iberian ham available to us in our area; however, by some miracle, we do see prosciutto from time-to-time, and I was able to use this Italian ham for my preparation:
The prep-work here was very easy; I simply sliced the prosciutto into thin strips:
Next, I diced the onion, leek and carrot:
...and then minced the garlic: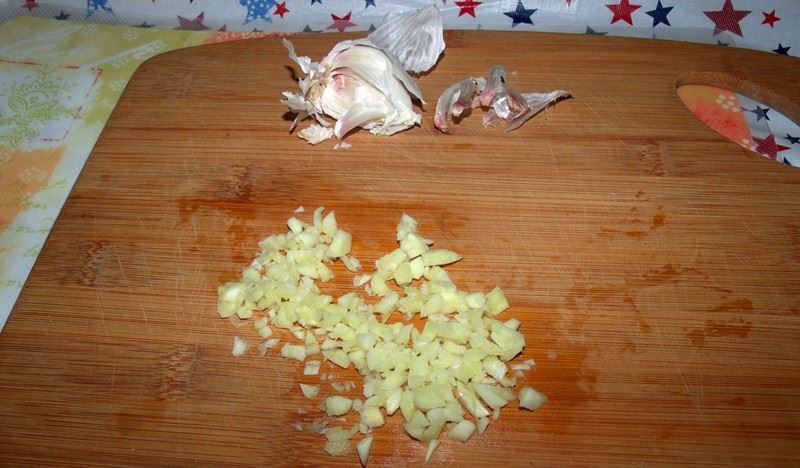 After that, I gathered the salt, black pepper,
Pimentón de La Vera
, cloves, bay leaves, a dried, hot chile and a cinnamon stick:
For this dish, I had some really nice, vine-ripened tomatoes: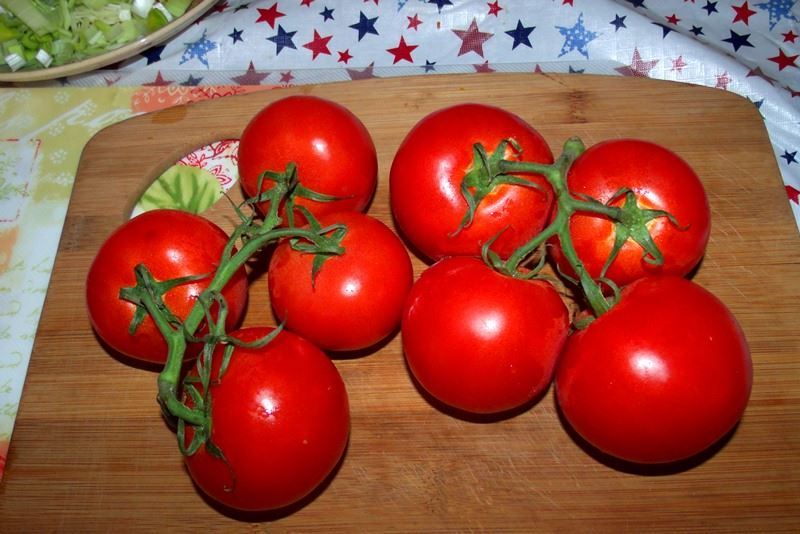 This recipe calls for the tomatoes to be skinned; first, I removed the stems and cut a small cross-hatch on top of each tomato:
I then dipped them in boiling water for a few seconds before peeling and dicing them:
With the prep work finished, I turned my attention to the oxtails. First, I removed them from Joaquin's marinade, then strained and reserved it for use as a braising liquid; next, I began heating some olive oil in my cast-iron Dutch oven while I seasoned the oxtails with salt, pepper and some
Pimentón de La Vera
: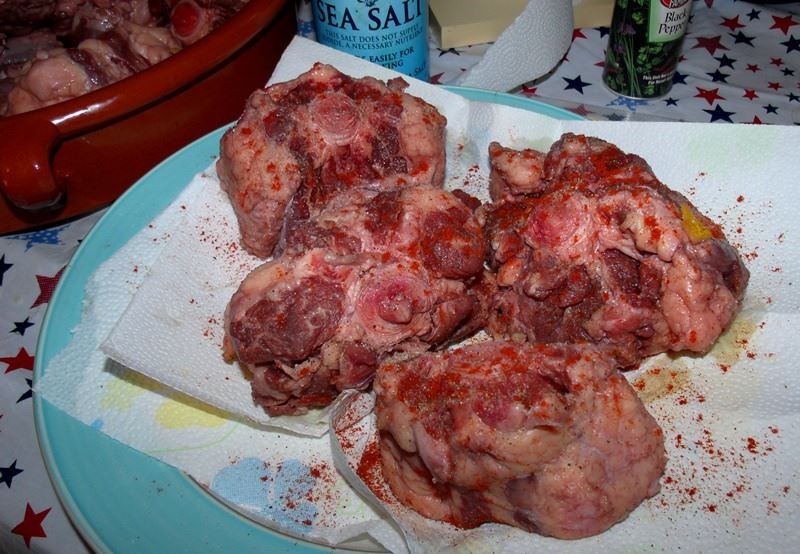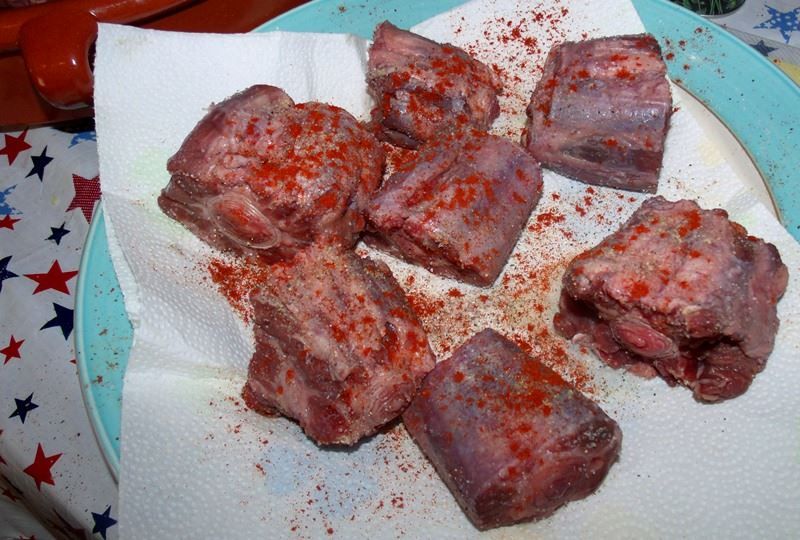 I then dusted the
rabos
with flour: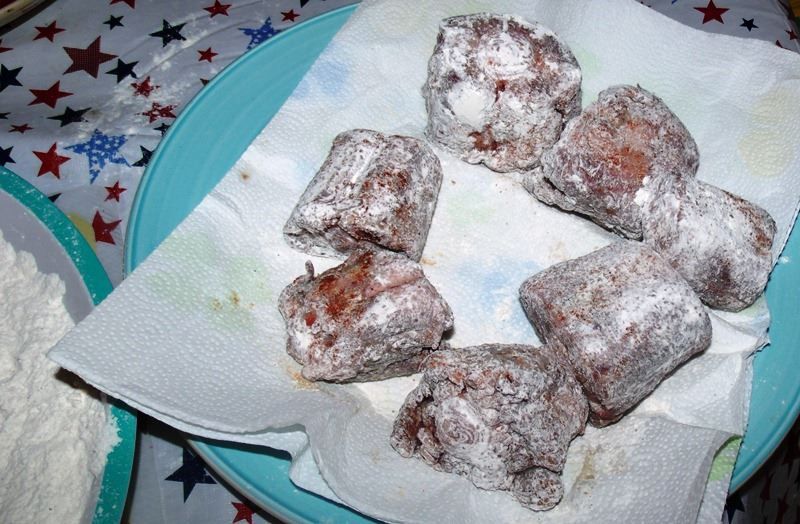 By now, the olive oil was good and hot, so I browned the oxtails in the Dutch oven, a batch at a time: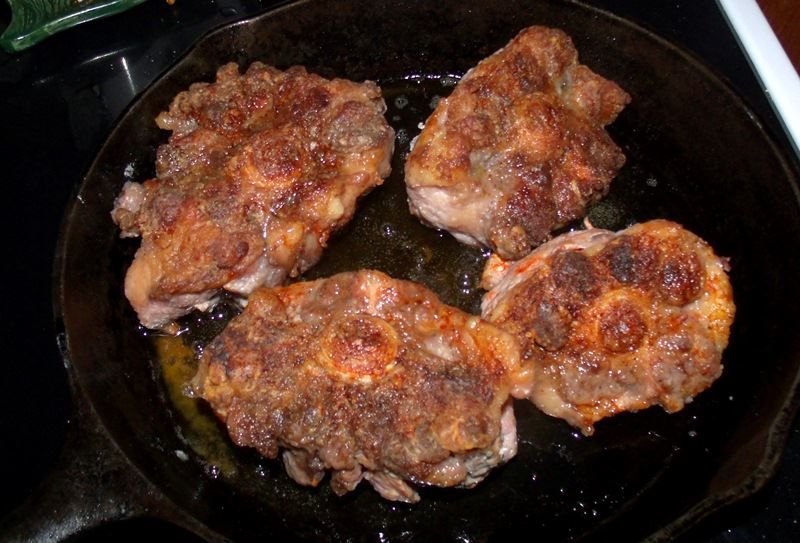 The trick here is to give the meat plenty of room for browning and crust formation: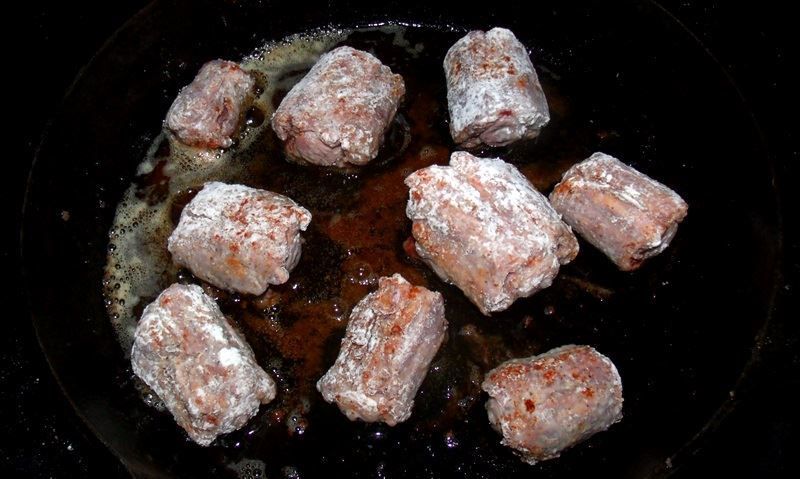 As each batch was browned, I kept the oxtails warm in the oven:
Of course, I gave the same treatment to the chunks of chuck roast:
As you can see, the use of the cast iron really provided some nice browning!
Once all of the beef had been browned, I switched to my 6.5-quart Tramontina enameled cast-iron Dutch oven, heated a little olive oil in it, and began the next steps.
First, I added the prosciutto, onion, garlic, leek and carrot to the Dutch oven:
The idea here is to briefly sauté these ingredients without cooking or browning them too much: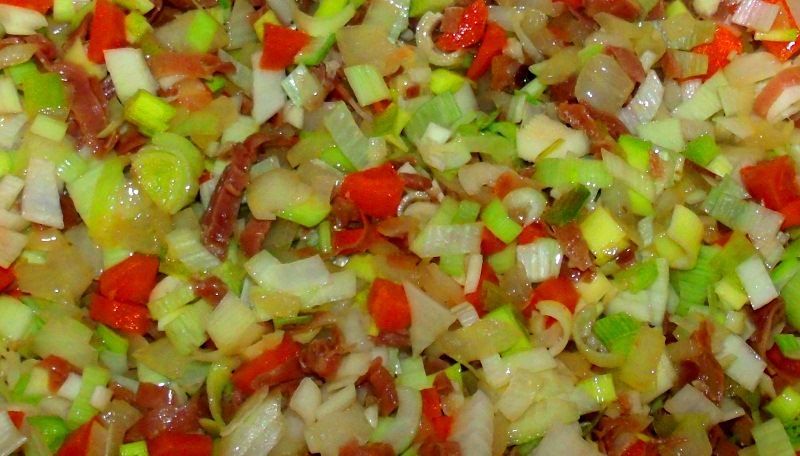 A few moments after taking the photo above, I added the tomatoes and, stirring occasionally, simmered them down to a thick chunky sauce:
I then added the spices:
...and the reserved wine: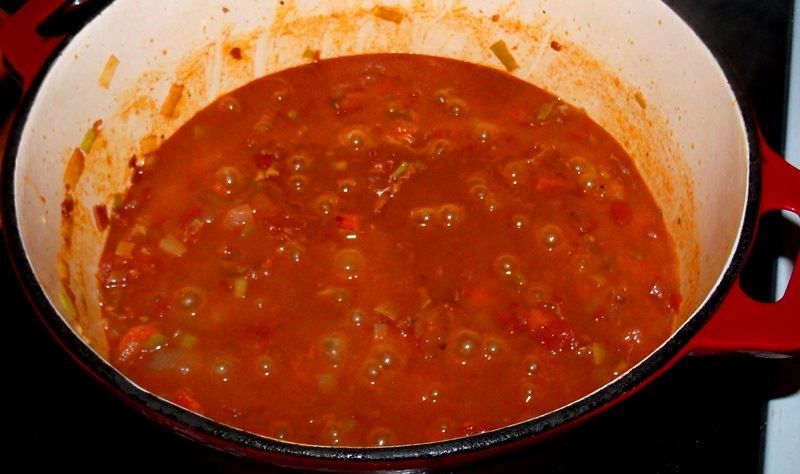 After that, I added the cloves, dried chile pepper, cinnamon stick and bay leaves:
The bay leaves were small, and I like what they add to a dish, so I used a little more than called for.
Ground cinnamon is completely acceptable when preparing this dish, so if you do not have any cinnamon sticks, that is no problem. Be sure to use the best quality cinnamon that is practical for you; I recently ordered some very nice Vietnamese ground cinnamon, with an aroma that is truly amazing, and I plan to use it the next time I prepare this dish, which might be as soon as next week.
Finally, I added the
rabos
and chunks of chuck roast, which filled my Dutch oven almost to the brim. After stirring and mixing everything thoroughly, I covered the Dutch oven with its heavy lid and put it into the oven at 250 degrees for about 3 hours. This long, slow method of cooking is called
fuego lento
in Spanish, and it produces wonderful results with cuts of meat that would otherwise be deemed too "tough" for most cooking. The extended time at lower temperatures allows the connective tissues in the meat to break down and melt away. This results in meat that is so tender you can cut it with a fork, and a rich, tantalising sauce that will have you sopping up every last bit on the plate with your rustic, fresh-baked, crusty, buttered bread.
I can't remember the exact reason, but we served this meal with Basmati rice, rather than fried or mashed potatoes:
I will probably go with crispy-outside-fluffy-inside steak fries next time, but there was nothing at all wrong with the rice that we used.
This meal was incredible, and quite surely one of the best dishes I have yet made. The long, slow braising of the oxtails gave them a wonderful, tender, quality that I could cut with a spoon. The various spices employed in the dish combined with the leek, onion, garlic and wine to really catapult this "humble" dish into the stratosphere.
When you make this, you want to have plenty of crusty, home-made bread on hand so that you can mop up the wonderful sauce: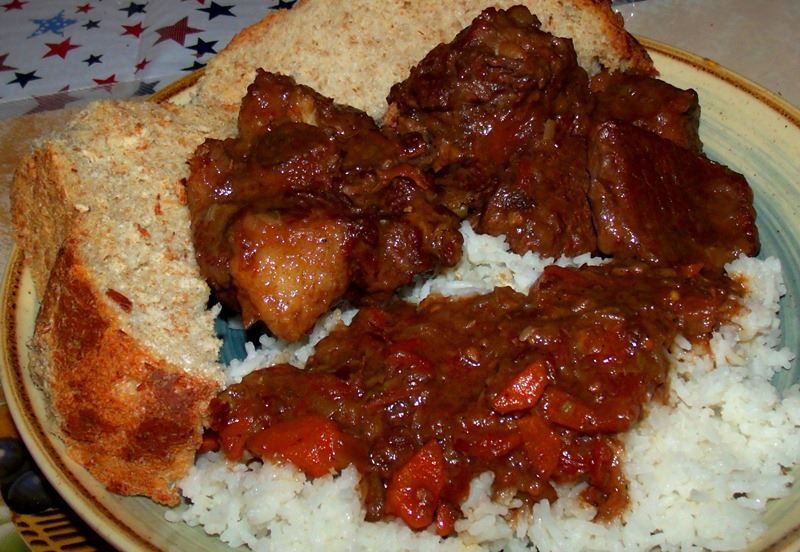 Even though it has been nearly 4 years since I prepared this dish, I still remember how good it was, and how much I enjoyed it. The entire family declared it to be very good, and I was especially impressed with the "bang for the buck" in terms of how the inexpensive ingredients returned huge flavour.
This humble peasant dish is - in my opinion - a perfect one with which to commemorate San Isidro Labrador, known for his piety toward the poor, and the Festival of San Fermín, associated with
La Corrida de los Toros
for centuries; Without stepping a foot outside home, one can easily experience the rich, time-honoured taurine traditions of Navarra, and I will indeed be enjoying my next culinary voyage to this wonderful, historic region.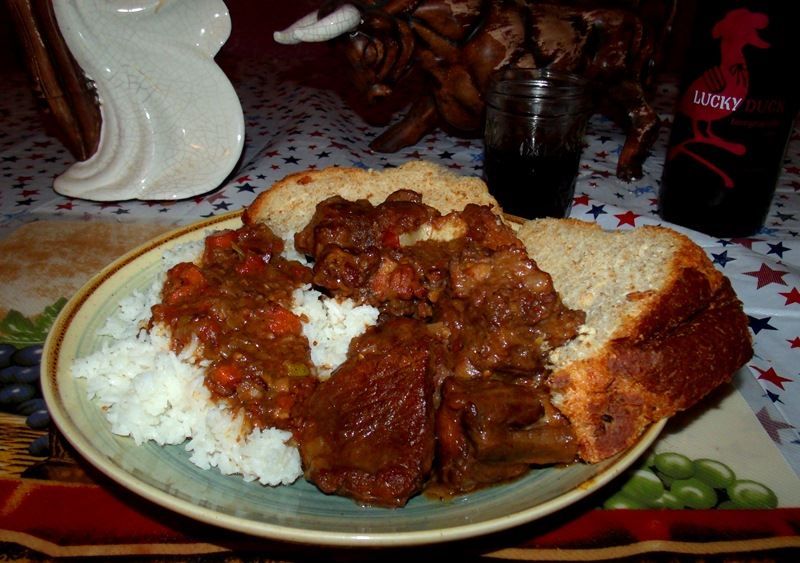 I hope that you have enjoyed reading this, and that you might be inspired to try it yourself. This pictorial should have all of the information you need, but if you have any questions, please do ask, and I will answer them as I can. As always I welcome and encourage any feedback, comments, discussion and interaction, so please feel free to chime in on this.
Thanks again, and enjoy!
Ron