for some reason, this one really called to me. maybe it was because i first read of it as we were coming out of a very long, very cold winter; or perhaps it was because i've always had an interest in history, and the complex, intertwined dynamics that were in play as the caribbean islands were settled by spain, france, england and the netherlands. maybe it was simply because i had also just finsihed reading james michener's caribbean. in any case, my interest in the area combined with time-life's delicious-looking recipe and beautiful picture of this dish, and i resolved to give it a try.
when i was finally able to prepare it, it turned out very well; delicious and outstanding as advertised, with wonderful caribbean flavours that speak to the planting days of old jamaica. i did have one or two minor execution issues, which i will note below, but i can easily and heartily recommend this recipe as delicious and easy any time of the year!
as always, we begin with a shot of the goods (not pictured: the light and dark rum, also the cornstarch that i used in place of arrowroot):
nothing exotic or complicated here, just some very appropriate components that combine to make a beautiful, flavourful meal.
i used dark brown sugar by choice, and the "plastic squeeze lime" out of necessity. the citrus fruit in the foreground was used for garnish.
a note on the rum: i used light and dark bacardi, but some might choose to experiment a bit with other rums. i can only imagine that meyer's dark rum would really set this off!
a note on the pork: the recipe calls for a center-cut, bone-in pork loin roast, but all i had available was two end-cut roasts that, when put together, totaled the required weight for this dish. not quite as attractive, but perfectly adequate ~
as per the recipe, i began by scoring the fat-side of the roasts and placing them in the trusty dutch oven:
then i tossed it all into the oven to roast for an hour, uncovered, while i measured the wonderful melange or flavours that would contribute to the caribbean flair of this dish:
on the left, dark brown sugar, and on the right (clockwise from the 12 o'clock position), minced garlic, ground ginger, ground cloves, crumbled bay leaf, fine sea salt and ground black pepper. i could have used freshly-ground black pepper for this, but the beautiful mrs. tas is not fond of the pungency, so i used canned pepper.
after the roast had been in for an hour to transform into a wonderful, golden brown, i removed it to a platter, de-fatted the drippings and juices, and added the chicken broth:
the brown bits you see there are a couple of chunks of pork that stayed behind, i guess ~
next, i turned my attention back to my spices and began to really pour on the jamaica. first, i introduced the dark rum to the brown sugar:
then, i added the spices: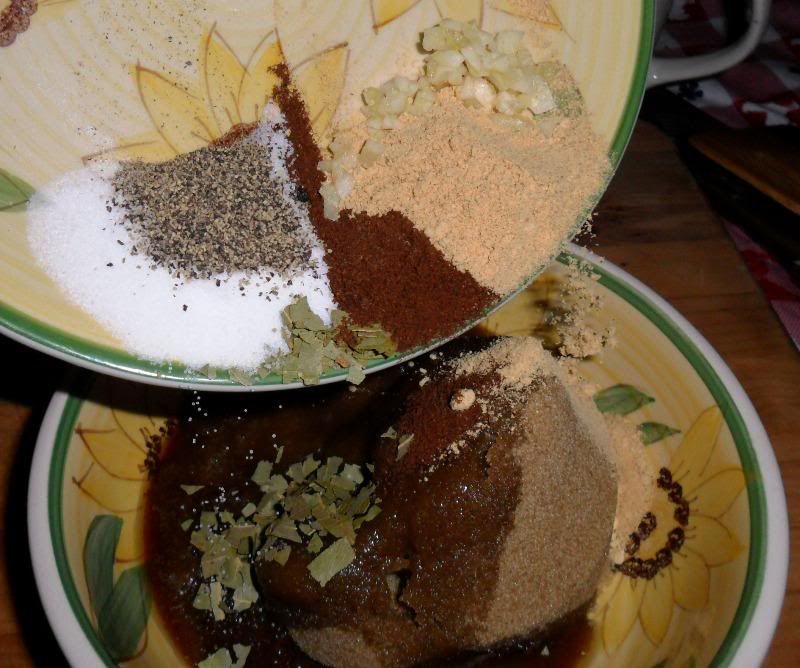 then i crushed, stirred and combined all components together:
until i had a beautiful, rich and aromatic glaze, which i topped the pork with:
kind of like caramel topping on ice ceam, only much more savory!
after that, i put the pork back into the oven for about half an hour, until the glaze had crusted nicely onto the pork:
looking really good! just imagine if i would have had a proper, center-cut roast for this! but even though the aesthetics were off a bit, the flavour was all there, i promise you.
next, i prepared the citrus garnish on the platter:
and centered the roast on the platter to rest:
and began final preparation of the sauce. the directions say to burn off the alcohol in the rum with a match, but that never works for me, so i simply combined it with the lime juice and set aside.
then i heated all of the pan juices and drippings to the beginnings of a boil; then i added the cornstarch and water mixture and continued boil, reducing it down rapidly to a thick, bubbly and wonderfully fragrant caramel sauce for the roast:
when it got to the point where it coated a spoon heavily, i added the rum and lime juice:
and stirred it in to incorporate it and complete the outstanding array of flavours. i tasted for seasoning, and found to my pleasure that it was pretty much perfect, as-is.
i carved the roast as best i could (it was quite boney due to the nature of the cut) and served it with a simple pasta salad that mrs. tas had prepared: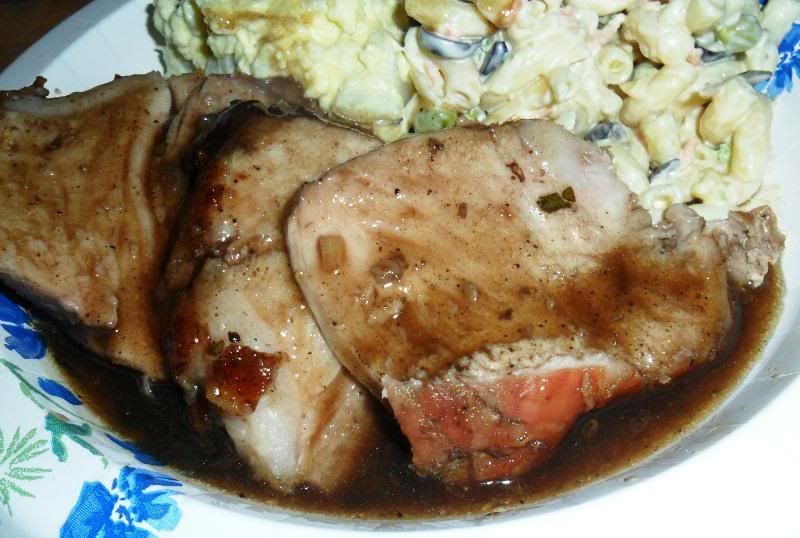 the picture doesn't quite do it justice, mainly because everyone wanted to eat NOW and didn't want to spend time with careful plating, judicious drizzling of the sauce and taking a few shots from different angles. the family said food, so i gave them food, and it was delicious ~
i really enjoyed the savory flavour of the pork roast, especially combined with the crisp, carameled glaze and the sweet/savory/spicy sauce. a very tasty combination of flavours that was very easy, yet tasted very complex and complicated.
everyone enjoyed this and there was no leftover pork, although there was some sauce left that i saved and used for some spare ribs that i barbecued a week or so later, with great results. this was a true pleasure to prepare and to eat - for someone wanting to take a mini-trip to jamaica, this is just the right choice ~
a note on cooking: i prepared this in a conventional oven, but there is no reason why a person couldn't also grill it over charcoal, gas or wood, provided that one keeps an eye on external (350*) and internal (160-165*) temperatures AND saves the drippings (de-fatted) for use in the sauce. it is not meant for long, slow smoking, but a hint of hickory or some other nice smoke surely wouldn't hurt and would certainly add some nice colour as well.
thanks for looking, and enjoy!