Many Indian dishes are served with salat, often with the main course piled on top of it as part of the presentation. It is extremely easy to make and lends itself well to improvisation; if you don't like or are missing a particular ingredient at the moment, you can certainly substitute with something else, for the most part. Let's give this a go!
Here are the ingredients that I used to make my salat:
A few notes:
The recipe called for two large onions, but my onions weren't that big, so I used three. Two would have been just about right, I think.
I used three tomatoes, rather than two, simply because we had three in the house that needed to be used, and also because I really like tomatoes.
I used half the radishes called for, because I've never really been a fan of them. As it turns out, they were actually very good in this preparation, but I still think that half was the best amount to use.
The commentary in the chapter mentions limes, but the recipe section calls for lemons; I decided to use both of these citrus fruits. My reasons were for the colour contrast in presentation and because I like the way that lemon and lime juice go together.
I didn't have any "fresh hot green chilies," and The Beautiful Mrs. Tas wouldn't have let me use them anyway; however, the commentary mentioned that sometimes pickled vegetables are used in salat, and these pepperoncini pictured above seemed like a great idea.
Following the pickling concept described above, and remembering that the commentary mentioned cucumbers as a common accompaniment, I also decided to go with slices of "zesty" dill pickles, because they are packed with flavour, including a bit of "hot' red pepper in the brine.
Anyway, if you haven't guessed by now, this salat is indeed versatile; hopefully, the recipe list and my twists on it will demonstrate the necessary "basics" of it, as well as the possibilities.
To get started, I peeled and sliced the onions as thinly as I could with the knife I had, then spread them out evenly on a platter: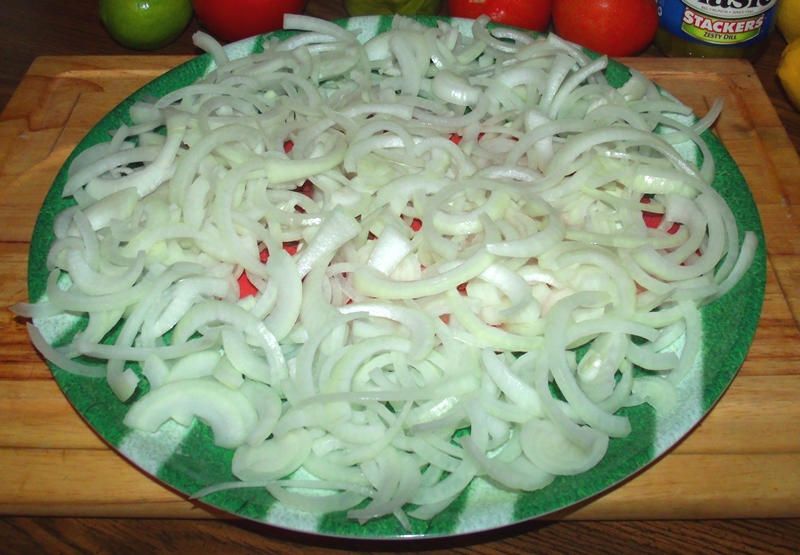 The recipe advises to slice them lengthwise (with the "grain"), but for some illogical reason, I have never been able to stand onions that are sliced that way, so I cut them crosswise (against the "grain"). I doubt that there is a huge difference, either way.
I was rather skeptical about the amount of onions - and as it turns out, I probably was slightly over-loaded with them. Having said that, this worked well, so do not be afraid to trust the recipe where the onions are concerned.
Once the onions were finished, I sliced the tomatoes and arranged them in a ring near the outer edge of the platter: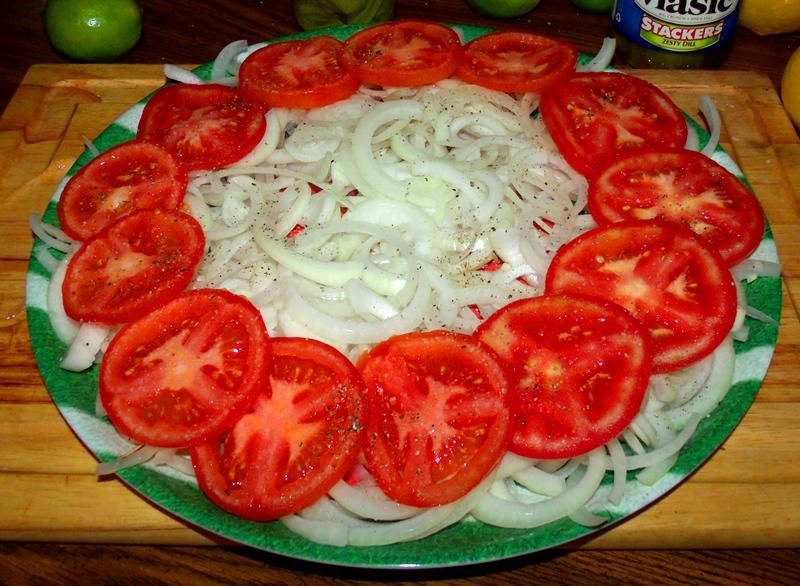 Between each major "layer" of the salat, I sprinkled a bit of salt with a few short grindings of black pepper.
I like tomatoes, and in my opinion, I could have put a whole layer of sliced tomatoes over the onions and it would have been great!
Next came the radishes: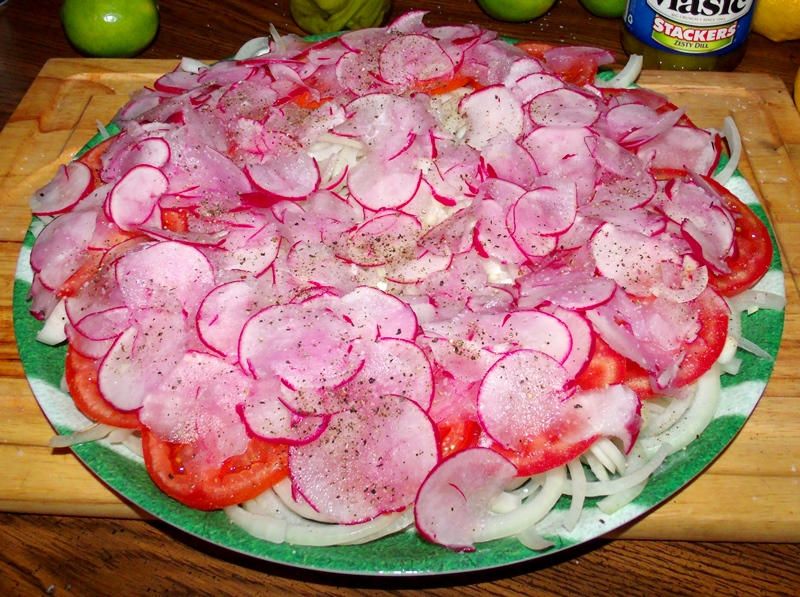 As you can see, I sliced them thinly with a mandolin, both because I really don't like whole radishes and because I thought they would look nice. Considering the really nice colour combinations I was beginning to get, I am sure that I am not the first person to do this when making an Indian-style salat. The effect was simply too nice, in my opinion, not to have been done before.
After the radishes, I cut the lemons and limes into wedges and arranged them around the platter: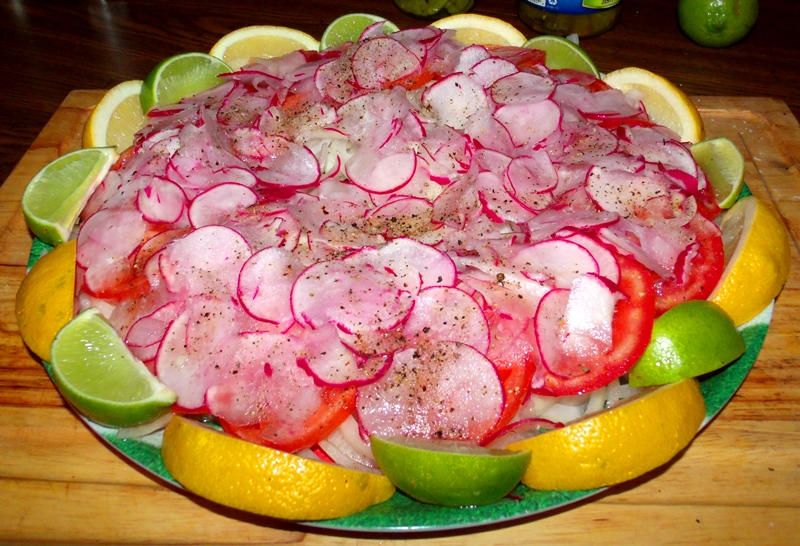 This made a really nice visual impact, and I am glad that I chose to use both fruits; however, one or the other would be just as nice.
Next, the slices of pickles:
Slightly-departed from the recipe, but still within the spirit of the cuisine, I hope.
After the slices of pickles, I placed the pepperoncini:
Once again, I am sure that I am not the first to have done something similar.
After that, I drizzled the salat with a freshly-squeezed combination of lemon and lime juices. I ended up having close to a half-cup, which is twice what the recipe calls for, but it was all good.
And that's pretty much it! Here is a photo of the finished salat:
As mentioned above, salat is a traditional accompaniment to many Indian meals, especially those cooked over a fire. I was expecting this colourful dish to be pretty good, in spite of my modifications, but was surprised at just how delicious it was. The crisp, raw vegetables all worked very well together, accented by the bright citrus juice, which had the effect of "pickling" the onions and radishes a bit and toning down the harsh bite that I was expecting. I was also pleased with how well it looked from a visual standpoint; the colours are incredible, and really are part of the enjoyment of the dish, in my opinion.
Altogether, I was very happy with this side dish and expect to use it many more times, especially when cooking South-Asian cuisine.