This was part of a big Indonesian feast we put together this weekend. While not traditionally served with the rice cone dinner, we needed to accommodate non-fish eating!
This particular version of sate (which I more frequently see spelled satay now) is from Northern Sulawesi, the 4th largest island in Indonesia.
From
Foods of the World: Pacific and Southeast Asian Cooking
Sate Manado
Broiled skewered marinated pork

To make about two dozen sate

1 fresh hot chili, about 4 inches, washed, stemmed, seeded and coarsely chopped
1 small onion, peeled and coarsely chopped
2 tsp scraped, finely grated fresh ginger root
2 tbsp strained fresh lime juice
2 tbsp salt
2 tbsp water
2 lbs bonless pork butt, trimmed of excess fat, sliced 1 inch thick and cut into 1/2-inch squares
2 tbsp vegetable oil

Combine the chili, onion, ginger, lime juice, salt and water in the jar of an electric blender and blend at high speed for 20 or 30 seconds. Turn of the machine and scrape down the sides of the jar with a rubber spatula, then blend again until the mixture is smooth.

Pour the entire contents of the jar into a deep bowl, add the pork and turn it about with a spoon until it is evenly coated. Marinate the pork for at least 1 hr at room temperature* or 2 hrs in the refrigerator, turning it occasionally.

Light a layer of coals in a charcoal broiler or hibachi and let them burn until a white ash appears on the surface, or preheat the broiler of the stove to irs highest point.

Remove the pork from the marinade and thread it tightly, 4 or 5 pieces at a time, on small skewers - preferably the Oriental wooden skewers - about 6 inches long. Protect the exposed ends of the wooden skewers by wrapping them with foil. With a pastry brush, spread the oil evenly over the pork. Broil about 2 inches from the heat, turning the skewers occasionally, for 8 to 10 minutes, or until the pork is crisp and brown and no trace of pink shows when a piece is pierced with the point of a small knife.

Serve at once, directly from the skewers. Sate manado is traditionally serves as a snack, and also makes a good first course.
*my understanding is that marinating at room temperature is no longer recommended.
This was a group effort to put on this meal so I didn't get as many pictures as I would have liked, but here goes!
We've lately been unsatisfied with tough, chewy pork and I've been reading about brining. So we brined the pork for about 4 hours before marinating. I used 1/2 cup salt in 1/2 gallon of water. The pork was already cut and I had a hard time finding info on brining small pieces. Oh, and the shoulder was possibly the worst cut of meat I've bought so far. There was far less useable meat on the cut that I've come to expect so we didn't have quite the 2 lbs. We tried a new farmer and I'm not sure if it was a fluke (their pan sausage is awesome) or if they don't do whole cuts of meat well. Anyway, we area likely to go back to the other guy!
Ok, first, the ingredients for the marinade:
I'm pretty sure the recipe meant to use a red pepper but jalapenos are a dime a dozen here, so that's what I used!
I used my immersion blender to make the marinade: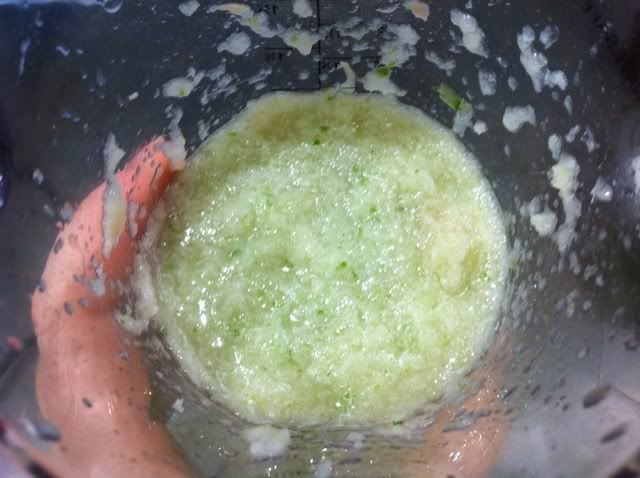 Green!
This was then put in a container with the pork and in the fridge: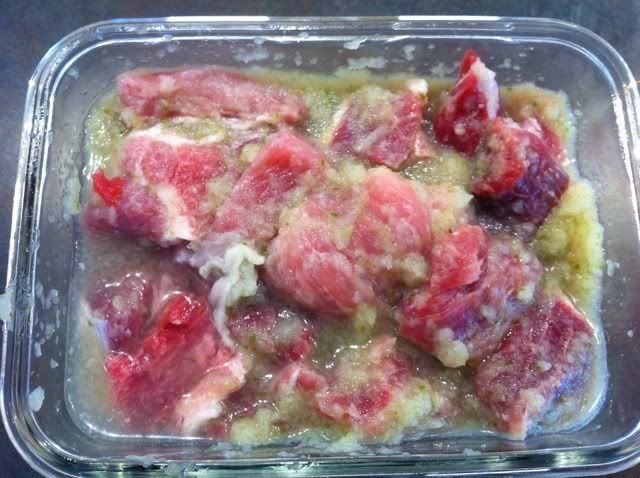 We shook it every hour and let it sit for 3 hours until guests starting arriving. The meat was threaded on skewers longer than in the recipe so we didn't get quite as many, but we were all sharing so it didn't matter. We fired up the gas grill and my brother did the honors. I had soaked the skewers in water for several hours, having heard that would prevent the tips from burning. They did blacken. Not sure if it was better or not!
They were superb! It was a toss-up between the pork and the chicken for the best sate. The beef was good, but it was no comparison to the other two. I'll be posting those recipes soon.
The pork was a bit salty though. In hindsight, I should have left the salt out of the marinade. Hmm...come to think of it, I'm not sure my husband rinsed the pork after it came out of the brine! That's probably what did it. It was just a touch salty though and perfectly tender. Yum!!!