Full credit to the source, a blog that is definitely worth taking a look at:
How to Make Scrapple

By Hank Shaw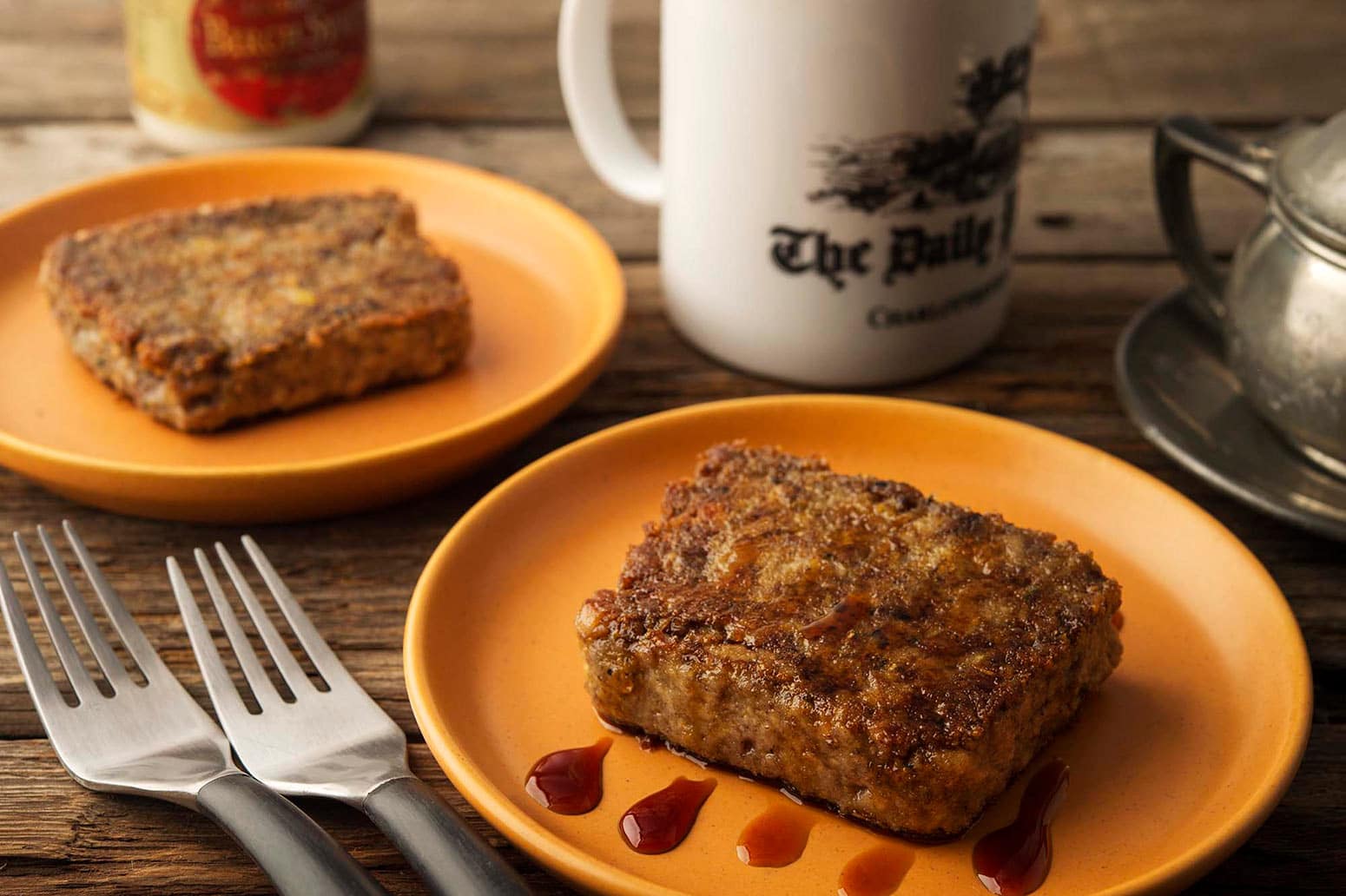 Photos by Holly A. Heyser

Scrapple. Mystery meat. Lips and, well, scraps. Scrapple is scorned by many, loved by those who know.

Yes, industrial scrapple has literally been made from scrapings off the killing room floor. Ew. But any homemade scrapple recipe uses bits that are far more wholesome.

First off, what is scrapple? It is a hybrid meatloaf-sausage common in the mid-Atlantic states, notably Delaware, Maryland and Pennsylvania, but I've eaten it as far west as Peoria, Illinois. It's there that I first had scrapple I liked.

I grew up in New Jersey, in the heart of Taylor ham country. Taylor ham is the single greatest breakfast meat ever made, but then I am biased. When you live in Taylor ham country, you look down on scrapple, so I never ate it as a kid. Then, one day, I ran a 10k road race in Peoria. Afterwards, I could eat anything I was so hungry. So I ordered the scrapple.

It was served with apple butter and maple syrup, and I could choose. I thought it weird, but then, I like maple breakfast sausages, so why not? And damn it if it wasn't tasty!

Scrapple tastes meaty and porky, peppery with warming spices and that softness you get from good polenta. Good scrapple is very crispy on the outside, soft in the center.

Flash forward some time, and I found myself with a pig's head. This an oddly common occurrence in my household.

I'd already made a fantastic pozole with one head, as well a French fromage de tete and an Italian version of head cheese, so I was looking for something to make that was different. Why not make scrapple?

Scrapple recipes are all over the map. Southern versions use only pork and cornmeal, but mid-Atlantic ones use buckwheat flour, too. In Ohio, you see goetta, which uses oats. This is a Pennsylvania-style scrapple.

Most authentic scrapple recipes use a pig's head, and that's what I used here. But you need not go that far if you really love scrapple. You can make it with any assortment of random pig bits. But keep in mind that scrapple has to bind to itself, so you want that collagen that is in a pig's head.

You could sub in pig's feet, or even use a sheet of unflavored gelatin in a pinch.

Scrapple takes time to make, so make your scrapple on a weekend or day off. It also needs to rest overnight in the fridge to set up. Once made, however, scrapple will keep for a week in the fridge, and it freezes well.

To serve, cut off thick slices from the loaf, dust in flour or fine cornmeal, then fry in butter, lard or bacon fat. Eat it solo, or with apple butter or a nice dark syrup.




Scrapple

Prep Time - 10 mins
Cook Time - 4 hrs
Total Time - 4 hrs 10 mins

I use a pig's head without the jowls here. I use the jowls to make jowl bacon or guanciale. This results in somewhere around 2 pounds of pig bits once you cook the head and chop it all up. You can use any selection of pig bits, but you need collagen, so a head or pig's feet are necessary.


Course: Breakfast
Cuisine: American
Yield: 4 pounds
Author: Hank Shaw

Ingredients

FOR THE PIG'S HEAD

1 pig's head, with or without the jowls
3 carrots, chopped
1 large onion, chopped
3 to 6 bay leaves
1 tablespoon juniper berries, crushed (optional)
1 tablespoon black peppercorns, cracked

SPICE MIX

1 tablespoon freshly ground black pepper
1 tablespoon salt
1 tablespoon savory
2 teaspoons poultry seasoning (optional; Bell's Brand suggested)
1 teaspoon dried thyme
1 teaspoon ground white pepper
1/2 teaspoon cayenne

TO FINISH

2 heaping cups cornmeal
1/2 cup buckwheat flour


Instructions

1. Set the pig's head in a large kettle and cover it with water. Bring this to a boil and skim off all the scum that floats to the surface. When this is done, add the carrots, onion, bay leaves, juniper and black peppercorns. Simmer this, adding more water if the level drops below the pig's head, until the met wants to fall off the bone, about 3 hours.

2. Carefully remove the pig's head and pick off all the meat and random bits. I toss the eyes and the palate, which aren't very tasty. Chop everything up very fine, and combine with the spice mix in a bowl.

3. Strain your pig broth and pour about 10 cups into a large pot. Bring this to a simmer and add the cornmeal and buckwheat flour, stirring constantly so you don't get lumps. Add salt to taste. Cook this, stirring often, about 30 minutes.

4. Add the chopped pig bits in with the mush and stir well to combine. If you happen to be using the unflavored gelatin, now is when you would add it. Let this all cook for 10 minutes or so.

5. Pour this into loaf pans, or a terrine pan. While not strictly necessary, it will make the scrapple easier to remove if you line the pan with plastic wrap first. Pack it in well. Let it cool to room temperature uncovered, then cover it with plastic wrap and refrigerate overnight before slicing and frying.

https://honest-food.net/how-to-make-scrapple-recipe/