Shorbat Adas
شوربة العدس مع الطماطم، السبانخ والزيتون
Lebanese Lentil Soup with Tomatoes, Spinach and Olives
I must admit, I am a little worried about the accuracy of my translation up there. The transliterated text should read, "Lentil Soup," and the Arabic text should read, "Lentil Soup with Tomatoes, Spinach and Olives." If anyone knows any better, please feel free to correct me.
Lentil soups are probably as old as recorded history; indeed, the Bible recounts the story of Esau selling his birthright to Jacob for a bowl of lentil soup:
Genesis 25:29-34



Esau Sold Jacob his Birthright and the Mess of Pottage, by Matthias Stom (circa 1600 - after 1652)
Photo Credit: http://www.wikipaintings.org/en/matthias-stom/esau-sold-jacob-his-birthright-and-the-mess-of-pottage
And Jacob sod pottage; and Esau came from the field, and he was faint; and Esau said to Jacob, "Feed me, I pray thee, with that same red pottage; for I am faint...."
And Jacob said, "Sell me this day thy birthright."
And Esau said, "Behold, I am at the point to die - and what profit shall this birthright do to me?"
And Jacob said, "Swear to me this day;" and he sware unto him - and he sold his birthright unto Jacob.
Then Jacob gave Esau bread and pottage of lentils; and he did eat and drink, and rose up, and went his way - thus Esau despised his birthright.
The recipe that I made - which would have been impossible in the Holy Land until at least the 1500s, due to the required tomatoes and paprika - came to my attention by way of a very good friend of mine who lived in Lewistown, Montana at the same time we did, but has since moved back to her native Washington State. She is a dedicated vegan and is often sharing recipes that really do look good, and I am always finding ones that I would like to try, even though I am an avid carnivore. I am happy to report that it is indeed excellent, and I am posting it here with high recommendations!
The recipe is based on one that is posted in IsaChandra's Post Punk Kitchen Blog:
http://www.theppk.com/blog/
There are a few very minor adaptations that I made to accommodate the ingredients that I had available, but my preparation was true to the original intent. Reading the recipe for the first time, I was immediately impressed with the Mediterranean profile and made it a goal to try it sometime during the cold-weather months. As my Levantine dinner idea came closer to fruition, this soup seemed like a natural choice; it also had the virtue of being very easy to make, which was a bonus considering the rather intricate menu that I had planned for that particular day.
But where exactly is this recipe from? Well, that's a good question; the answer was (and remains) rather elusive. Keeping in mind that this soup does not claim to represent any particular ethnic or geographic region, the best that I can offer is an educated guess. After much private discussion with Brook (HistoricFoodie), we both agreed that this soup would probably be most at home in Beirut, due to the Lebanese "feel" about it. The olive and smoked paprika components are a bit unusual for lentil soups, but not entirely out of line; further, Beirut is (and has been since the Crusades) a sophisticated culinary crossroads - so, while smoked paprika might not be endemic to Lebanon, it's likely to be a common enough ingredient in the area of Beirut, with its cosmopolitan culinary resources. With that, we decided that Beirut would indeed be the best "setting " for this soup. As for the olives, they may not often be mentioned in lentil soups; however, they are indeed a very Mediterranean ingredient, and it is more than plausible that someone somewhere has included olives in a lentil soup.
Here are the recipe and some comments from the Post Punk Kitchen Blog:
This…lush, flavorful, healthful soup [is] just amazing served with a crusty baguette smeared with homemade hummus.


Smoky Tomato Lentil Soup With Spinach & Olives

By IsaChandra




Serves 6 to 8




1 tablespoon olive oil

1 yellow onion, thinly sliced

3 cloves garlic, minced

1 teaspoon dried thyme

2 tablespoons sweet smoked paprika

1 cup dried brown lentils (or green lentils)

5 cups vegetable broth

1/2 teaspoon salt

Fresh black pepper

1 24 oz can fire-roasted tomatoes

4 cups fresh baby spinach (or chopped spinach)

3/4 cup roughly chopped kalamata olives




Preheat a 4-quart soup pot over medium high heat. Sauté onions in oil with a pinch of salt until translucent, about 3 minutes. Add garlic and sauté for 15 seconds or so, then mix in the thyme and paprika.




Add the lentils, broth, salt and pepper. Cover and bring to a boil. Once boiling, turn heat to medium and cook for 25 minutes, stirring occasionally, until lentils are almost tender. Add the tomatoes, crushing the tomatoes with your hands to get them into small pieces, as you add them. Bring to a boil, then lower heat to simmer for another 20 minutes or so, or until lentils are very tender. Add spinach and olives and stir frequently until spinach is wilted and velvety. Add water to thin, if necessary.




Taste for salt, and let sit for 10 minutes or so for flavors to marry, then serve.




Recipe Notes




~ Since olives are salty, wait until after adding them to decide if you need more salt.




~ You can use hot smoked paprika instead of sweet, but do remember that it's hot! So your soup is gonna' be spicy. Start with a tablespoon and go from there.




http://www.theppk.com/2013/03/smoky-tomato-lentil-soup-with-spinach-olives/
Let's get started! As always, I like to begin with a shot of "the goods," showing everything needed to make the recipe:
Left-to-right: Smoked paprika (pimentón de la Vera from Spain), summer savory, ground black pepper, garlic, an onion, kosher salt, lentils, extra virgin olive oil, fire-roasted diced tomatoes, and an olive medley.
Two final key ingredients are pictured here; fresh baby spinach and vegetable base:
A few notes on some of the ingredients:
Summer savory - I used this in place of the thyme, mostly because The Beautiful Mrs. Tas is no fan of thyme. Summer savory is a milder, perfectly-acceptable substitute that found a very happy home in this soup.
Getting started, I gave my onion a rough chop:
The recipe advises one to slice the onion "thinly," but I must have been in a wilder mood that day; no big deal - as long as they will fit on your spoon!
Next, I turned my attention to the interesting medley of green, black, purple and kalamata olives:
I bought these olives at a specialty store in the more-populated (and hence more cosmopolitan) western part of my home state of Montana, intending to use them in a salad or perhaps on a French pissaladière, but never got around to them. When gathering ingredients for this soup, I got to thinking that the combination of olives might do well here, and the results seemed - to me - to bear this out.
I tried one of each; they were all delicious - each in its own way - and I was looking forward to seeing what they would do for this soup. Ready to proceed, I asked my young sous-chef to smash the pits out of them before giving them a rough chop:
After preparing and measuring the rest of the ingredients, I began the task of actually making the soup; following the recipe, I heated the olive oil in my enameled cast-iron Dutch oven, then sautéed the onion with a little salt until the pieces were translucent. Next, I tossed in the minced garlic and stirred it around for a moment or two before removing the Dutch oven from the heat and adding the summer savory and smoked paprika:
Still off the heat, I stirred the mixture together for a minute or so in order to allow the paprika to release its magic without fear of scorching or burning:
Returning the Dutch oven to the heat, I immediately added the vegetable stock and the ground pepper: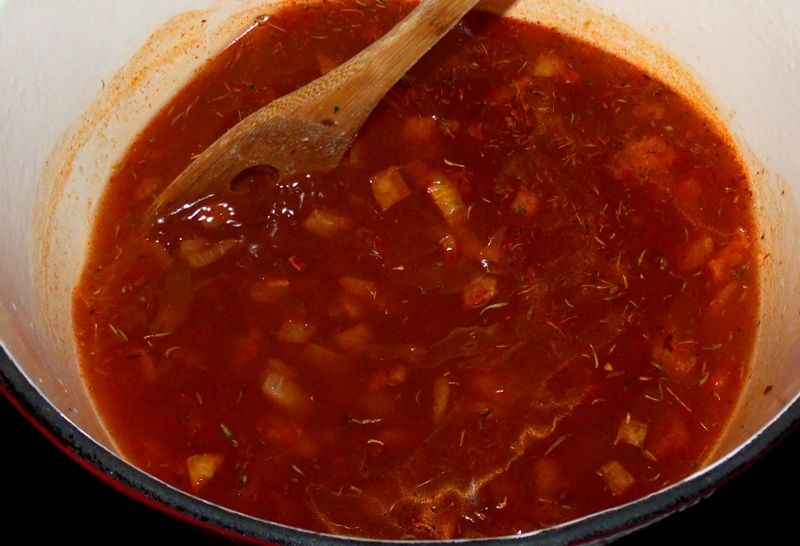 My thinking was that with the salt that I had already used with the onions, plus salt in the vegetable stock, olives and tomatoes, there would probably be enough salt in the soup, so I didn't add any more at this time.
Next, I added the lentils:
I used brown lentils since they were what I had available, but there's no reason not to experiment with different varieties - just be aware that different colours of lentils have different cooking times. Red lentils can cook in as little as 15 minutes, whereas the indigo-coloured lentils take at least 40. Another thing to remember is that the texture of the soup can vary with different-coloured lentils; many of them produce a thicker soup, but just as many are surprisingly thin. These are not critical factors, but they are things to keep in mind.
Once the lentils were added, I brought the soup to a boil and reduced it to simmer for just about half an hour, stirring occasionally. When the lentils seemed to be somewhere between al dente and tender, I added the tomatoes, crushing them with a wooden spoon as much as possible. I then quickly brought the soup to a boil and reduced to simmer again.
After about 20 minutes, the lentils were much more tender, and it seemed time to finish the soup; I added the olives:
And then the spinach:
The spinach filled up the Dutch oven quite a bit, but quickly wilted down as I stirred it into the soup:
At this point, the soup was essentially finished; the recipe calls for the soup to be rather thin, but one could, if one desires, add a little more body to it. To make it thicker, use your blender or immersion wand to purée about half of the lentils called for in the recipe (reserved and pre-cooked before making the soup); or, if you want to have more lentils, you can increase their amount by half (reserving, cooking and puréeing half of the total amount before making the soup). This will thicken the soup without changing the flavour profile and is a fairly standard technique with all pulses.
I elected to leave the soup as it was, and after allowing it soup to rest for 10 or 15 minutes on the lowest heat setting - giving the flavours a few moments to meld and become happy with each other - I checked it for seasoning and then brought it to the table, where it made a dramatic impression alongside the rest of my Levantine meal:
Here is a bowl of this wonderful soup, accompanied by (clockwise from the top) khoubz Araby, tarnegolet bemitz hadarim, Israeli kumquats and shipka peppers, and falafel topped with Lebanese taratoor sauce: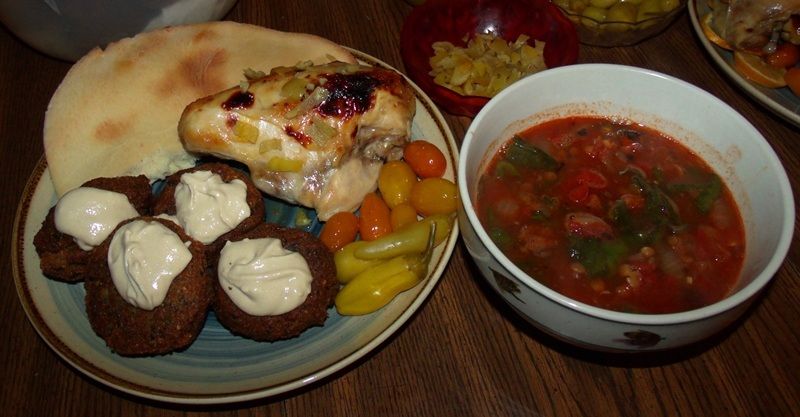 One taste was enough to convince me that this was indeed a delicious, flavour-packed soup that will be made again as the occasion calls for it. It was rich, well-balanced and hearty, with plenty of body and texture to make it part of a filling meal, yet at the same time it was light and refreshing, a perfect opener to our Levantine feast. The lentils themselves were cooked to just the right consistency and brought the soup together, vindicating my friend's assertion that no meat was needed in order to make it a satisfying soup. The bright spinach - aside from lending beautiful colour - added another textural element and helped to round out the soup in savory harmony. I was probably most impressed with the way that the smoked paprika permeated the entire soup without overtaking it, allowing the olives, tomatoes, savory and other flavours to play their parts without interference.
I enjoyed this soup very much, and so did the rest of the family; if you are looking to travel the Mediterranean in your kitchen and want a soup that will bring several profiles together in wonderful versatility, then this is indeed a perfect soup to try. It's easy, flavourful and it can wear many hats, surely able to please any crowd. Give it a try and see if you agree!