Smoked salmon is a pretty traditional thing up here in the pacific northwest going back to the days when the Indians called this area home. I did this salmon up a couple years ago, but seeing as there isn't a good smoked salmon post here, I thought I'd add it.
There are several different ways to have smoked salmon, from basically a hot baked salmon with smoke flavor, to cold smoked salmon, salmon jerky or salmon candy as it's sometimes called. Around here when you say smoked salmon it usually refers to a cold smoked product that's been dehydrated almost to the point of jerky, but not quite. That is what I'll be making here.
There are also lots and lots of different ways to brine the salmon prior to smoking: wet, dry, different ingredients, etc. I prefer a basic dry brine that just contains brown sugar, salt and sometimes some garlic.
Start by selecting a nice cut of salmon. I prefer sockeye when given the chance, but any will work really. These are the ones I'm working with today, I believe the one in the upper right is a sockeye and the other three fillets are altlantic.
The first step is to remove all the pin bones. Technically you don't have to because they should dissolve in the brine, but I like to do it anyway just in case. Run your fingers along the top part of the fish from front to back and you should be able to feel any pin bones left in. Use pliers to pull them out.
Next for me is to cut them into manageable size pieces, though sometimes I like to leave the fillets whole for parties and such. I also like to cut slashes in the flesh about a fingers width apart, I think it lets the brine penetrate better and makes it easier for people to break off a piece when it's time to eat. If you do it, make sure you don't cut through the skin though.
Now it's brine time. Make sure you make enough brine to completely cover all the fish. It'll depend on the container you're brining them in and how tight you can pack them as to how much to make. My brine is 4 parts dark brown sugar to 1 part pickling and canning salt (by volume). You can pretty much use any kind of salt, but stay away from iodonized salt and rock salt as either one can impart off (metalic) flavors to the fish. If you use a more course grained salt you may need to adjust the amount of salt up to make up for the fact that there's more air space in a cup of course grain versus fine grain. As I mentioned I also sometimes throw in few cloves of minced garlic. Mix it all up well.
Your brining container should be plastic, enamel coated, or any non-reactive metal. Start by putting down a layer of brine mix. Then a layer of fish, skin side down. Put down another layer of brine mix, and if you've cut the slashes into the flesh try to get some of it down into the slashes as well. Then put on another layer of fish, skin side up this time. You want to alternate the layers so flesh touches flesh and skin touches skin. Keep doing the brine-fish-brine-fish layering until you're out of fish, and finish it with a good layer of brine on top. Put the container into the fridge (or if it's cold enough the garage will work too) overnight.
The next day, take the fish out of the brine (it will have turned to a slimy goop) and rinse them well. Place them out to dry while you prepare the smoker. The purpose for this is to let the fish form what is called a pelicle, and that's basically a coating of dried protein that helps the smoke adhere and locks in flavor.
Here are my fish out and rinsed. The Atlantics:
The Sockeye, notice the much deeper red color
Now for the smoker. I like to smoke my salmon over alder or maple because it gives a nice smokey flavor without overpowering it. Other good choices would be cherry, apple or any fruit tree really. But stay away from hickory and mesquite, they are much too strong for salmon. Try to keep the temps in your smoker pretty low. I usually shoot for 120-140 degrees (F). At that temp it'll take a couple of hours to smoke it. I don't usually go for a temperature, but I go by how it feels. If you poke the thick part of a cut with your finger it should feel firm and not squishy. The thinner cuts from the tail will go faster so you might have to take them out before the thicker cuts are done. I try to arrange them so similar size cuts are on the same rack so I can just take the whole rack out at once when they're done.
And here's the finished product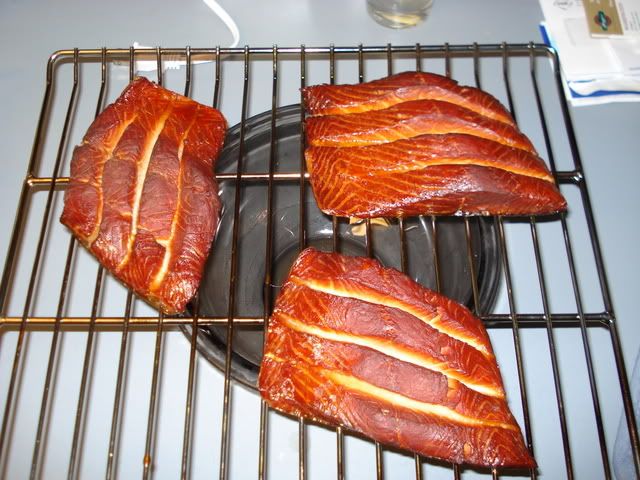 I like to serve mine with crackers and cream cheese, sometimes a little wasabi too, for the daring guests.