Today we are bbqing over at my friends house so I figured last minute to make some corn salsa. Here are some pics and a recipe for you all. It is a great fresh salsa. Hopefully some of you will try this if you want a sonoran style corn salsa
sorry no fancy plated pics this time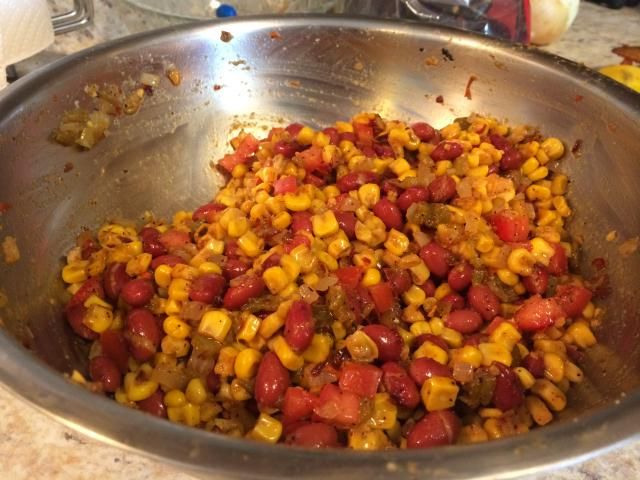 Rancho Corn Salsa
2 Dried new mexico red chiles, stemmed and seeded
3 ears corn
1.5 teaspoon oil
4 table spoons fine diced onion
2 Roma tomatoes (blackened and chopped)
1 clove garlic (roasted and smashed)
½ teaspoon salt
½ teaspoon ground cumin
½ teaspoon oregano (rubbed between fingers)
1 table spoon lime juice
Toast the chiles and rehydrate…..juilienne in short strips
Cut corn from cob dry roast for 4-5 minutes tossing continually till roasted.
Heat oil and suatee onions till translucent (about 5 min)
Combine all ingredients in bowl and toss till mixed (salt to taste I need more then what this calls for) Makes about 2 cups and you can easly add to or sub different ingredients to this recipe. It is a great base to start from…
You can see I subbed a lot on this go around but it was great…I added beans and used granulated garlic since I burnt my last two cloves. I also only use the outer shell of the roma tomatoes excluding the core is a good way to keep your salsa from being to watery. Another sub I did was using canned corn and added a can of green chiles Thx for lookin and hope some of you try this.