(note: I really don't know where to put this, so Ron feel free to move it anywhere you think it's appropriate)
My wife found a nice easy recipe for Strawberry Cobbler on facebook the other day, and since strawberries are a favorite of mine, she made some up last night.
Strawberries are just starting to hit the stores here, probably Mexican imports, and slightly green but it worked out really good.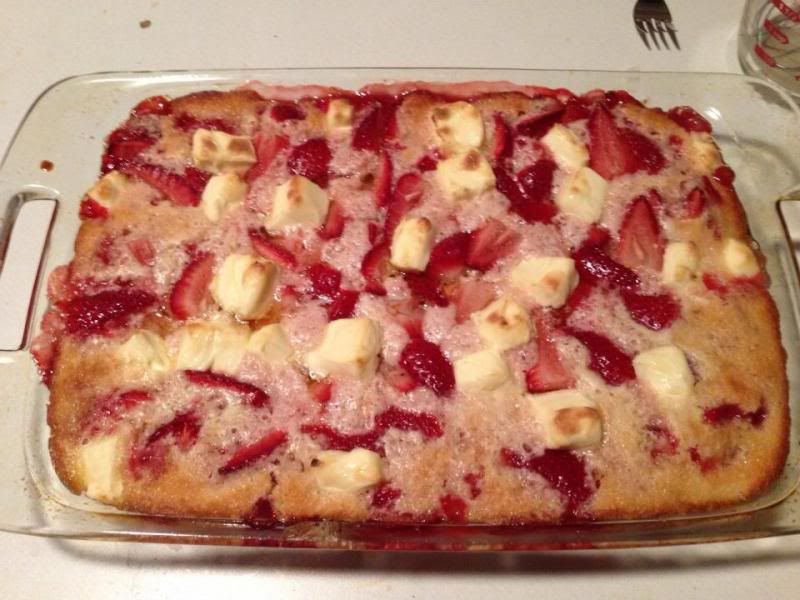 Strawberry Cream Cheese Cobbler
1 stick ( 1/2 cup) butter
1 egg, lightly beaten
1 cup milk
1 cup all-purpose flour
1 cup sugar
2 teaspoons baking powder
1/2 teaspoon salt
2 quarts whole strawberries, capped and washed
4 ounces cream cheese, cut in small pieces

Preheat oven to 350 degrees. Melt butter and pour into a 9-by-13-inch glass baking dish. In a small bowl, mix together the egg, milk, flour, sugar, baking powder, and salt. Pour directly over the butter in the baking dish, but do not stir.

Add the strawberries, arranging in a single layer as much as possible. Sprinkle cream cheese pieces over strawberries. Place in preheated oven and bake for 45 minutes, or until top is golden brown and edges are bubbling. (Crust rises up and around the fruit, but fruit will still peek out of top.)
A couple notes:
1) when you pour the batter into the dish, try to make sure it stays on top of the butter. We just poured it in and a lot of the butter made it's way to the top and was still there in the final product, making the top a little oily. You can actually see some of the pooled butter in the middle of the picture above. I might even cut the butter down to 1/2 a stick.
2) The strawberries we had were huge, so we quartered them and it came out just right, with bite size pieces of strawberry.
3) Since the strawberries we had were early and a little green still, before we got started we added an additional cup of sugar to the strawberries and let them set for a while. I was worried that it would make it too sweet, but it worked out perfectly. Especially when you get a nice piece of cream cheese in a bite, the savory/rich flavor of the cream cheese offset the sweetness just right.
4) I suggest cutting the cream cheese rather small, like 1/4 inch cubes. We got a little lazy and left them pretty big (1/2 inch cubes?) and I think it would have been better with smaller cubes spread out more.