Taratoor
Lebanese Tahina Sauce
My research indicates that taratoor is the Lebanese name for a sesame-based lemon-and garlic sauce that is quite common under various names throughout the Middle East and north Africa. Taratoor is not to be confused with tarator, which is a Balkan yoghurt-based cold soup; The following links elaborate on this:
Taratoor: http://www.britannica.com/EBchecked/topic/580398/tahini
Tarator: http://en.wikipedia.org/wiki/Tarator
Taratoor is very easy to make, and adds a refreshing, interesting twist to almost anything that it paired with. This recipe, from Time/Life's Foods of the World - Middle Eastern Cooking (1969) is fairly typical:
To make about 1.5 cups:

3 medium-sized garlic cloves, peeled and finely chopped

1 cup tahina paste (ground, hulled sesame seeds)

3/4 to 1 cup cold water (see notes below)

1/2 cup fresh lemon juice

1 teaspoon salt

In a deep bowl, mash the garlic to a paste with a pestle or the back of a large spoon. Stir in the tahina. Then, with a whisk or a spoon, beat in 1/2 cup of the cold water, the lemon juice and salt. Still beating, add up to 1/2-cup more of water, 1 tablespoon at a time, until the sauce is the consistency of thick mayonnaise and holds the shape almost solidly with a spoon. Taste for seasoning.

Taratoor can be served as a sauce with baked fish or fried cauliflower, and is used as an ingredient in hummus and baba ghannooj.
I've made taratoor twice now; the first time, I started entirely from scratch, making my own tahina:
http://foodsoftheworld.activeboards.net/tahini-tahina-tehina_topic2793.html
From there, I proceeded by following the recipe above; first, I blended my home-made tahina a bit more, in order to try for a smoother consistency: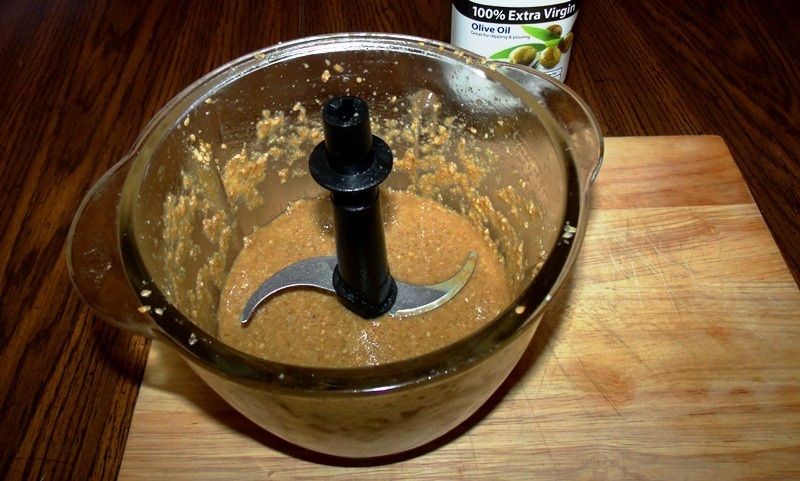 I wasn't really able to get it as smooth as I thought it needed to be, but no worries.
Taratoor doesn't need much else, just some lemon juice, garlic and salt: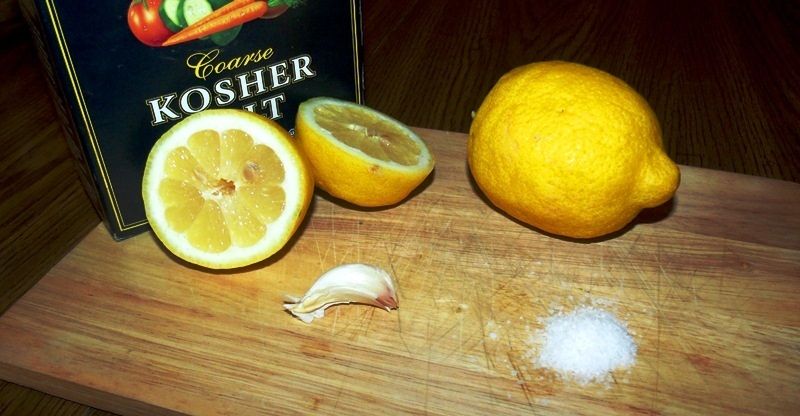 I'm not sure why there's only one clove of garlic there in the photo, but I'm pretty sure I used three; maybe two. You can, of course, adjust according to taste.
After squeezing the lemons for their juice (1/2 cup is needed) and finely-dicing the mashed-and-peeled garlic, I added these to the tahina:
I then whipped the ingredients through the food processor, reaching a thick consistency:
The food processor is not entirely necessary as it would work just as well to mix the taratoor in a bowl with a spoon or fork, but since I the processor on hand, I used it.
Following the recipe, I then added half a cup of cold water, and zipped the sauce through a few pulses of the food processor. The result was considerably thinner than I expected it to be: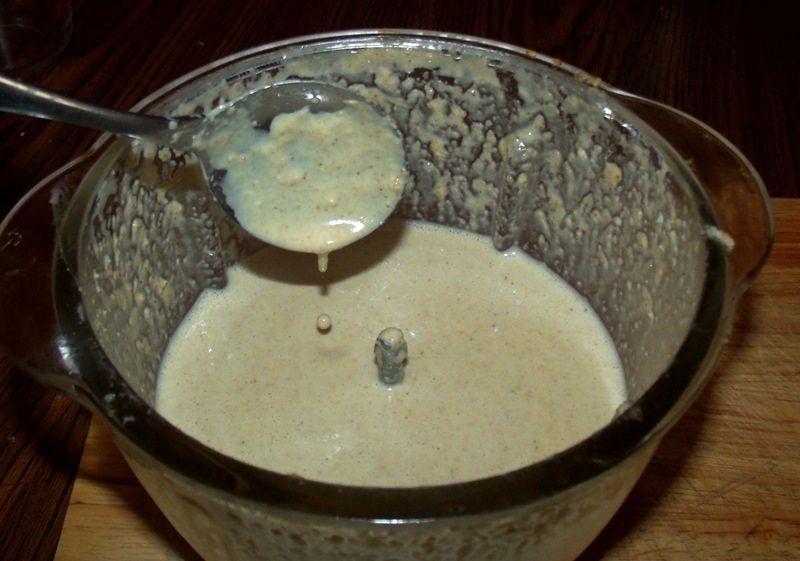 This did not seem to be a problem, though, and it tasted really good - fresh and lemony, with a nice bite from the garlic and a rich, nutty undertone from the tahina. It didn't seem necessary to add any more water, so I poured the taratoor into a container:
This first preparation was an experiment, to see if I could make it and also to try it on a few different foods; over the course of the next week, I added a little taratoor whenever and wherever it seemed appropriate, and I discovered that it added a very nice dimension to nearly everything I tried it with. It wasn't long before I used it all up, and was eager for an opportunity to make some more.
Sometime later, we were in Great Falls on family business, and while browsing around through one of the local groceries, I spotted an actual jar or prepared tahina, something completely and utterly un-heard of in my own remote home territory. I eagerly snatched the jar, in anticipation of using it for the Levantine supper that I was slowly - but surely - planning in my mind:
http://foodsoftheworld.activeboards.net/levantine-supper-19-january-2014_topic4005.html
When the time came to prepare my menu, I used the jar of tahina to make the taratoor that I wanted to serve as a condiment for the meal; it turned out slightly different than the original effort, but not much: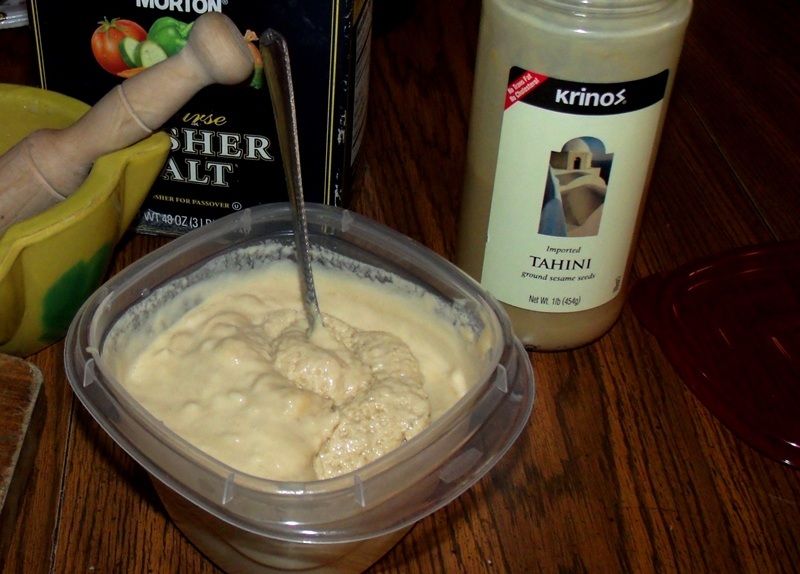 The preparation went off without a hitch, and I was impressed with the smooth and even texture of the resulting sauce. The Time/Life recipe mentions that "proper" taratoor (if there is such a thing) is the consistency of thick mayonnaise, leading me to believe that I may have added a little too much water the first time I made it. Here is my second batch of taratoor after adding about 1/3 of a cup of water: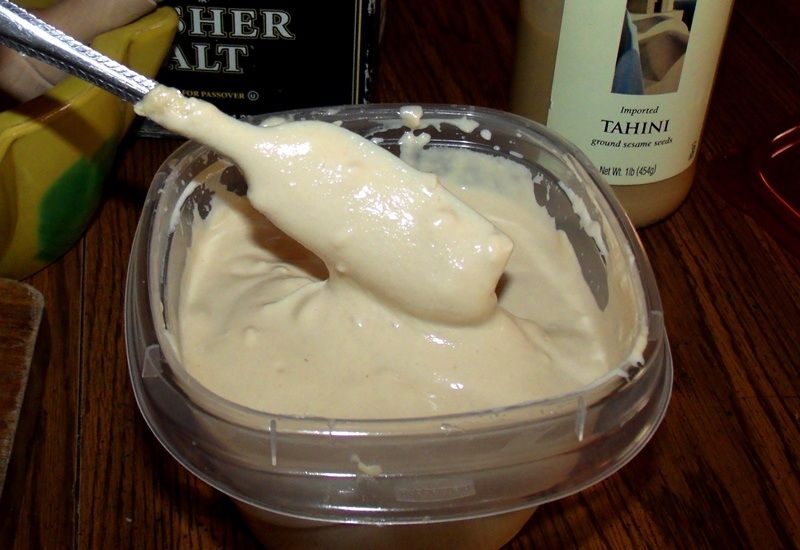 This seems - to my untrained eye - more in line with what I expected taratoor to be, but please let me emphasise: I have no real-world experience, so either version - or both - could be correct. A sauce/condiment as universal as this is most likely subject to very wide interpretational latitude, depending on regional variances, usage and preference.
In any case, it is definitely good tasting, and easy as pie; it also has the virtue of being very versatile, and can be used as a condiment for many, many dishes of the region. In the case of my Levantine supper, it made an excellent sauce for my falafel:
I also used tried it with my chicken and the khoubz, and found it to go very well with both. I'd like to try it on other things such as baked fish and as a dip for vegetables or crackers; in fact, taratoor is also a primary ingredient in hummus and baba ghannooj - and I am sure other recipes as well.
Thank you for taking the time to read this, and I hope you give it a try.
Ron