Tarnegolet Bemitz Hadarim - Israeli Chicken with Citrus Juice
עוף עם מיץ הדרים
Molly Bar-David's Chicken with Kumquats
The
Middle Eastern Cooking
volume of Time/Life's
Foods of the World
series is - to me - one of the most impressive in the entire collection; of the nearly 30 volumes in the series, it is easily one of the top 5, and I heartily suggest picking one up, if you ever have the opportunity. Published in 1969 (with much of the research presumably done during the few preceding years), it offers a positive culinary perspective on this now-troubled region through the lens of an era when many of the unique cultures were strongly influenced by more opulent and "neighbourly" times. I am constantly - every time I open it - finding new things to like about this particular volume, both in the reading and in the recipes themselves.
One theme that can be found predominately throughout the chapter on Israel is the emergence of a "new" cuisine there; singular and eclectic at the same time - a harmonious culinary melding of ancient regional foods, European immigrant traditions and the bounty that is produced when industrious pioneers work together to make the barren desert bloom.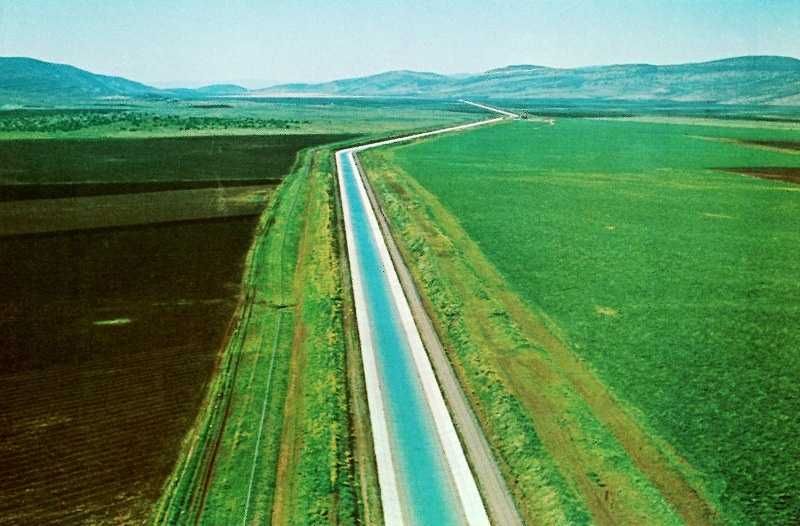 Photo Credit: Time-Life's
Foods of the World - Middle Eastern Cooking
, 1969
This notion makes perfect sense when one considers that settlers from over 80 nations made up the population of Israel in the years after it was established; the result is indeed a new kind of food for a new land.
Photo Credit: Time-Life's
Foods of the World - Middle Eastern Cooking
, 1969
A typical example of this concept can be found in
Tarnegolet Bemitz Hadarim
, a "new" Israeli dish composed of widely-available chicken and prepared with ingredients - both ancient and relatively modern - grown and produced in Israeli settlements.
Photo Credit: Time-Life's
Foods of the World - Middle Eastern Cooking
, 1969
Easy and unpretentious, yet delightful-looking with a nice balance of flavours, this recipe comes from the kitchen of Molly Bar-David, an Israeli columnist who wrote extensively on cooking, women's issues and Israel in general. She also authored at least two cookbooks that can be found on Amazon.com:
http://a.co/9af4sjm
http://a.co/7YqB5MP
Here's the recipe, from Time-Life's
Foods of the World - Middle Eastern Cooking
, 1969:
To serve 4:

A 2.5- to 3-pound chicken, cut into 6 to 8 serving pieces
1 cup fresh orange juice
2 tablespoons fresh lemon juice
1/4 cup honey
2 tablespoons drained, rinsed, seeded and finely-chopped canned or bottled hot chili peppers (see notes below)
10 preserved kumquats
Lemon or orange slices

Preheat the oven to 375 degrees. Pat the pieces of chicken completely dry with paper towels, sprinkle liberally with salt, and arrange them side-by-side in a baking dish large enough to hold them in one layer. Mix the orange juice, lemon juice and honey together and pour it over the chicken, turning the pieces about in the mixture until they are well-moistened.

Re-arrange the chicken pieces skin-side-down in the baking dish and scatter the chopped peppers over them. Bake uncovered and undisturbed in the middle of the oven for 15 minutes. Turn the pieces over, add the kumquats and baste thoroughly with the pan liquid. Basting occasionally, bake the chicken 30 minutes longer, or until the leg or thigh shows no resistance when pierced with a fork.

To serve, arrange the chicken and kumquats attractively on a heated platter, pour the pan juices over them and garnish with lemon or orange slices.
Alright, let's see just how easy it is to make a delicious, vibrant chicken dinner - here's all you need: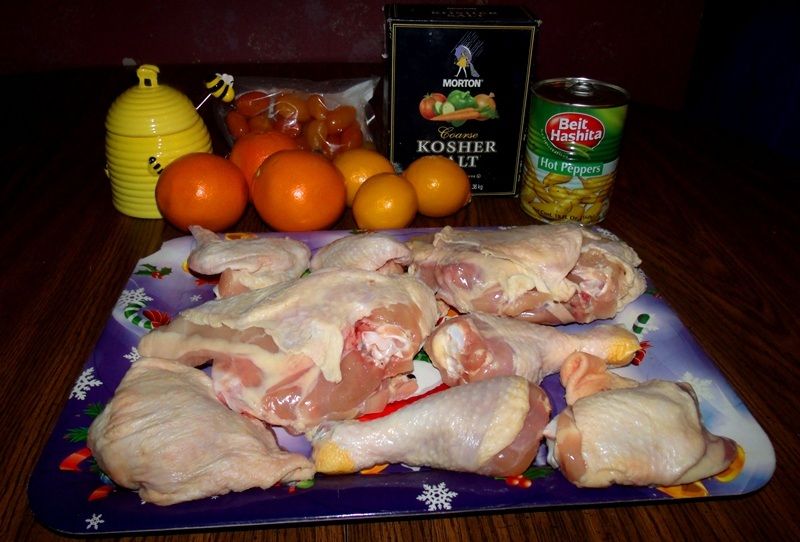 Aside from one cut-up chicken, you simply need some honey, oranges and lemons for juice and for serving (we had Meyer lemons on hand, so I used those), preserved kumquats, kosher or sea salt and pickled peppers.
Being that this is an Israeli dish, I wanted to capture the spirit of its origins as much as possible; to that end, I was fortunate enough to have two special components to this dish:
On the left, we have preserved Israeli-grown kumquats, which I was able to acquire from Amazon.com:
http://a.co/1fveHdp
http://a.co/j2Lezfi
These particular kumquats are subject to availability due to the growing season, so if you live in a rural area like I do, you might need to find other ways of finding them; or, if you have fresh kumquats available to you, my understanding is that they are very easy to preserve in honey or a simple syrup. If anyone wants to take on this challenge, it would be a very nice pictorial for the forum! I would also guess that, if you prefer, you might even be able to use fresh kumquats in the recipe.
On the right in the photo above are canned, pickled
shipka
peppers from Israel. I received these as a gift from my friend Ahron (AfricanMeat) specifically for this project, and they were an outstanding addition to the dish, lending an authentic taste and adding very much to the experience. I really enjoyed them as they had a little heat, but not enough to be oppressive - and had a flavour all their own. Thank you Ahron!
You can find these same peppers available for mail order in bulk from Amazon.com here:
http://a.co/5GBFdS2
If you just want a single can, here are a couple of options:
https://www.makoletonline.com/products/beit-hashita-hot-peppers-19-ounce
https://www.koshercentral.com/passover/bh-hot-green-peppers
Alternately, you can use any canned or jarred pickled pepper; red or yellow seem to me to be best, but this could be my own preference coming through. You could probably even use fresh peppers, if you want - why not?
Anyway, let's get started! This recipe is dead simple - in fact, you will be amazed that so much flavour can be packed into such an easy recipe.
As I said above, the peppers I used did have a little bit of heat - too much for The Beautiful Mrs. Tas. With that in mind, I chopped up a few of the peppers in the can: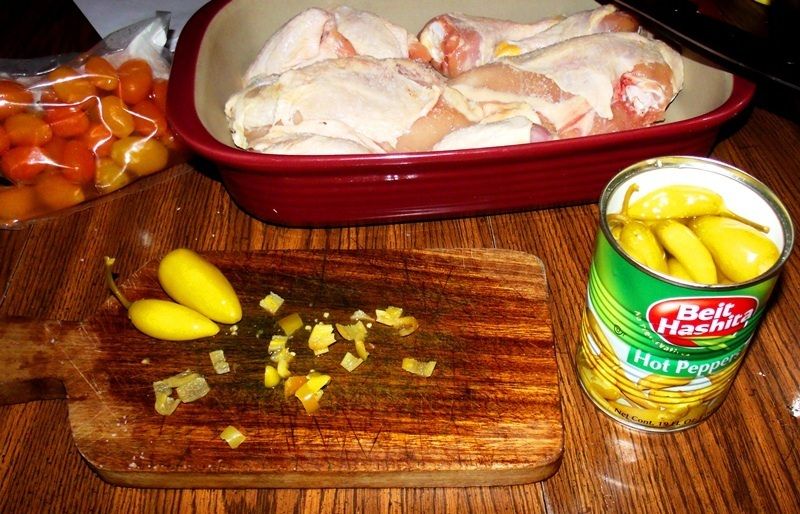 And placed them in a serving dish, to be served on the side with the meal:
I figured that this would be a good alternative to cooking them with the chicken as the recipe calls for, so that those who wanted to add a little heat could sprinkle them on top of their serving of chicken.
I also set a few whole peppers in a serving dish, to be served with the meal:
I found them to go very well with my chicken, providing a really nice balance and contrast to the sweetness from the kumquats and honey; they also were good with the rest of the meal, and I found them to be delicious on their own. Evidently, at least a couple of the boys agreed with me, since the peppers were all gone by the end of the meal.
Next, after pre-heating my oven to 375 degrees, I measured out 1/4 cup of honey and 2 tablespoons of lemon juice:
I stirred the mixture around to dilute the viscosity of the honey, and added it to 1 cup of orange juice: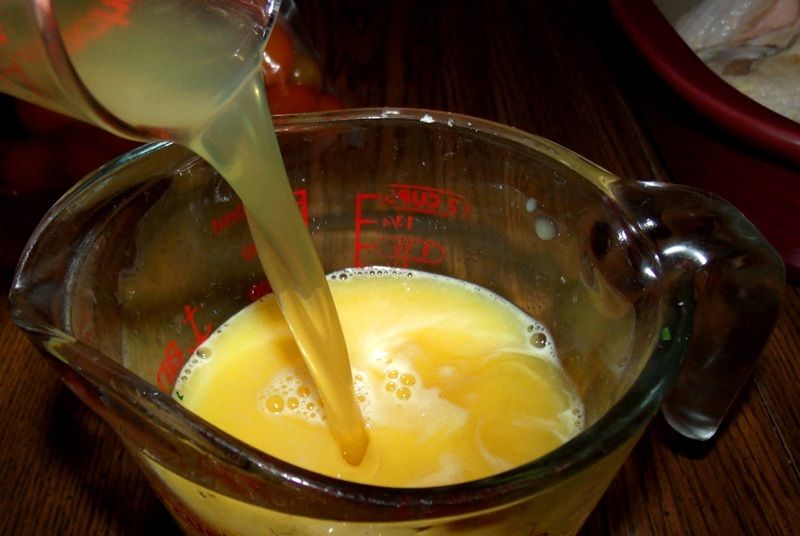 After that, I patted the chicken pieces dry with paper towels and gave them a generous dusting of kosher salt in an earthenware baking dish; I then introduced the citrus-and honey mixture to the party:
After turning the chicken pieces over in the baking dish a couple of times, I arranged them skin-side-down in the baking dish. At this point, the recipe calls for the chopped peppers to be sprinkled on top of the chicken, but as mentioned above, I followed an alternate path.
Moving along, I then placed the baking dish into the oven for 15 minutes; after which time, I removed the chicken and turned the pieces skin-side-up, basted them with the pan juices and added the kumquats:
I added a few more than called for in the recipe, but oh well - they were a special treat!
After that, I returned the chicken to the oven and cooked it for another half-hour or so, basting with the pan juices 3 or 4 times. When the chicken was done, I took it out of the oven and was pretty impressed with what I had created: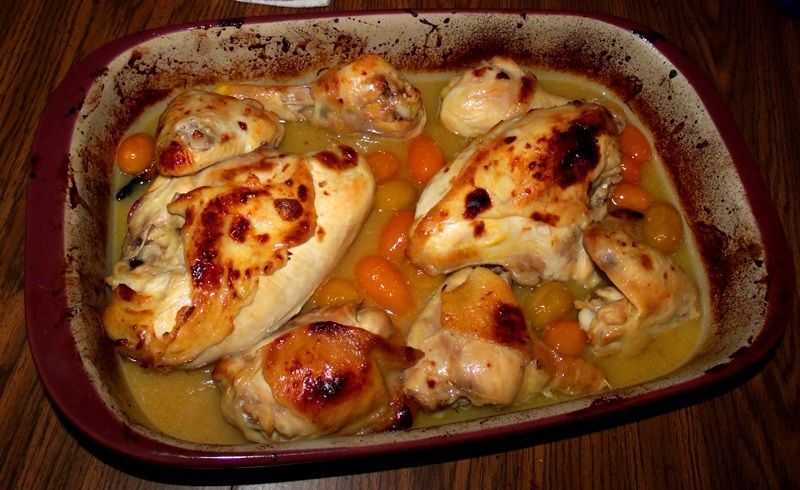 Looking pretty good, I'd say!
The aroma in the kitchen was amazing, with fresh citrus accents and a comforting undertone filled with rich, caramelised promise of wonderful chicken. I was really eager to dig into this dish - but first, I arranged the pieces on a plate with sliced oranges and lemons and a few whole peppers:
As you can see, the colour of the chicken is really something; in fact, I was compelled to take another photo:
And another: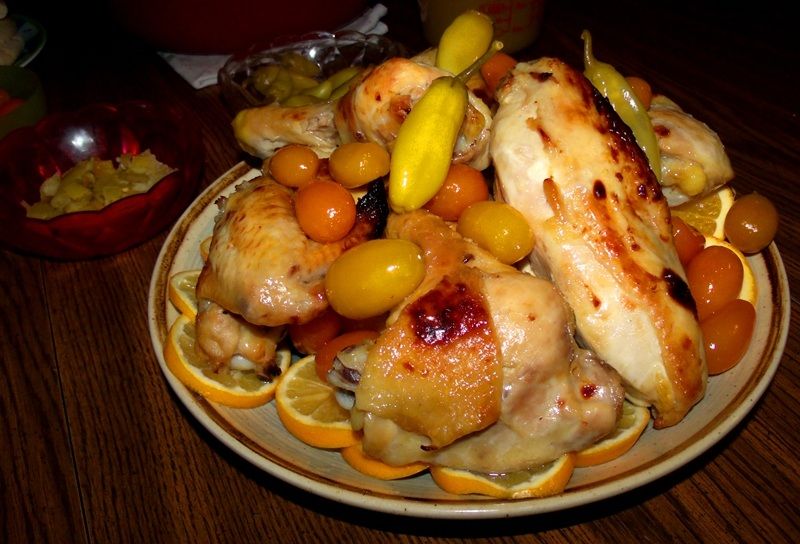 This is - hands down - one very beautiful dish, and I assure you that if
I
can make it,
you
can make it.
I set aside some various condiments: Lebanese
taratoor
(a lemon-and-garlic tahina sauce), whole
shipka
peppers, more kumquats and chopped
shipka
peppers to sprinkle on the food: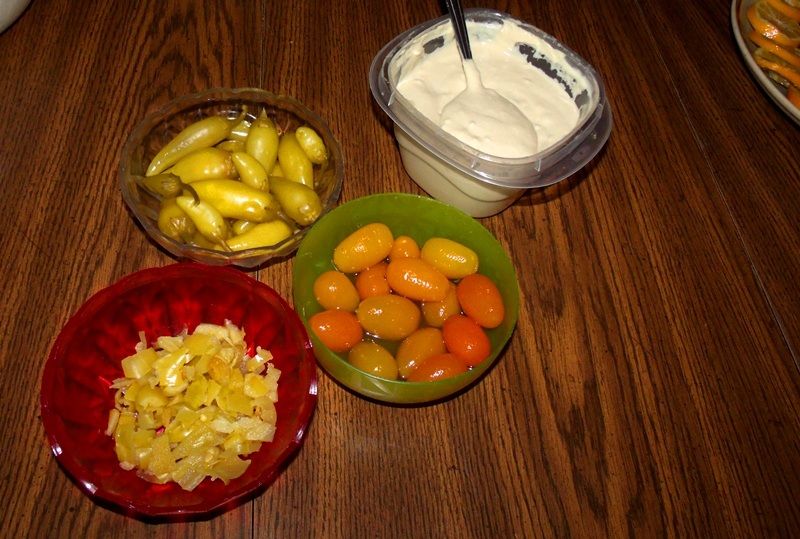 I also reserved and de-fatted the pan juices, to be served with the meal. I probably could have reduced the liquids down to a very nice, thick sauce, but for this first preparation, I opted to simply serve them as a
jus
.
The
Tarnegolet Bemitz Hadarim
was part of a Levantine-themed meal that included other foods from Israel and Lebanon, including
falafel
,
taratoor
,
khoubz Araby
and (not pictured) a Lebanese lentil soup:
Every now and then, we re-learn one very valuable lesson:
simple is often best
. This is especially true of this dish, as the few ingredients required paid back in huge dividends where flavour is concerned. More than that, I found it to be a fitting tribute to a new land - a blend of the many backgrounds that went into its creation and the nation that was forged from them. I discovered wonderful harmony here, and the way that it fit so well with everything else on the plate. All of the foods served were delicious, with the juicy, tender chicken making a perfect centrepiece. What I really enjoyed was the way that the bright citrus flavours worked with the sweetness of the honey and kumquats, which in turn were countered beautifully by the tangy, spicy peppers. The beautiful, roasted-glazed look of the chicken was an added bonus. I was absolutely impressed with this chicken; it will be made again - and often - in our home.
Thank you for taking the time to read this, and I hope that you try it; it is so easy and so delicious, you really can't go wrong!
Ron