As I've mentioned before, we are working our way through the entire set of
Time Life Foods of the World
cookbooks. We are switching off choosing the next book so neither my husband or I gets stuck eating too much food we don't enjoy (but we are both pretty open to things!). It was my husband's turn to pick when he chose the
Pacific and Southeast Asian Cooking
. Honestly, I was quite surprised. He HATES, I mean
ABHORS
seafood. I know he likes some Thai and Vietnamese restaurants near us, but I just refrain from telling him there's likely fish sauce in everything he eats. Well, that's hard to hide when you are staring at an ingredient list! Still, I put together a good number of meals that had no fishy business at all...until the Thai cuisine. I thought about just slipping in the shrimp paste and fish sauce but he put his foot down. So, we are going through this with no seafood products at all. I said we were both *pretty open*...this is apparently one of those closed doors.
Anyway...
These recipes are based on the ones in
Pacific and Southeast Asian Cooking
but with certain omissions! Last night was red curry, which in the book calls for chicken. The husband has also been finicky about chicken lately but he likes tofu in Asian dishes so I figured I would just swap that. So instead of Kaeng Phed Kai, we made Kaeng Phed Tofu.
To start, we made the red curry paste from scratch. I made Thai curry once before at home using a commercial curry paste. I was so disappointed in it that I never attempted curry again until last night. I was glad to be making it from scratch. Ron posted the recipe
here
and we only made a few minor changes.
I've added the more common name for ingredients in bold, or my substitutions:
To make 1/2 cup:
6 dried hot red chilies
2 tablespoons finely-chopped shallots (used onion)
1 tablespoon finely-chopped garlic
1 tablespoon paprika
1 tablespoon powdered sereh (lemon grass)
1 tablespoon trassi (shrimp paste - omitted with malice aforethought!)
1 teaspoon ground laos (galangal)
1 teaspoon caraway seed
1 teaspoon coriander seed
1 teaspoon finely-grated fresh lemon peel (used lime)
1 teaspoon salt
This entire mixture is put into a blender until a smooth paste is formed.
We grew the red chilies, garlic, lemon grass and coriander seeds ourselves! The lemon grass was not dried and powdered, so I chopped very finely and used a heaping tablespoon. Also, the only galangal I could find was "broken" (big chunks) but it was nicely dried so I just used my spice grinder to get a powder. We subbed the lime for lemon because we only shopped at the Asian market this week and that was all they had.
I had never used galangal before. It's a member of the ginger family and I expected it to be fairly similar but found it to be entirely different. I actually found the flavor to be quite subtle, somewhat earthy. Wikipedia says it has a "citrusy, piney, earthy aroma, with hints of cedar and soap in the flavor." The most shocking thing to me was the strong mustard smell! It was probably enhanced by the fact I ground it myself and really got a big 'dust cloud' when I opened the grinder. It was a great smell!
So, here are the ingredients we used for the curry paste:
In the bowl on the lower left, starting from the leftmost and going clockwise: finely chopped lemon grass, galangal, coriander seed, caraway seed and paprika.
In the bowl on the upper right, starting again from the leftmost and going clockwise: onion, lime peel, red chilies, garlic, salt.
All this was dumped into a container to use my stick blender...which hardly worked at all! There wasn't enough 'stuff'. Since this isn't very wet, I tried my spice blender (coffee blender). It took starting, stopping, scraping down the sides and repeating about 8 times to come up with something 'paste-like'! I never could get the coriander and caraway seeds completely ground, but I figured it was good enough. Whew. The equipment:
The paste:
In the end, it only made just under 3 tablespoons of paste, unlike the promised 1/2 cup (8 tablespoons!). I omitted a tsp of ingredients and used one non-powdered ingredient, so that should have made for a little less but not less than half! So if you are making this recipe, plan on only getting half the amount stated - 1/4 cup.
Note to self for the future: Don't lick fingers after playing with the curry paste! :O
The actual curry recipe is rather simple and we only used three ingredients: curry paste, tofu and coconut milk. Ron has posted the
entire recipe here
, which calls for chicken as well as "fish's gravy" (which I believe is now more commonly called fish sauce). Other than the omission and the 'meat' change, we followed the recipe instructions. We also made a half batch, so I'll just state those amounts:
To serve 3:
1 can coconut milk
1 tablespoon red curry paste
1 lb fried tofu
We bought the tofu from the Asian grocer - they were making it right there! Super cool.
And the instructions are rather easy:
Do not shake the can of coconut milk, but open it and skim off the heavy top milk - should be about 1/2 cup. Put this in a small saucepan over high heat and reserve the rest.
Stirring frequently, bring the top milk to a boil over high heat. Reduce the heat to low and, stirring occasionally, simmer uncovered until coconut oil begins to bubble to the surface and the liquid has been reduced. the recipe says to about 1/4 cup, so I expected it to just be 2 tablespoons. But after 30 minutes, the oil had appeared and it was somewhere near 1/4 cup. The canned top milk is probably richer and has less water in it than freshly prepared that has only sat for an hour (the recipe directions). You can just see the darker lines of oil in this picture:
Mix in the curry paste and cook until all of the liquid has evaporated. I felt we had already reached that point, so I just mixed in the paste and cooked about 5 more minutes. OH THE SMELL! Mouthwatering. I wanted to eat it right then and there.
The recipe has you drop in the chicken and cook for 10 to 15 minute until tender but since the tofu was already 'done', I just did about 5 minutes to heat it through.
Finally, add in the reserved coconut milk and bring the whole thing back to a boil.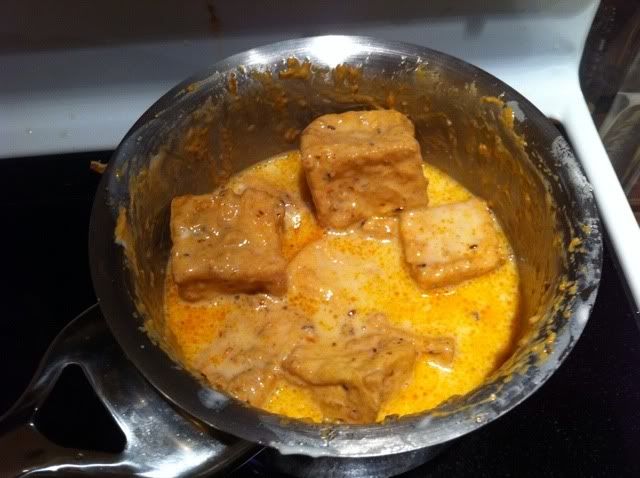 Taste for seasoning and serve with rice. We ended up needing an entire teaspoon of salt. The fish sauce and shrimp paste are both salty, so we missed out on that addition. I'm thinking of maybe some other salty Asian sauce for future versions. My husband took picture below with his camera...the colors as too washed out! It was more the color of the above picture. Garnished with cilantro from the garden, in a pottery bowl my fifth grade teacher made me!
Absolutely delicious. The flavors were so clear and bright. I've now realized that many a Thai curry at restaurants is heavy and greasy. Not so with this dish. So wonderful! And the occasional little crunchy seeds were a great addition.
I had thought the coconut milk would mellow the curry paste enough that my 2 year old could eat it, but it had just enough bite that I went ahead and rinsed off some tofu for her. Darn...I'm sure she would have loved it! It was just the right kick for an adult palate but could have also been a lot spicier for those that enjoy that.