That sounds like a great idea, Ann. - be sure to get a picture or two and post in the Hungary section with a few details, either as a reply to the original paprika hendl post, or as a new one of your own, if you want!
Here's how my 2011 paprika hendl went down ~ I apologize for taking so long, but it's been quite a couple of months, and unfortunately, things don't look any less-busy in the near future! I hope that the wait was worth it, as I think I've got a pretty good run-down here, and some of these pictures are going to end up as part of the original tutorial, as well.
Here a shot of the goods needed, except for the chicken (and of course, the fat rendered from the chicken) - all prepped and ready: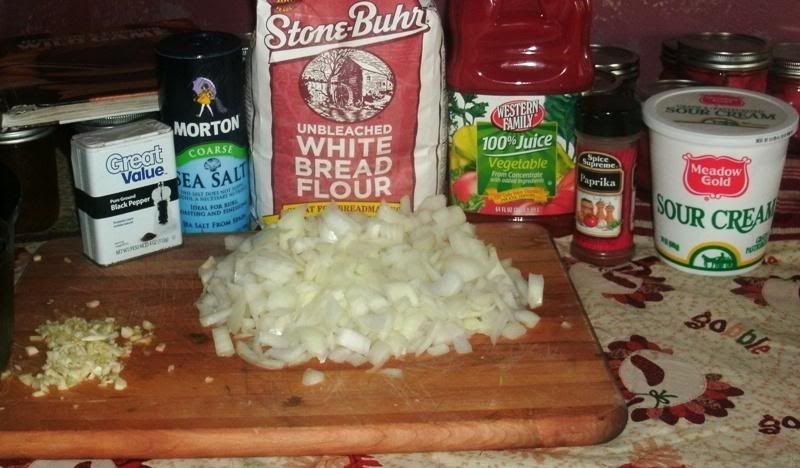 I used a 10-pound bag of leg quarters, which, if I remember correctly amounted to 12 or 14 quarters total. Amazingly, these all fit into my Dutch oven, and were enough for everyone who was at the house that night, with a couple of leftovers for lunch the next day.
Worthy of note is that the paprika I used was the "cheap" variety, yet seemed to yield better, smoother and more flavourful results than a more expensive kind I have used before. My caveat to this observation is that I have not yet used the really "good," authentic stuff, so take it for what it's worth - however, my advice is, unless you go for the "premium" Hungarian paprikas, you might as well find a cheap one that you like and stick with it.
Another note - you can make this with tomato juice of course, but my strong advice is to use V8-style juice, which may seem like an historical anachronism until you remember that the only real difference between V8 juice and tomato juice is a "broth" of mixed vegetables - and vegetable broth would have been a ready and available base for cooking back in the day.
If using skinned chicken, you do not want to pre-brown it; just set the pieces aside and start rendering the fat from the skin. However, if you choose not to skin your chicken, then begin the dish by browning the pieces in batches to render the fat and set the pieces aside until after you add the V8 juice. Here we are, rendering the chicken fat from the skin:
You want to do this at a fairly moderate heat - it's better for the heat to be a little too low, rather than too high, so that you can render the fat without burning the skin, which would ruin a lot of good flavour. Also, some people like to reserve the "cracklings" from the skin when rendering is complete, and serve them as a garnish or as a special treat of their own. This can't be done if the skin is burnt, of course. I chose not to do reservev the cracklings, but did give a few to the pets, and they seemed to like them.
As you can see from this picture, quite a bit of fat is rendered from the skin:


The greenish colour, aside from being kind of cool, is simply a result of the yellow fat being in a blue bowl. As you can see, the fat is clear and ready to be used for this dish and, presumably, any other chicken-based dish that you might want to cook in the near future.
I added back a few tablespoons to the Dutch oven: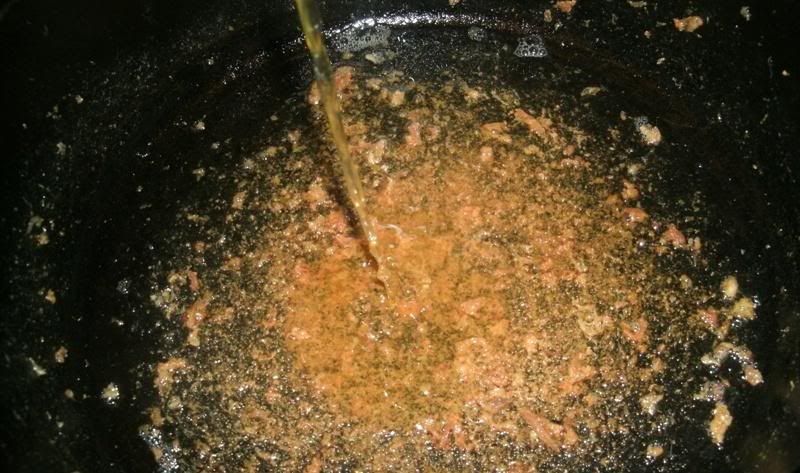 And got busy carmelising the onions. The brown bits on the bottom of the pan added a lot of colour and flavour to the party, as you can see:
This is another step that you want to do rather slowly over moderate heat; the idea is to get the onions just to the point where they release their sugars and add a rich depth and subtle sweetness to a dish. Usually, it is a moment or two before they start to turn brown; consequently, it takes a little bit of experience to judge how much cooking of the onions is enough. In Hungary, great pride is taken in slow-carmelisation of onions as the foundation of a good meal, and it is one of the things that will make your Hungarian dining experience a truly authentic one.
Once the onions are where you think they should be, add the garlic and cook for just a minute or two in order to start the releasing of that wonderful flavour. Then remove the Dutch oven from the heat and add your paprika: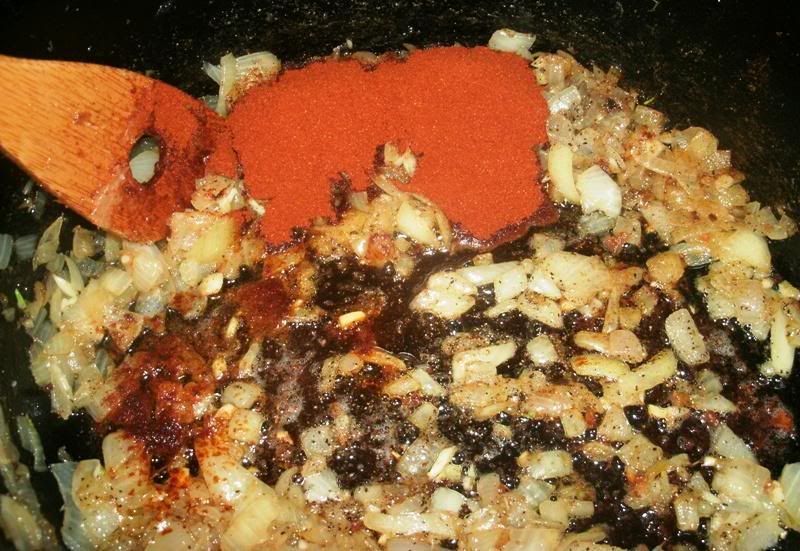 You do not want to do this over direct heat, or the paprika could scorch and will probably turn gritty as well. The dish probably won't be ruined, but it certainly won't be as good as it can be.
After stirring a few minutes in order to allow the paprika to release its oils and darken, I added most of the V8 juice, reserving some so that I could thin out the sauce later, if necessary:
Then I stirred everything around before returning the Dutch oven to the heat:
Given the subject matter, both historical and literary, I must say that this is a most appropriate dish. As we all know, Bram Stoker's sinister title character was based on historical nobles, including Vlad III, the Impaler of Wallachia:
And Countess Erzsébet Báthory de Ecsed of Hungary, who literally bathed in human blood:
This rich, thick, blood-red historic dish certainly sets the mood ~
After returning the Dutch oven to the heat, I added the chicken leg quarters and slowly brought everything to the beginnings of a boil. As you can see, the recipe as written will just accommodate 10 pounds of skinned leg quarters, filling the Dutch oven to the brim:
Here's another picture that, to me, captured the sinister back story of the dish:
And on Halloween, no less!
When the Dutch oven came to a boil, I reduced the heat low enough to maintain a slow simmer, then covered the chicken so that it could cook for about an hour. The amount of time gives or takes by about 15 minutes, depending on how much chicken you use and other factors. The chicken will be done when you can pierce a thick part of a thigh with the tip of a knife and the juices run clear.
Toward the end of the simmering, I prepared the sour cream and flour mixture; I chose to follow Ann's lead and add the remaining paprika at the same time, making it look pretty cool: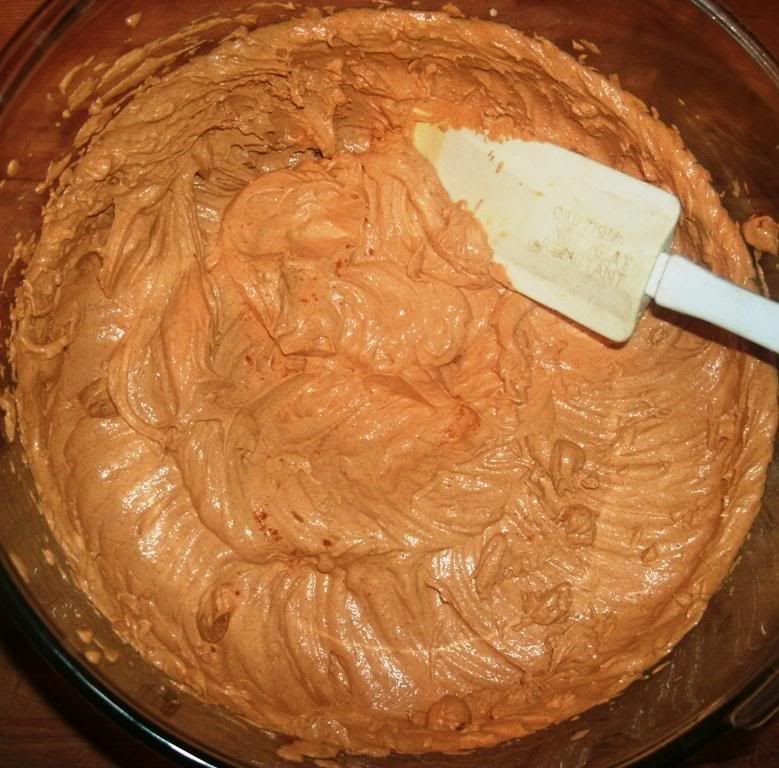 The purpose of the flour and sour cream is two-fold: first, the sour cream tones down the paprika, keeping it from overpowering the dish, yet allowing its bold flavours to come through; secondly, this step thickens the sauce into a beautiful, thick, rich gravy for topping your chicken and your side dishes, whether they are potatoes, vegetables, dumplings, noodles or what have you.
Here's our bubbling cauldron, with the chicken done and dish ready for the final stages: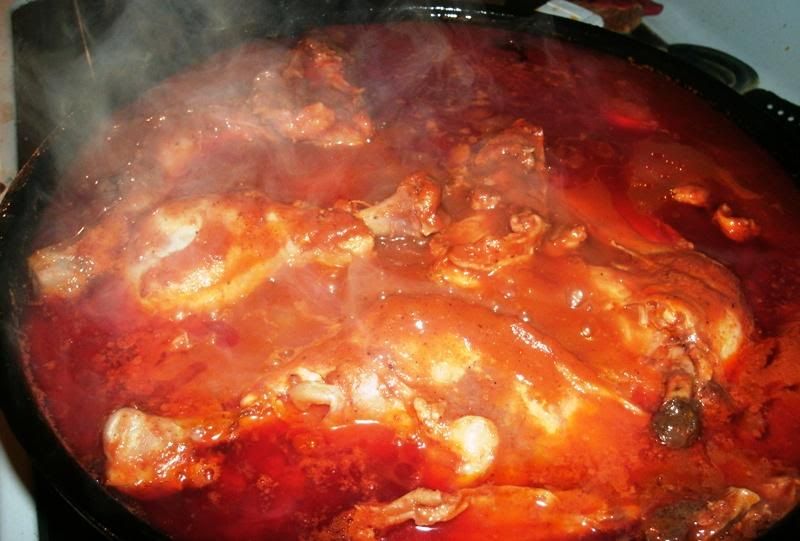 I removed the chicken and added the flour/sour cream/paprika mixture, stirring until the sour cream melted into the sauce for a beautiful, rich gravy: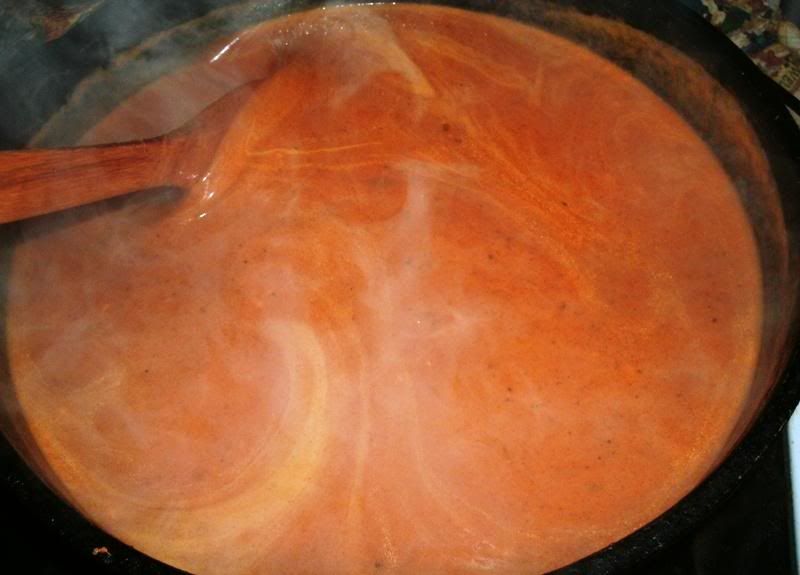 As I let this simmer a few minutes longer, the flour and the additional paprika cooked into the sauce, darkening it beautifully and giving one last layer of flavour. I then added the chicken pieces back to the Dutch oven in order to coat them well with the sauce, and served this truly historic dish with simple, boiled potatoes, topping with a few dots of sour cream: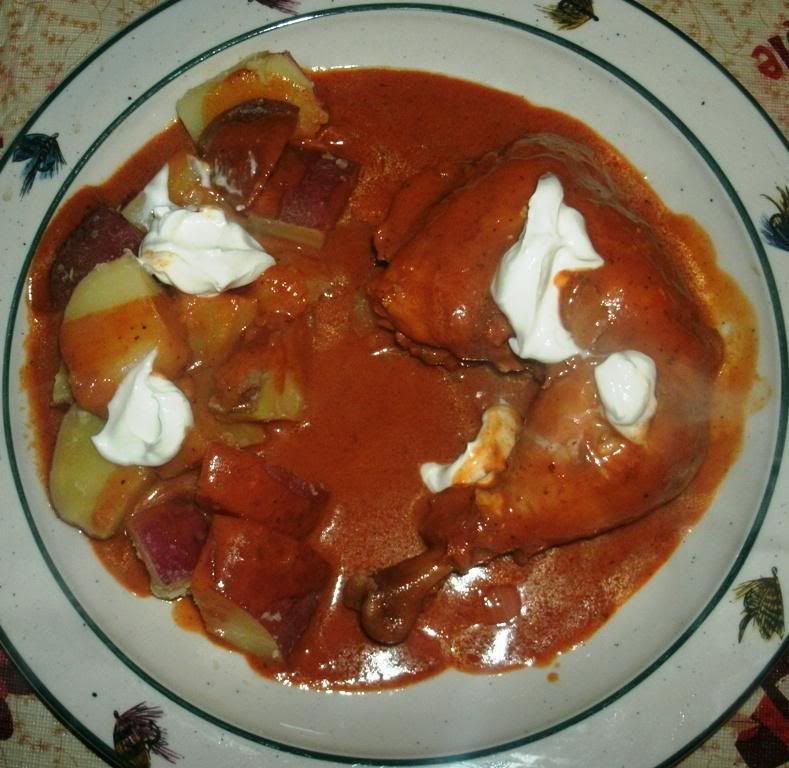 As always, this savory, historic dish was a crowd pleaser that the entire family enjoyed, and I think it could have been my best preparation yet. I added some of the V8 juice back into the sauce - but must have used a little too much, since it was thinner than last time, but no worries - it worked very well.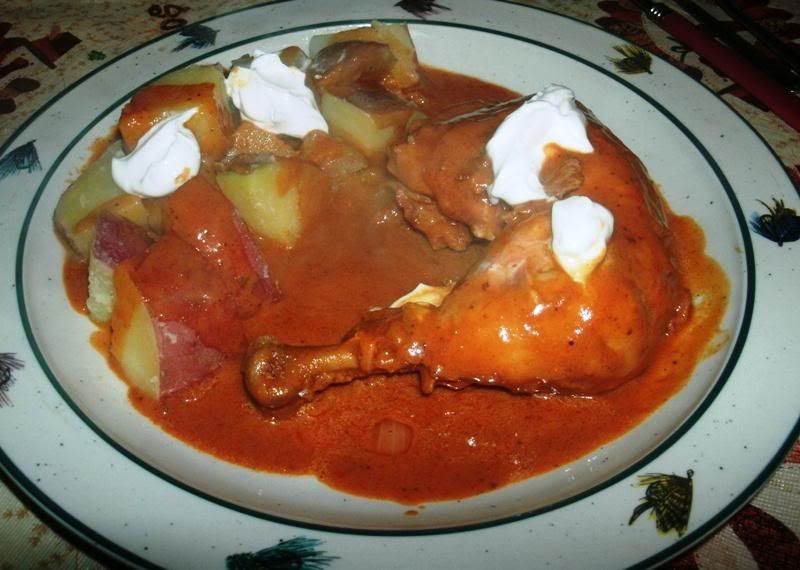 This was a perfect meal to enjoy as we watched Monday Night Football and handed out treats to young trick-or-treaters who were out on this crisp autumn evening; but the truth is that you don't need to wait for Halloween to try this - while it is perfectly suited for fall and winter cooking, it is great any time of year!
Thanks for looking, and especially to all who took part in Dracula's 2011 Paprika Hendl Dinner Party. I do hope that this becomes an annual tradition for those who participated, and that others will be inspired to give it a try next year, after seeing how easy it is. If anyone has any questions at all, please let me know!