"Rice doesn't get much better than this. It is delicate, a crown jewel in the thousand year old Persian cuisine. This rice is served at Persian weddings. It is the king of rices and the rice of kings. If you are serious about rice you owe it to yourself to try this at least once in your life."
http://fxcuisine.com/Default.asp?Display=93
http://www.food.com/recipe/stunning-javaher-polow-persian-jewelled-rice-290475
http://shawna3377.blogspot.com/2011/07/javaher-polow-persian-jeweled-rice.html
http://turmericsaffron.blogspot.com/2011/01/persian-jeweled-rice-javaher-polow.html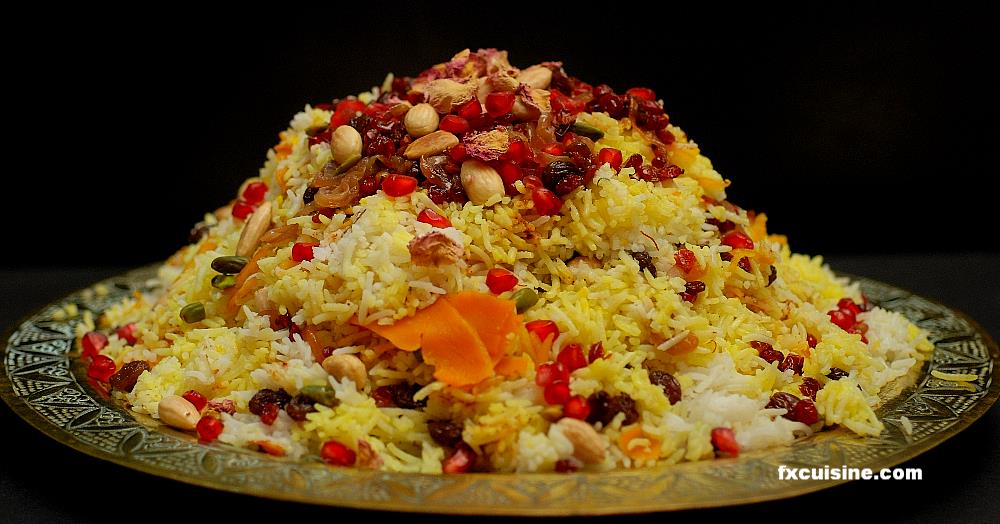 This is on my list of "to try" recipes. I had it in Fairbanks where I was very impressed with the taste and presentation. There are several variations but I do not think that it would be right without saffron. The Fairbanks cooks knew to make a LOT of this very popular dish. It is savory enough to go with chicken or lamb but almost sweet enough to be a dessert.