Turr贸n Marr贸n con Almendras
"Brown" Almond Nougat
Sweetened nuts have been a special treat for many centuries, and nougat is a very typical example. Its roots can be traced to the Moors in Spain and, going back from there, possibly to antiquity. From honeytraveler.com:
Variations [on nougat] are found in Italy, France, Spain and the Middle East, but its actual origins are obscure. Some trace it back to the Romans in the ancient writings of the Roman epicure, Apicius from 1st-century AD, whose notes were used for the ancient cookbook, De Re Coquinaria, from the 4th-century AD.... Or, perhaps more likely, the Arabs, who have cultivated various types of nuts (almonds, pistachios, walnuts), honey and sugar for centuries.... [N]ougat is cited in the 15th-century eastern Islamic cookbook of Ibn al-Mabrad for both honey and sugar-based versions.
In Spain, nougat is called turr贸n. Wikipedia provides some additional history:
The 16th-century Manual de Mujeres ("Women's Handbook"), a handbook of recipes for cosmetics and some foodstuffs, has what is probably the oldest extant Spanish turr贸n recipe.[1] It calls for honey and some egg whites, cooked until it becomes breakable once cooled. Once the honey is caramelized the recipe suggests adding pine nuts, almonds or hazelnuts, peeled and roasted. The mix is then cooked a bit further, and finally removed from the heat and cut into slices.

All versions of the name appear to have been derived from Latin torrere (to toast). The actual confection might have been derived from the cuisine of Iberian Muslims during the Christian reconquest of Spain, as they had a similar dessert named turun. One may also point to a similar confection named cupedia or cupeto that was marketed in Ancient Rome and noted by Roman poets.

Turr贸n or Torr贸 has been known at least since the 15th century in the city of Jijona/Xixona (formerly Sexona), north of Alicante....Variations are found throughout the Mediterranean basin.
Wiki's article on nougat tells us that there are different types of nougat:
The consistency of nougat can range from soft and chewy to hard and crunchy depending on its composition.... There are three basic kinds of nougat: The first, and most common, is white nougat...which is made with beaten egg whites and honey. The second is brown nougat...which is made without egg whites and has a firmer, often crunchy texture. The third is the Viennese or German nougat which is essentially a chocolate and nut (usually hazelnut) praline.
Wiki goes on to state that nougat/turr贸n is strongly associated with Christmastime in many southern European countries, especially on the Mediterranean.
The turr贸n recipe for this pictorial is indeed ancient and well-traveled. Honeytraveler.com draws the link between this Andalusian recipe and its Moorish roots, stating that "most Middle Eastern recipes use nuts and honey without eggs." The 13th Century Al-Andalus Cookbook refers to two very similar recipes, sukkariyya and f芒l没dhaj; the only significant difference is that these use rose water, rather than lemon juice. Finally, gherkinstomatoes.com mentions a nearly-identical French version, called nougat noir:
A Proven莽al gros souper (Christmas Eve dinner) would not be correct without some nougat noir to challenge the skill of your dentist and possibly lay waste to your dental work. In other words, nougat noir can be a b锚te (bite) noire, if you鈥檙e not careful...for nougat noir is a hard candy, not the pillowy stuff you might be thinking of.

Several types of nougat exist, thanks to the Arabs and the enterprising people of sixteenth- century Mont茅limar in France. You will find soft nougat, hard nougat, white nougat; black nougat supposedly symbolizes evil. I can see why people thought that if their teeth broke or fell out while eating it....

Nougat noir is more like a nut brittle than the soft nougat-like Divinity you might remember from your childhood. In times past, before sugar became easily accessible, cooks made nougat noir only with honey. Note that the color of the honey affects the color of the final nougat as well as the caramelization process.
We've all seen peanut brittle and its close variations during the Christmas season, but I never really gave the history of the dish much thought until Margi made her post on the subject, citing its Andalusian and Moorish heritage. I had also never considered making it; however, when I saw how easy it looked to prepare, I decided to give it a try.
Here's the recipe, which doesn't use eggs (making it a "brown" or "marr贸n" turr贸n):
1 pound sugar
A few drops of lemon juice
1 pound raw almonds
2 tablespoons of almond or other nut based oil (almond oil was used before 1492)

1. Heat the sugar in a copper pan or heavy sauce pan with lemon juice.

2. Stir gently with spatula so it will dissolve thoroughly and not stick.

3. When the sugar is dissolved, add the almonds and stir until they are golden.

4. Grease a baking tray with the oil and pour contents onto the tray.

5. Grease a rolling pin and roll out the brittle to 1/2-inch thickness.

6. Slice the brittle before it cools.
This is another one of those recipes that really doesn't take much and produces great results. Since this was the first time I've made anything like this, there were a couple of problems, but nothing that would keep me from trying it again.
Here's a shot of the goods: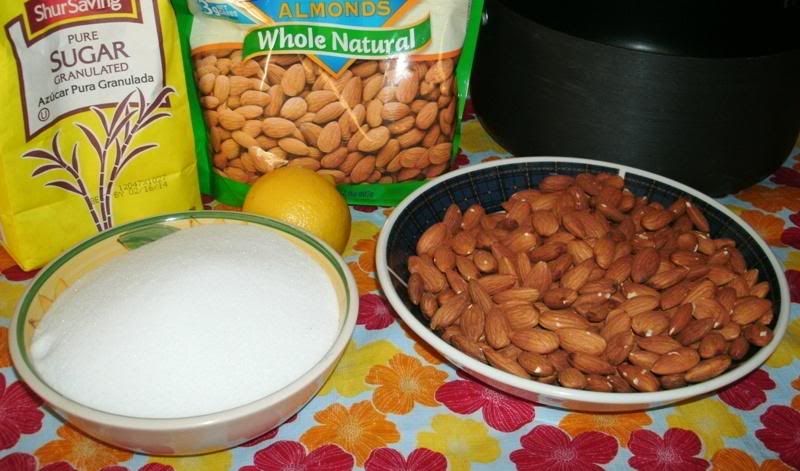 As the preparation progressed, I also used some honey (maybe half a cup) and a teaspoon of ground cinnamon.
The first thing I did was to extract the lemon juice; the recipe said to use "a few drops," but I used all the juice in the lemon, not wanting to discard any:
As you can see, I also zested the lemon, for use in some other project.
Next, I weighed out one pound of sugar and added it to the lemon juice in the bottom of a non-stick pan: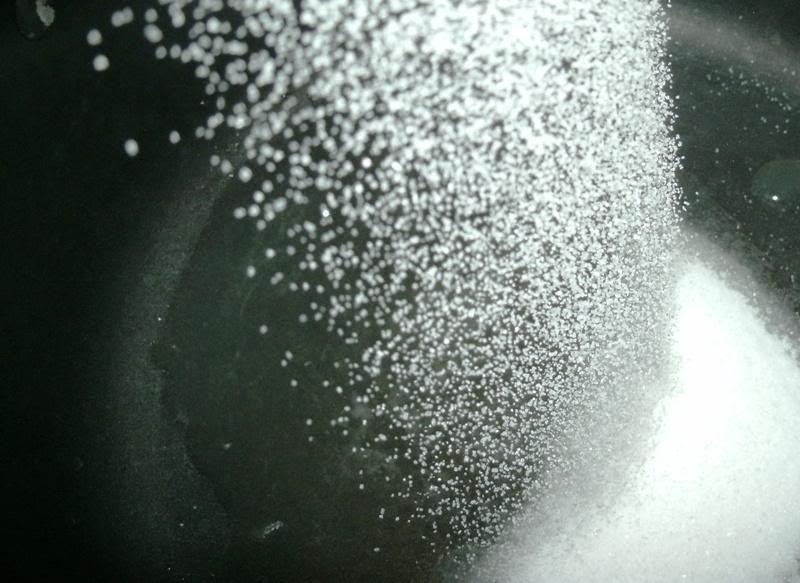 I then heated the sugar, stirring often: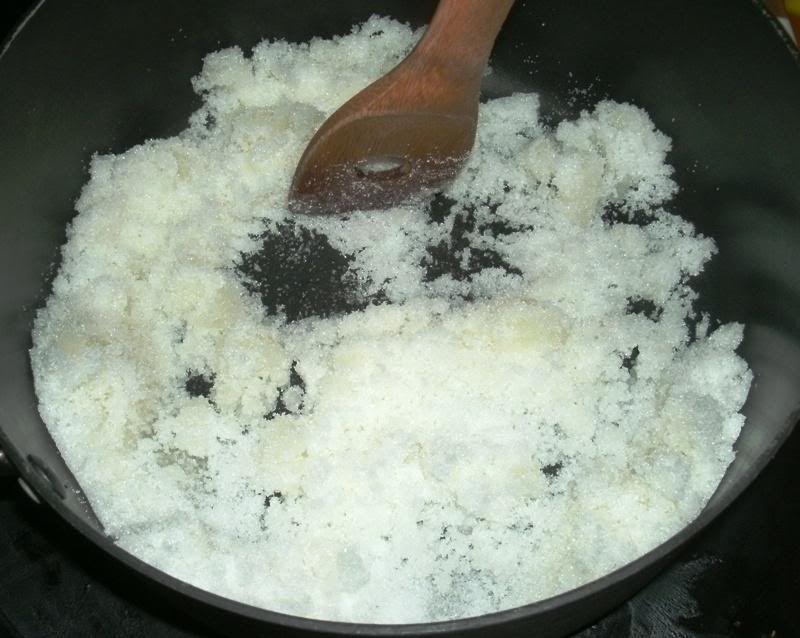 Since I had never done this before, I was leery of burning the sugar. I kept the heat fairly low and stirred very often in order to try to keep this from happening.
While the sugar heated, I poured some oil onto a baking sheet:
And spread it around with a paper towel, so that the candy would not stick to the pan.
After what seemed like quite some time, the sugar was still snow-white and un-melted. I was unsure as to whether there was a problem or not, so I did some looking around on the internet. Many sources listed honey as an important component of nougat or turr贸n, so I made a spot decision to add about half a cup:
It didn't occur to me at the time, but I probably could have added water, dissolving the sugar in it and then letting it boil off. I am not sure if that would have worked, however; perhaps someone with more candy-making experience can weigh in on this.
In any case, it wasn't long before the honey did a good job of turning the sugar into a liquid, and it seemed as though we were back on track. For no particular reason, I decided to also add a teaspoon of cinnamon, to give the turr贸n an added kick:
From there, I continued to cook the sugar/honey mixture slowly, stirring very often, until it darkened considerably: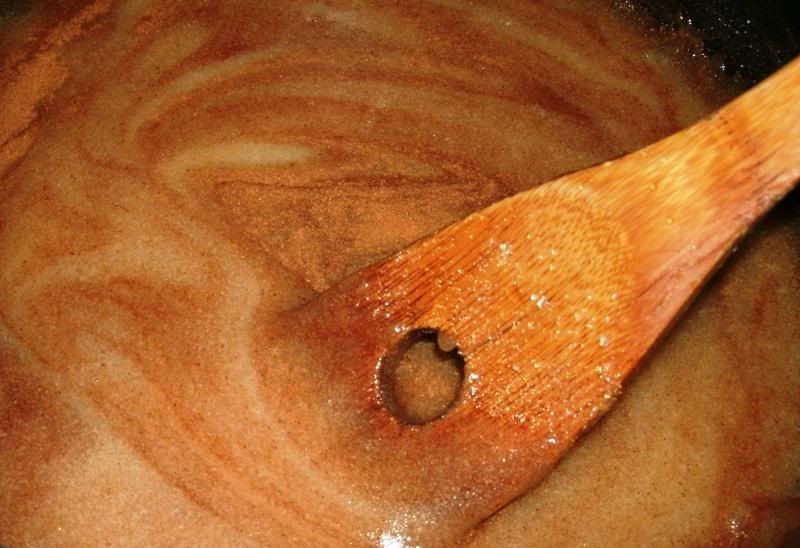 I then added the raw almonds:
A note on almonds: It didn't occur to me to toast the almonds, since the recipe specified raw almonds; having said that, I do believe that this candy could benefit from using toasted almonds, as the raw ones seemed quite bland. Also, it might be worth using almonds that are slightly salted, to provide a flavour contrast with the sweetness.
When the almonds looked well-coated and started to darken noticeably: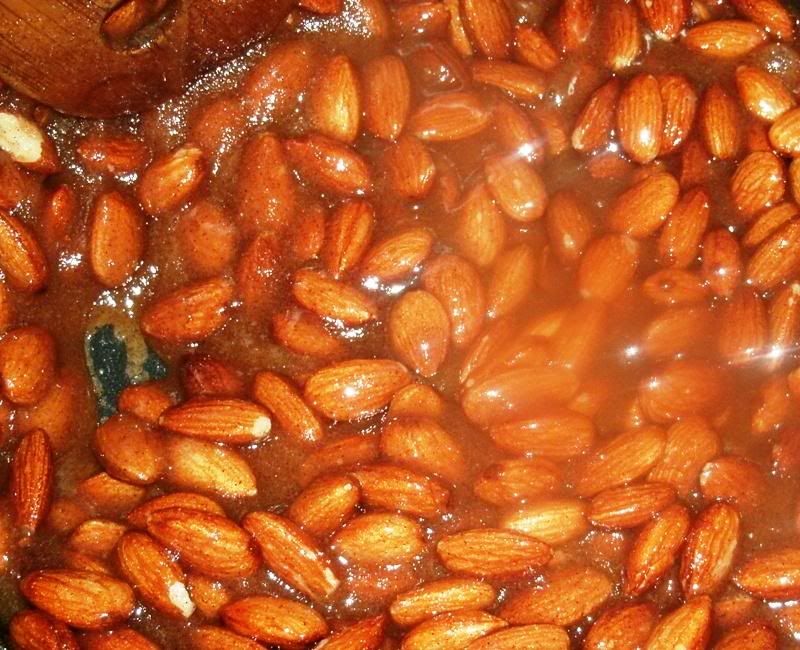 In spite of the very long time over the heat (or so it seemed), the honey/sugar mixture was still a bit grainy, but I was worried that cooking any hotter or longer might scorch the entire thing, so I decided that I was probably as close as I could get without more knowledge or experience on the subject. Looking back, a candy thermometer might have been helpful with this, but it turned out pretty good without one.
I poured the contents of the pan onto the baking sheet: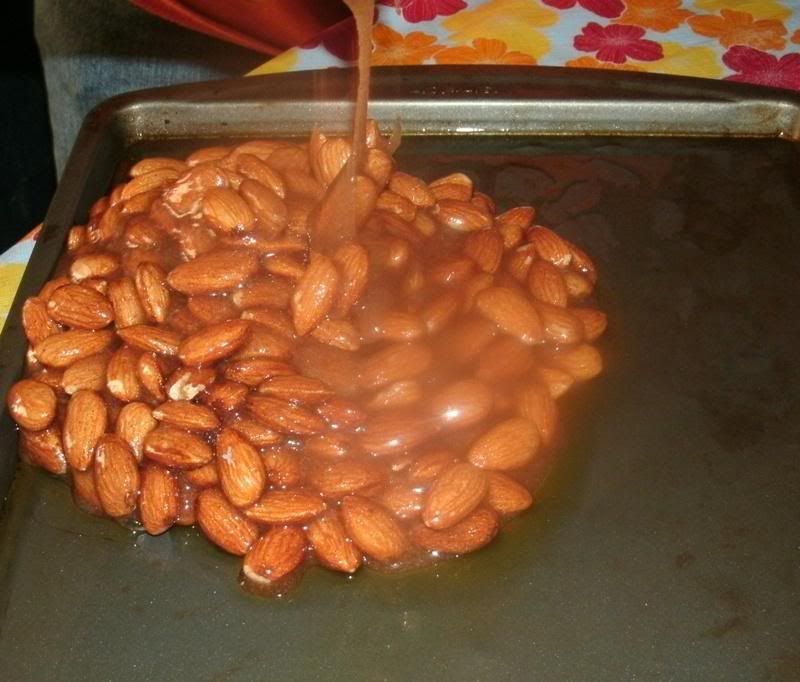 I then spread the candy around:
The colours of the almonds swimming in their sweet amber were so captivating that I decided to take another picture:
And another: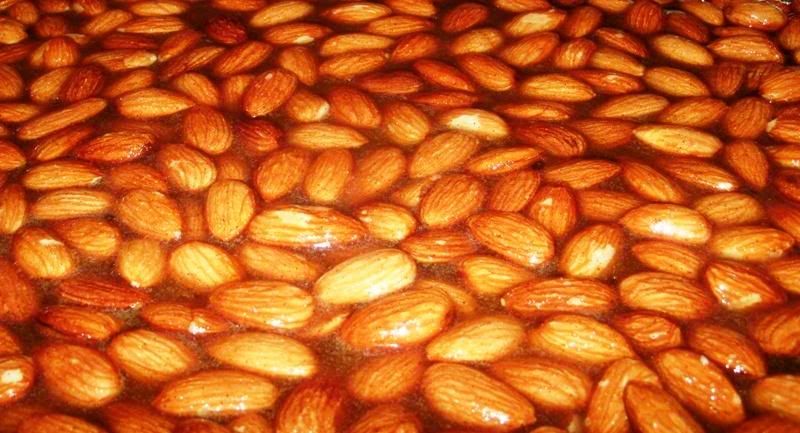 And one more:
I then set the turr贸n in a cool, dark place to harden overnight.
The next day, I tried cutting it, and then simply decided to crack it and break it into serving-sized pieces: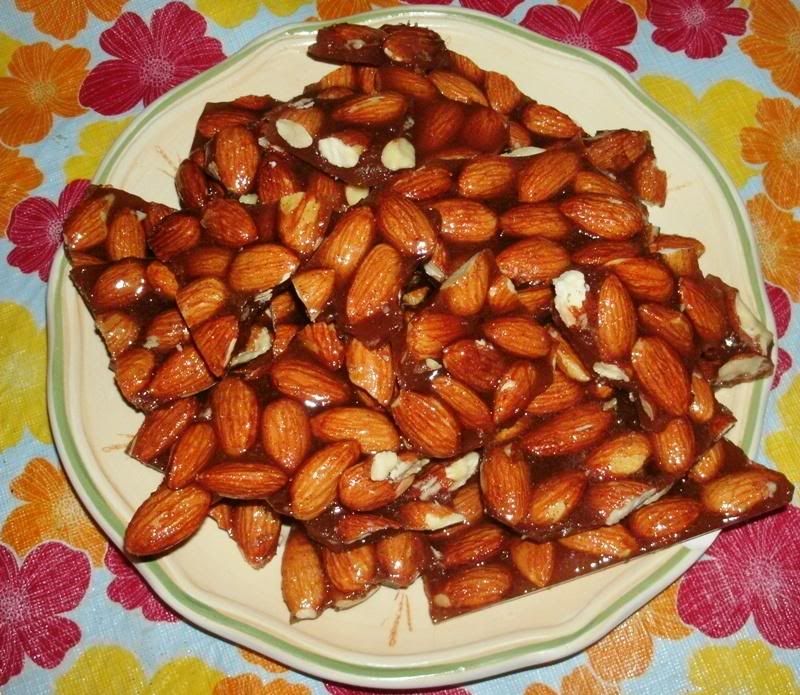 The candy seemed just a little but softer than hard; the graininess in the sugar/honey mixture seemed to be gone, but I was surprised at how it was bendable and sticky it was, while at the same time being hard and somewhat crunchy. This could be seen as a minor error in execution, but for a first attempt, I think it turned out quite well. The only other drawback was the almost complete tastelessness of the almonds; toasting them or using salted almonds would surely have been a huge improvement, I think. The beautiful Mrs. Tas suggested that next time the almonds should be sliced or crushed a bit, so that they are not so big when eating. Other than that, this was surely an easy way to make a sweet dessert for any occasion.
This turr贸n is highly recommended, as written or with my modifications mentioned above, and is fairly easy to make for anyone of any level. Having said that, if any novice does try this, I would recommend the use of a candy thermometer, in order to get the desired hardness with the finished product.
Enjoy!