on sunday, i got the chance to barbecue some country-style ribs. it was a last-minute decision to do them, so nothing fancy was done; just a quick slather with mustard and an application of strawberry's barbecue seasoning as a rub. (http://www.strawsbbq.com/) i've been waiting to try this as a rub and i can't tell you how good it was!
if anyone is interested in this seasoning, i urge you to give it a try. we don't have it up here, so i would like to thank RIVET for sending some to me and introducing me to the wonder that is strawberry's! it says bbq SEASONING on the label, but i can now wholeheartedly vouch for it as a rub as well. it became an instant favourite the first time i tried it - tangy, a good balance of salty and sweet, a little bit spicy but not hot, and something else in there that i haven't pin-pointed, but definitely love very much. this stuff is one of those seasonings that makes good use of your entire tongue and stimulates all the tastebuds!
these CSRs went on the SnP over royal oak red bag lump and maple chips at 1430 on sunday afternoon. cooking temps were on the low side, averageing 225-235 degrees due to the cold and windy conditions as well as my stinginess with fuel. i probably could have bucked it up quite a bit and gotten the manifold good and hot, but this worked well. 4 hours or so later the ribs were averaging 180 degrees internal and i brushed on some kraft honey bbq sauce on each of them for a few minutes, while we finsihed some potato salad.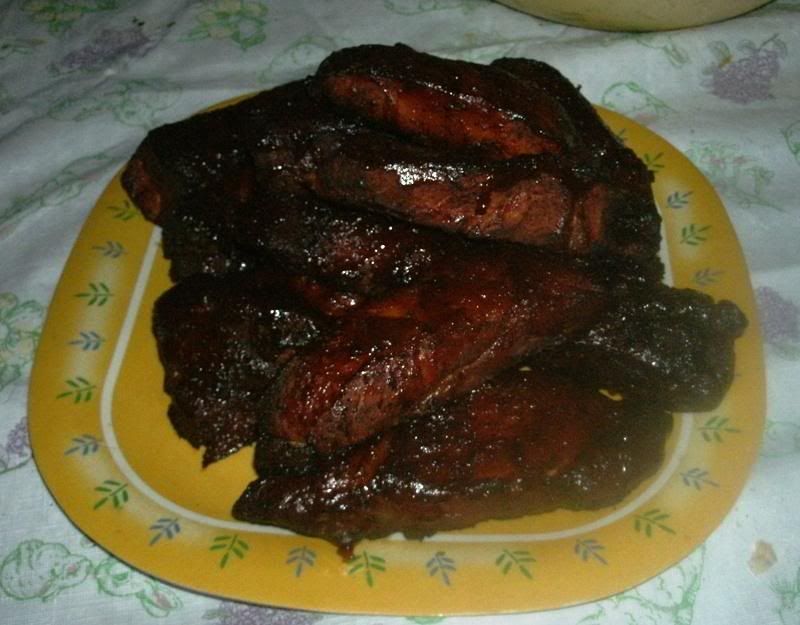 this was a quick and dirty bbq session, so no pix except this one at the end. the potato salad was thrown together but was very good. i will post a recipe and nice-looking pix sometime this spring.
results were VERY good. CSRs were very tender and melt-in-your-mouth good. the strawberry's is a great bbq seasoning and even better as a rub! they were just a bit dry in the parts that had a lot of meat, but this is because i did not mop them throughout the cooking process. with the cold and wind, i did not want to risk the variations in temperatures. it sure didn't bother anyone or slow down any appetites, however ~
other than that, they were cookied very well. the connective tissues, collagen and fat melted just right and provided that wonderful texture and flavour that makes pork taste great! 100% satisfaction and even mrs. tas enjoyed this dinner, which is always a plus!