Wurst und Gerste Schmortopf
Sausage and Barley Casserole
I have no way of proving that this dish is authentically German; however, the ingredients are all very much so, and the method is at least plausible. Given that there are only so many ways to combine ingredients, I am going to go out on a limb and theorise that somewhere in Germany, someone has made something very close to this dish. Support for this notion can be found by looking at a similar dish called
Sürkrüt Elsässer
, which hails from Alsace:
Transfer that same concept to, say, Bavaria - and my hypothesis moves from plausible to probable, in my opinion.
The name I chose for this dish translates to Sausage and Barley Casserole, and was simply a guess on my part; for all I know, this or something very similar may have a name of its own in Germany
In any case, let's get started! Here is the shopping list, which is large for a large family (cut it in half for a smaller table) and quite open to interpretation or improvisation:
2 pounds of sauerkraut (drained and/or rinsed, if you choose)
1.5 to 2 cups of dry barley
Up to
3 cups chicken stock or broth
*
German-style mustard, to taste (optional)
*2 teaspoons
caraway seeds (optional)
*2 to 4 cloves of crushed and minced garlic (optional)
*2 or 3 apples, peeled, cored and chopped (or cut into sections or rings) (optional)
Yes, there are a lot of "optional" ingredients up there; I've tried it with various combinations of the optional ingredients, and have never been disappointed. The basic recipe, without any of the optional ingredients, is also delicious!
Here is a shot of the goods that I used the last time I made this:
It's pretty hard to do this wrong! As you can see, where "optional ingredients are concerned, I used garlic, some caraway seeds and German-style mustard.
A note on the barley: when I made this, all I had available was "quick-style" barley; I much prefer to use the "regular" barley, but this will work. It seems that you use less liquid when using the "quick-style" barley, and cooking time is probably shorter as well.
Onward!
Mise en place is pretty easy; just chop your onion, mince your garlic and measure out your spices:
As you will see, chances are that you will not need to add any extra salt, due to the salt content of the other ingredients.
Before doing anything else, you're going to want to pre-heat your oven to 350 degrees - go ahead, do it now!
For the actual preparation, I began combining the ingredients; first, the barley, onion and garlic: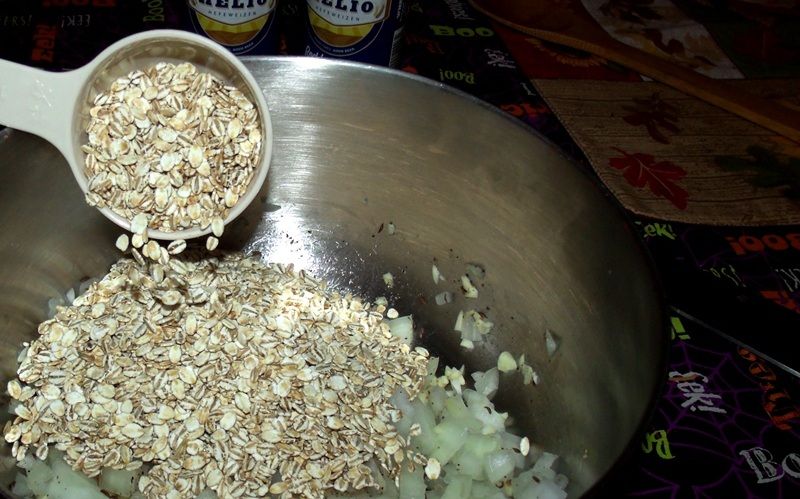 Next, I added the spices and a healthy glob of mustard: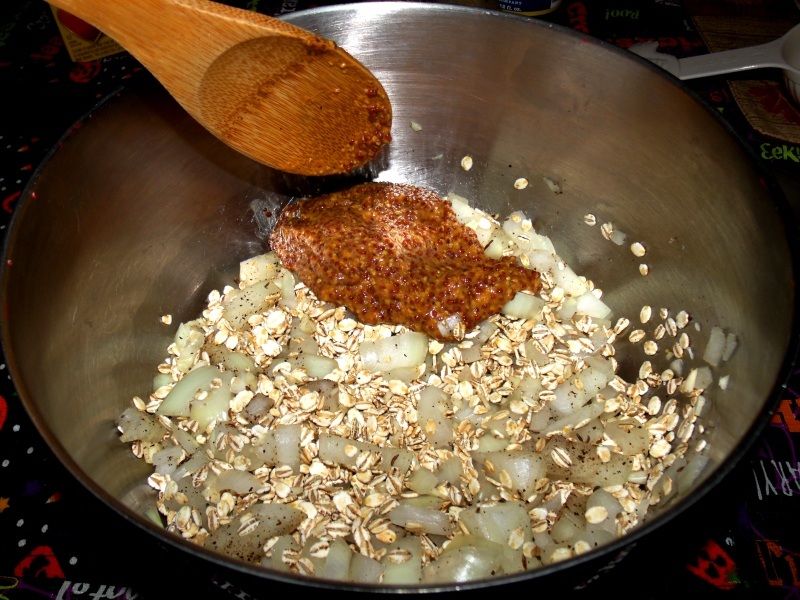 Finally, the sauerkraut:
In this case, I chose not to drain or rinse the sauerkraut; your preferences may vary.
I then stirred everything together and spread it out in an earthenware casserole dish:
I've had equal success making this in my enameled cast-iron Dutch oven, but today was a casserole dish day, so that's what I used.
I then arranged my sausages on top of the mixture:
You can use any sausages that you prefer; these were a simple, Hillshire-farm-type smoked sausage.
The beer that I chose for this project was a Montana-brewed hefeweizen that I discovered during our summer trip through the southern and western part of the state:
It was very good beer to accompany the barbecue-style dinner that I enjoyed in Gardiner, Montana - just outside
Yellowstone National Park; it worked quite well for this dish, as well. More information can be found by visiting www.redlodgeales.com.
I poured the two bottles of beer into the casserole dish: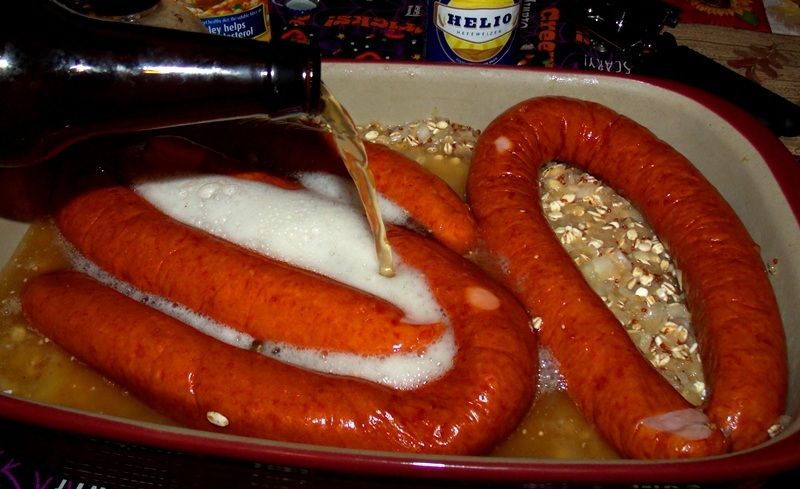 And then added some chicken base, a little over twice the amount shown here: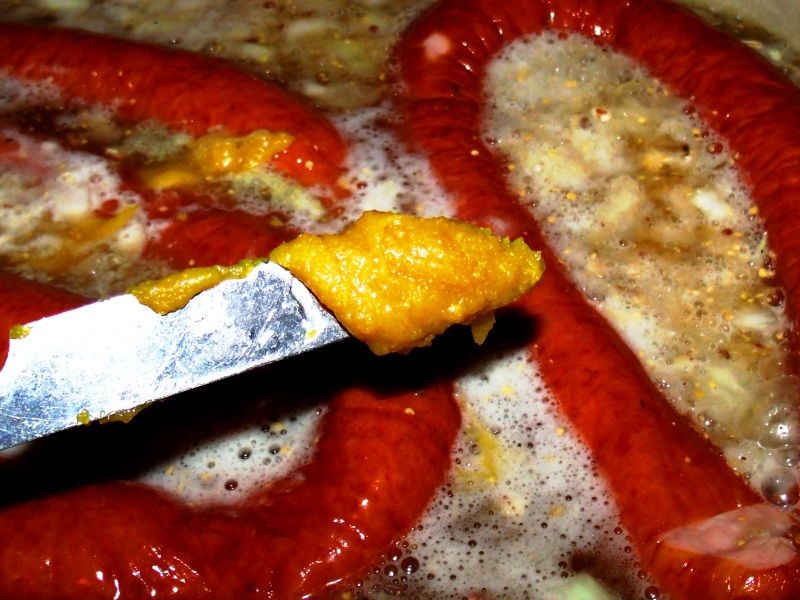 Since I was using the "quick-style" barley, I figured there was no need to add actual stock; however, I wanted the savory, comforting tang provided by the chicken flavours, and this base provided that. As mentioned before, the "quick-style" barley seems to require less liquid; I could have added a cup or two of reconstituted stock or broth, and the barley would have soaked it up - but it was not necessary. Had I been using "regular" barley, I would have added at least 2 cups of reconstituted (or home-made) stock, and would have had a cup more standing by, in case it was needed during cooking. Note: the salt content of this base plus the sausage and sauerkraut was adequate, and no additional salt was needed.
I then (purely on a whim) slathered on a little more mustard before covering the casserole tightly with aluminum foil:
From there, it went into the oven at 350 degrees for about 90 minutes. Had I been using "regular" barley, I probably would have baked it a full two hours, and would have checked it about 90 minutes in, to see if more stock was needed. As it was, here was the result: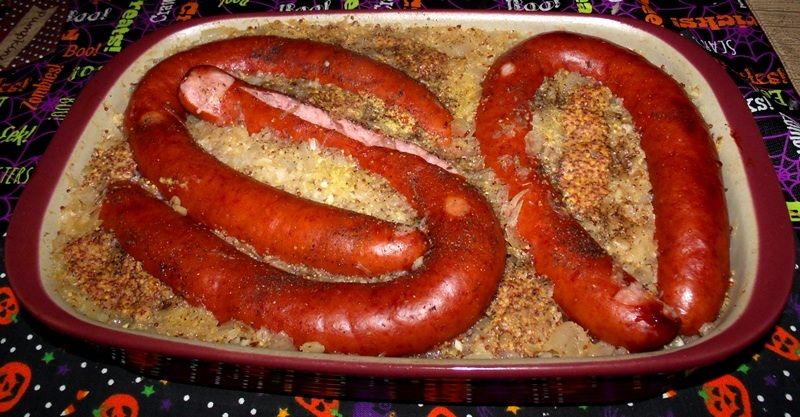 Looking good, isn't it? You can see some of the extra mustard I added before baking; this wasn't necessary, but I was in a mustardy mood that day, so I really went overboard with it and loved it!
Everything was ready to eat, so I cut the sausages into sections and served the meal with the barley sauerkraut mixture on the side, accompanied by simple, buttered, home-smashed potatoes: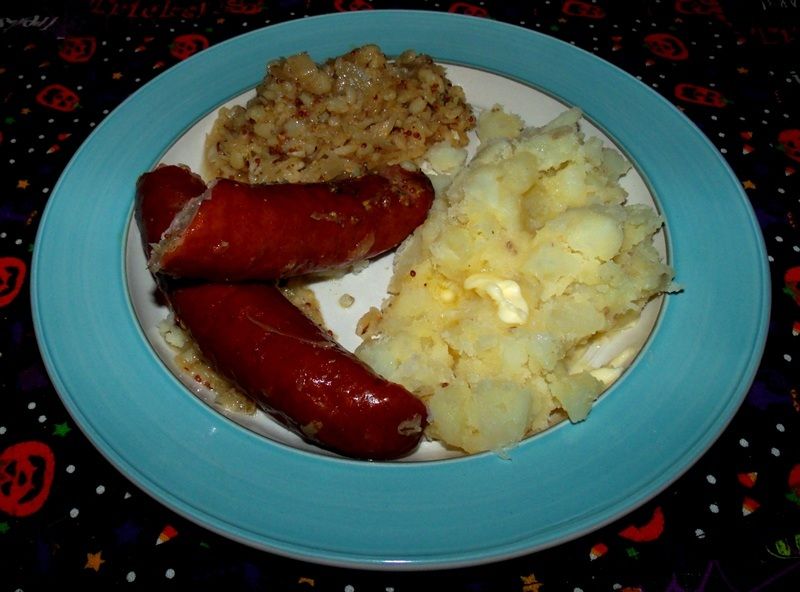 That's all there is to it; the flavours of Germany, sitting in front of you, ready to be enjoyed.
As I said above, it's pretty hard to get this one wrong; it's an easy meal that is hot, satisfying and full of delicious, hearty flavour; perfect for a family-style supper, whether on a laboral week night or a slow-and-easy weekend evening.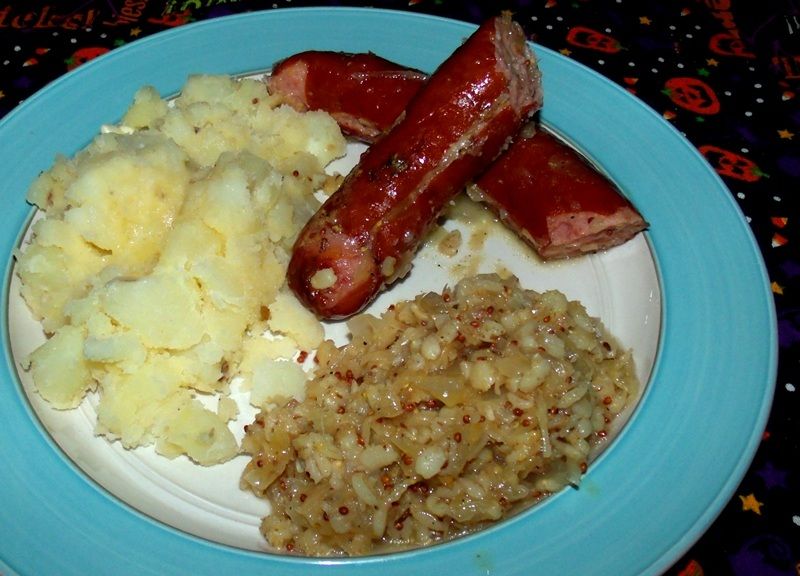 This dish is a family favourite of ours, and we probably serve it once every couple of months; more often during the colder months of the year. No one in the house is really a fan of caraway seeds, so they usually get left out, but the garlic is nearly always added, as is mustard. I've tried this with apples a few times, and really enjoy the play on the sweet and sour flavours; hence, I recommend that it be tried that way, if you're up for something different.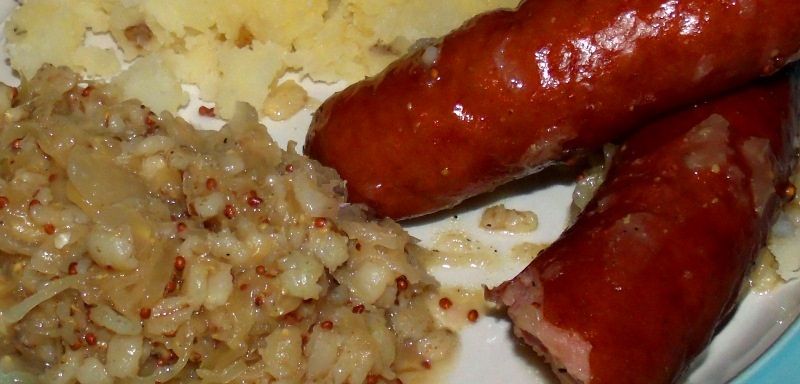 Thanks for looking, and I hope you give this meal a try. As always, I welcome discussion - if you are interested in trying this and have questions, please ask.
Guten Appetit!