ok, here's how the execution of my brisket tutorial project went down from beginning to end. please note that we had a couple of other projects going on at the same time, so it was a busy weekend!
this all-beef barbecue featuring a 10.5-lb brisket was in honour of #2 son mike's 18th birthday. along with the brisket, we also had a heck of a big locally-grown chuck shoulder roast and locally-grown beef ribs provided by a friend of mike's.
first up was assembling the marinade, which i thought up over the course of a couple of days prior to this event. the marinade also served very well as a basting sauce and as a component in a very good finishing sauce. this makes a LOT, but it can be used for multiple briskets or saved for future use.
here's a picture of the goods (not pictured: 1 can dr. pepper, white pepper and extra virgin olive oil):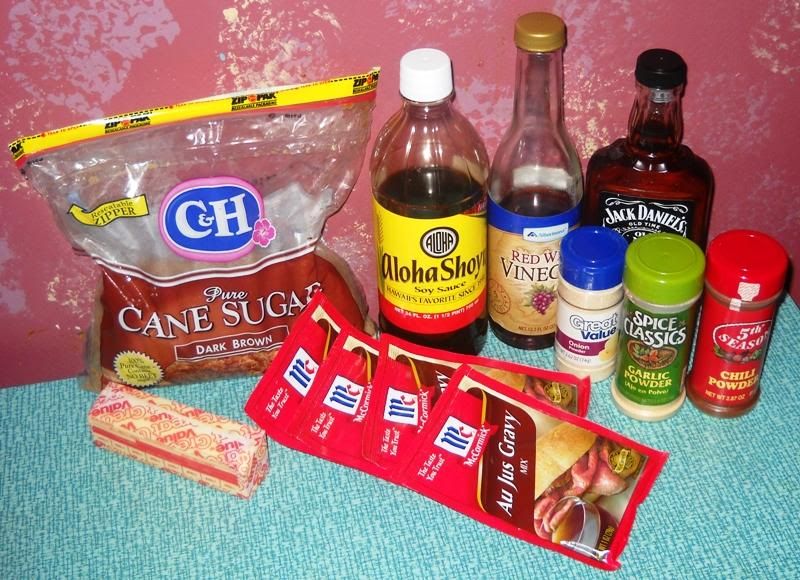 4 pkgs mccormick au jus
3 cups water
1 stick butter
1 1/2 cups jack daniels
1 12-oz can dr. pepper
1 cup red wine vinegar
2 cups dark brown sugar
2 tbsp chili powder (you could probably use three or even four!)
1 tbsp garlic powder
1 tbsp onion powder
1/2 tsp white pepper
1/2 cup extra virgin olive oil
heat au jus mix and water in a saucepan until just below a simmer, melt butter into mixture and let cool down until warm. add the rest of the ingredients and blend well. can be used as a marinade, injection marinade, basting sauce or finishing sauce.
the list and procedure make it it look a little complicated, but such is not the case and it really was easier than it appears.
the thing about this stuff is that it is just slightly out of balance in the salt department. you can add salt in some form if you want; however, the salt from the rub should more than make up for it and bring everything around to something that is very, very good.
while the marinade heated up and cooled down on the stovetop, we went and separated the point from the flat of the brisket. it seemed like a pretty straightforward cut along fat, membrane and muscle lines, but i have never done this before, so it wasn't quite perfect.
once the marinade was ready, we decided to inject it into the brisket (both the point and the flat):
aaron was on hand to assist with this project and really seemed to enjoy the injecting part. as i snapped away with the camera, he kept on stabbing and plunging: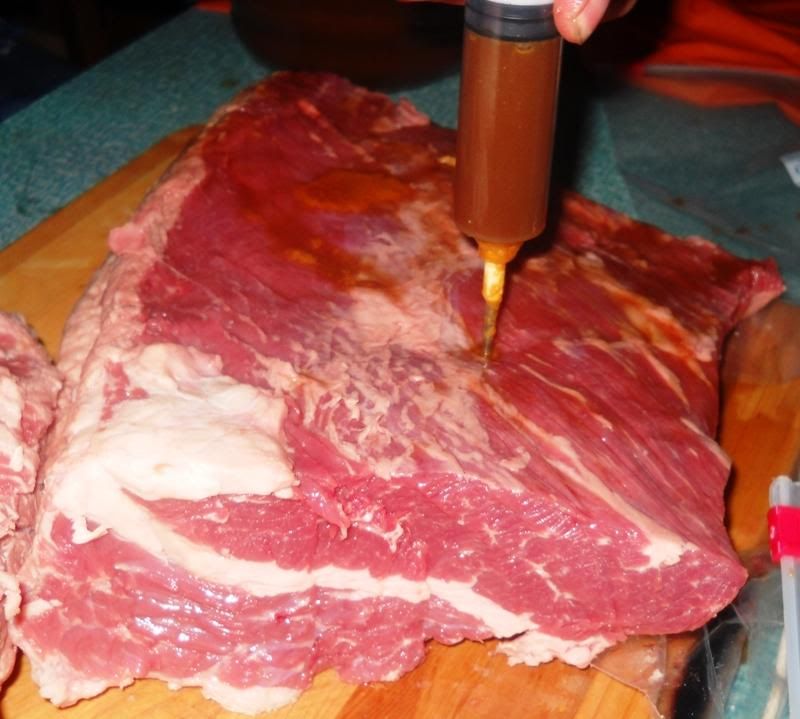 and stabbing and plunging:
once the two parts of the brisket were done, we decided to do the chuckie as well:
we then put each of the three hunks of meat into a gallon-sized ziplock bag along with a couple of cups of marinade and put them into the fridge overnight to soak in the flavour, aroma and goodness.
after that, we turned our attention to the ribs. for these beef ribs, we chose to slather them with yellow mustard and use a dry rub that is very well-suited for beef:
i highly recommend bolner's fiesta brand rub for anything involving beef - it has a great balance of flavours suited well for that awesome combination of cow meat and fire:
we got the ribs covered and into the fridge, and then put the remaining marinade on the stovetop on the lowest setting in order to simmer very slowly and reduce down. other than occasional stirring, it remained undisturbed all night long.
while the beef marinaded and the marinade reduced, we moved the project across the street for an "extended planning session" during which numerous beers and wine coolers were consumed and many games were played on the Wii. somewhere in there, a guitar was even brought out. when we finally had a plan together it was coincidentally about 0500, so we decided to get things going with this project. we returned back to my place and lit up a chimney of charcoal: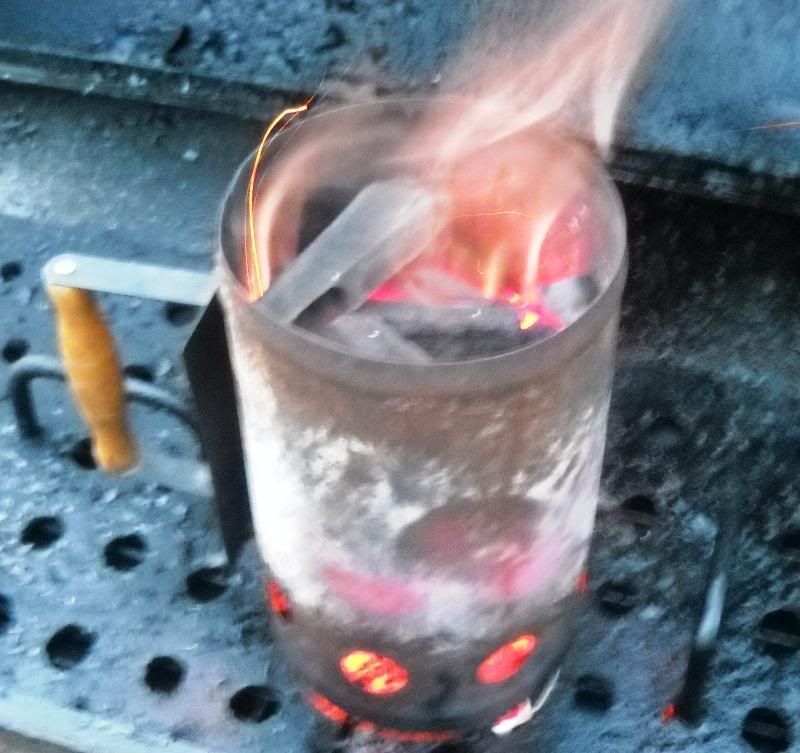 while the lump charcoal got going, we made the final preparations for the meat.
for the chuckie, we elected to try using lawry's seasoned salt as a "salt crust." for the meat. the intention was to let it cook on, then knock it off when the cook was over, leaving behind some wonderful, savory goodness. with this in mind, we laid it on pretty thick:
meanwhile, we took out the brisket halves from their ziplock bags. i should interject here with an interesting tidbit - it seems to me that all three hunks of meat did a great job of soaking up the marinade - there's wasn't much at all left in the bags, and the meat smelled heavenly.
for the brisket, i chose a very special rub sent up by a good friend: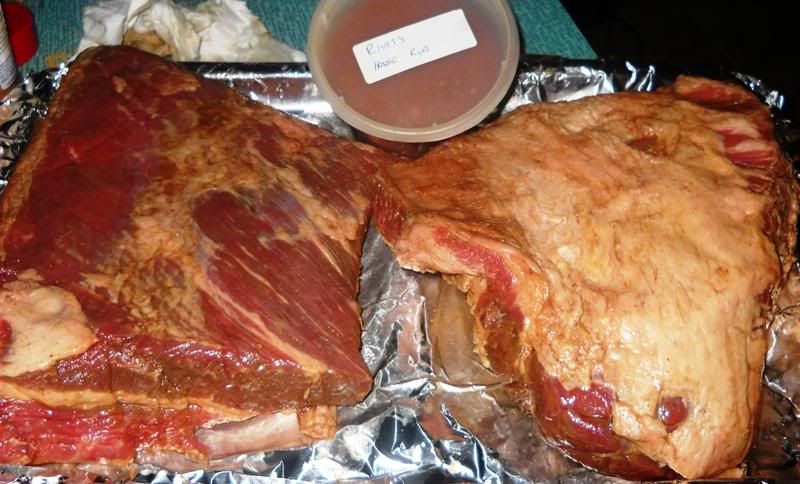 since he elected to share the recipe, i'll give it here:
1/2 cup chili powder
1/2 cup kosher salt
1/4 cup garlic powder
1/4 cup onion powder
1/4 cup black pepper
1/4 cup turbinado sugar
4 tbsp dry mustard
2 ground bay leaves
and i must say it looked perfect on those hunks of beef! see for yourself!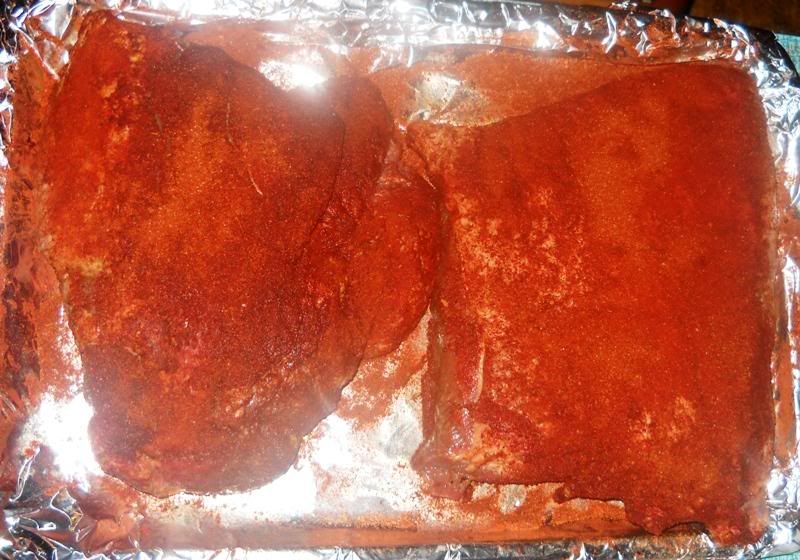 we also took the ribs out and applied a little more of the fiesta rub to them. the plan here was to put them on at the same time as the brisket and enjoy them for lunch.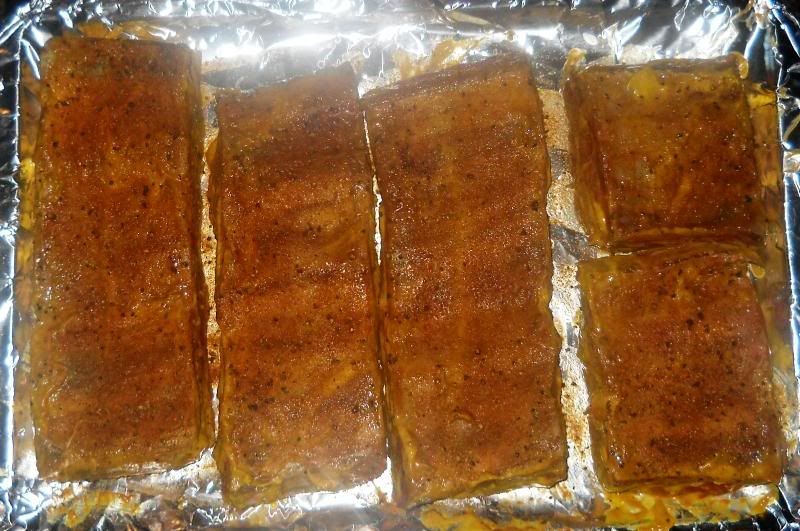 both the brisket halves and the chuckie were very moist from the marinade, and i began to have some worries about my "salt crust" experiment: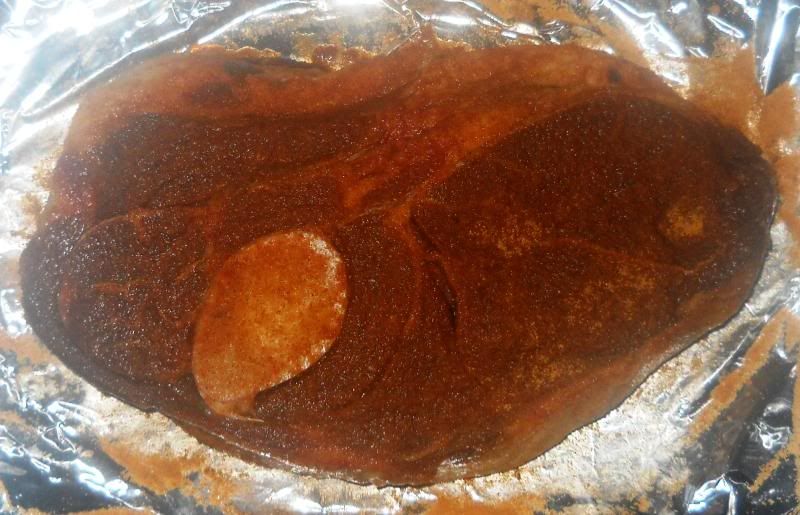 nevertheless, the lawry's made a very good rub/seasoning for the chuckie and i can say without a doubt that the original seasoning salt will do will in a pinch if someone is looking for a rub and has none other on hand.
for smoking wood, i elected to stay with the jack daniels theme and chose to use this bag of jack daniels-infused oak chips, rolled up into foil logs: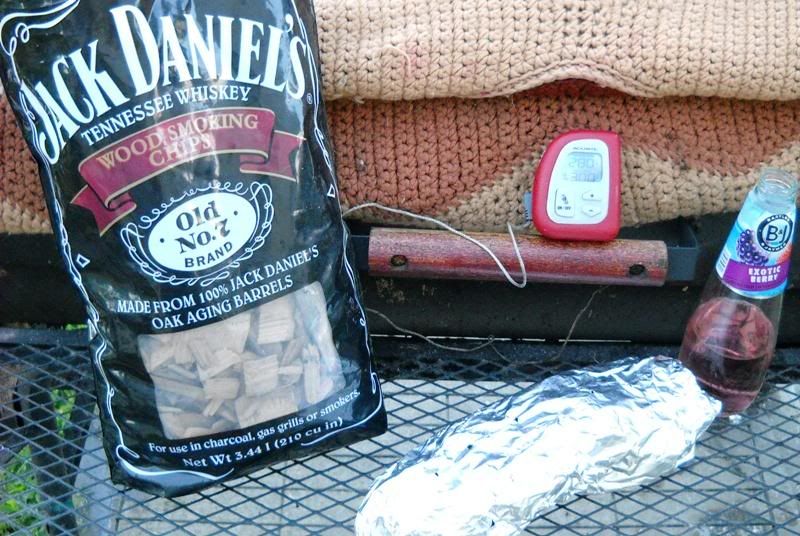 i am a believer in the foil-log method as i have found it to be effective over the years - one thing i will say is to make fewer and smaller holes in the log than you think you will need. we did eventually run out of oak chips about halfway through and i ended up using a few large hickory chunks.
for fuel, we started out with a bag of royal oak "steak house" lump charcoal that i had been saving for just this occasion: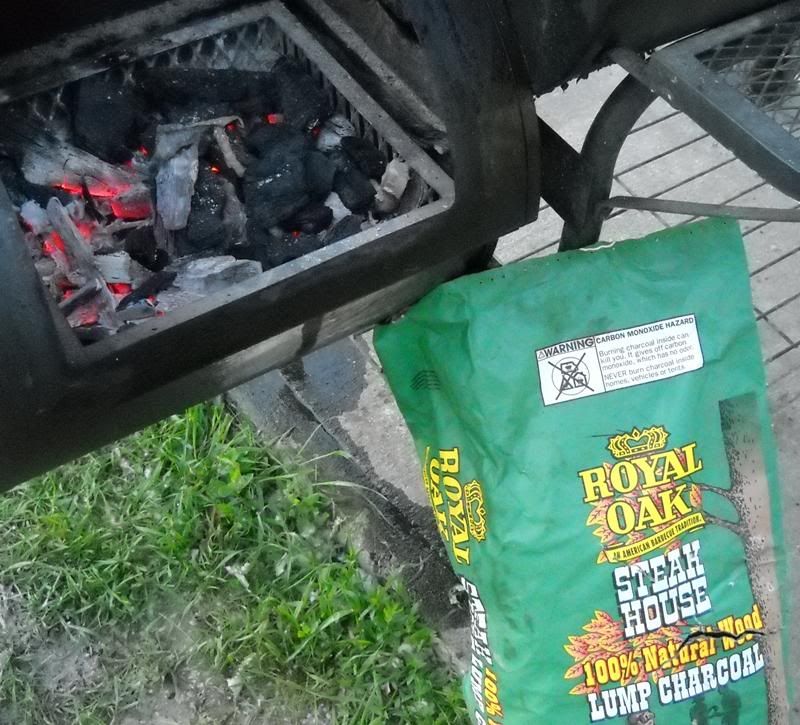 i was certain that this one bag wouldn't be enough, so i had some standard RO red bag on hand, just in case. as it turned out, we only needed half of another bag for this smoke.
this picture shows the general placement of the foil log in relation to the charcoal: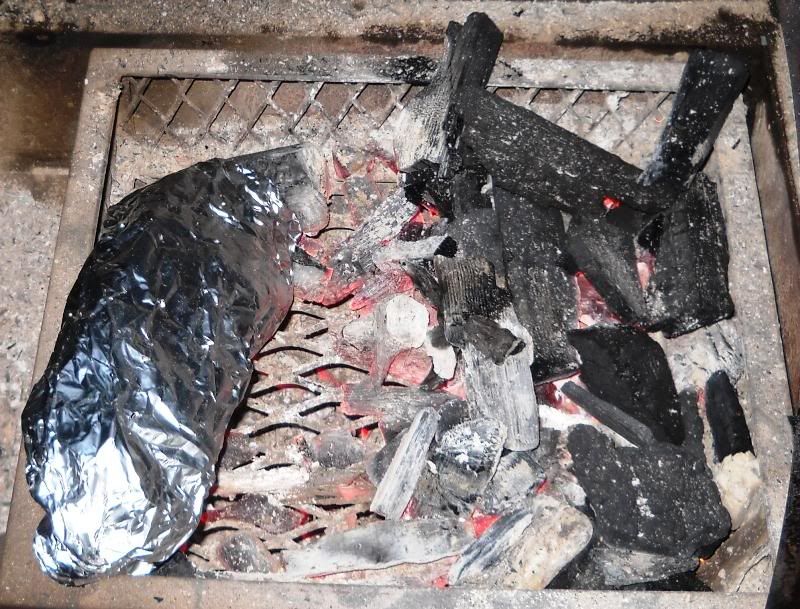 the method is quite effective and with the
great northern manifold system
it is amazing to see how little charcoal is required to maintain consistent smoking temperatures, averaging about 240-242 degrees across the board.
the meat went on at 0600 and we left it completely alone for two hours. here's a shot after the first turning and rotation:
we elected to mop with the leftover marinade and this was a good choice. mop was applied roughly once each hour after the first two hours while also adding fuel/smoking wood and turning/rotating meat as necessary. here's how everything looked at 1100: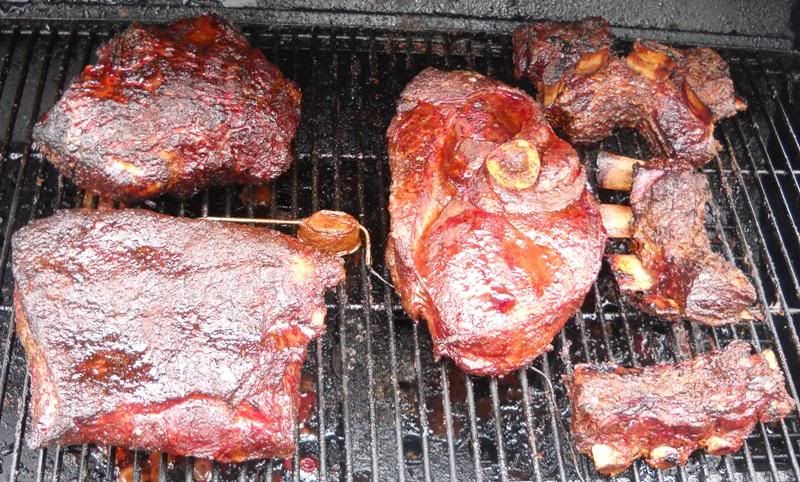 the ribs were pretty much ready, so we kept them way in the back at the far end of the smoking chamber until noon: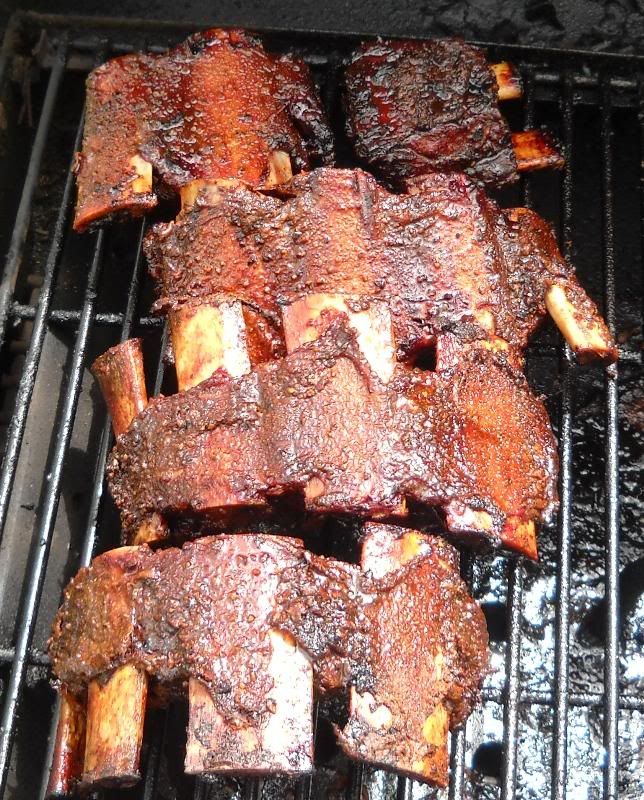 and then pulled them off the heat while we gave everything a turn and a mop - looking good, enit?
the ribs came out very well and tasted great. they do look a little dark here in this pic, but flavour and tenderness were first rate. only problem is that there could have been more of them!
a little after 1400, we did another turn/rotation/mopping. aaron also threw on some CSRs so that they would be ready in time for his family to enjoy them for supper. take a look at that home-made barbecue sauce that jane came up with ~ it tasted great!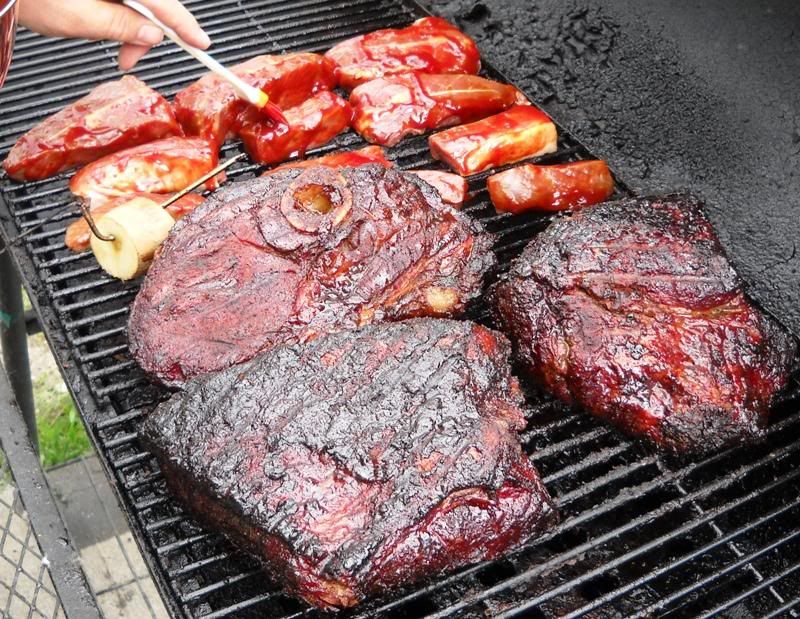 meanwhile, the beautiful mrs. tas and i had to go to havre (20 miles away) in order to do some shopping and final preparation for mike's birthday. i left mike in charge and it wasn't long until he reported that the brisket halves and chuckie were at 190 degrees, which was my target temperature for this smoke. i sent him a text message advising him to foil/wrap the chuckie and put it in an empty cooler, then had him cut the brisket into cubes for burnt ends: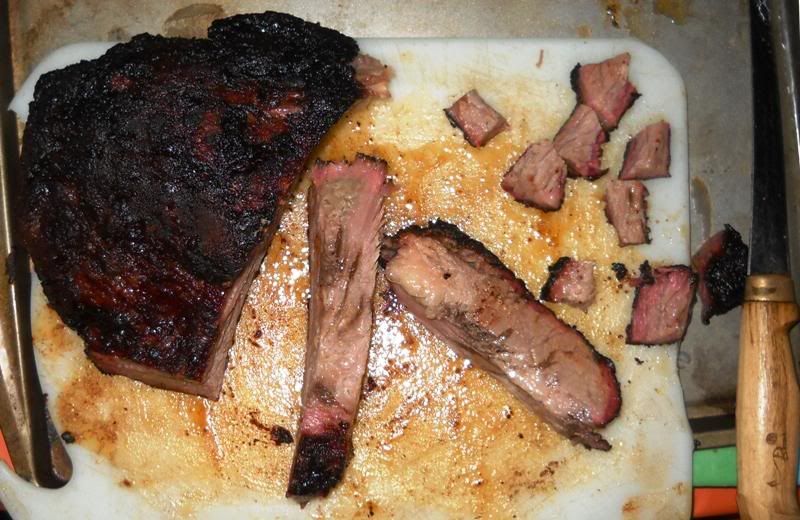 for the burnt ends we put the cubes into a saucy, savory combination consisting of the last of the marinade and a bottle of sweet baby ray's original sauce. the pan went back onto the smoker to do what burnt ends do best - get even better!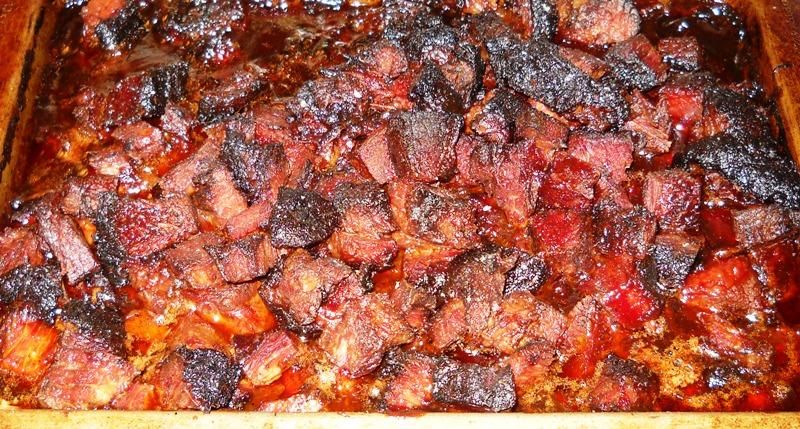 when i got home we pondered over what to do with this beautiful chuckie: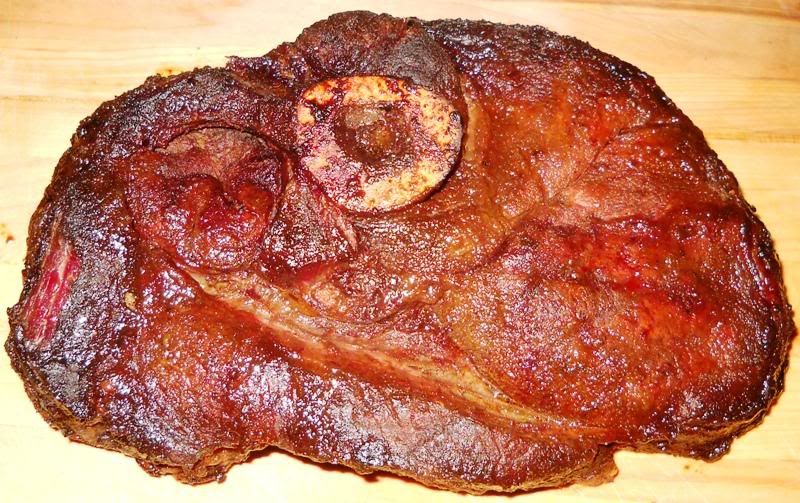 the chuckie was so moist (presumably due to the marinade) that it seemed the salt-crust idea wasn't going to work out. we hemmed and hawwed and finally decided to give it similar treatment that we used for the brisket, using slices rather than cubes: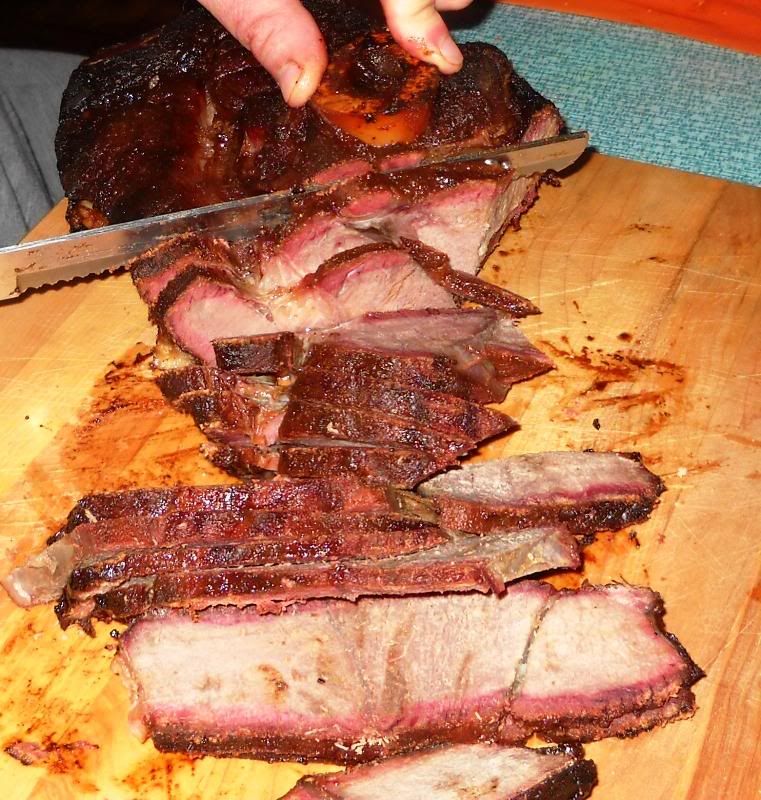 we put the slices in a pan that had the remnants of three open bottles of barbecue sauce from the fridge and set it to simmering along side the burnt ends. the smells coming from all of this were unbelievable!
after everything had simmered/braised for a few hours and the sauce was pretty well soaked up into the meat, we removed the pans from the heat and put everything into large ziplocks and into the fridge overnight so that the flavours could marry and be ready for the big day.
-----------------------------
the next morning, we got everything ready and set out for rotary pond at
beaver creek park
, south of havre. beaver creek is the largest county park in the USA and is, in my opinon, a little slice of heaven. the pictures do not do it justice.
we got to the lake and immediately got fishing poles in the water. rotary pond is a great place to catch rainbow and brook trout with an occasional chance at a brown or cutthroat trout as well. there is also a healthy supply of large mountain suckers - these fish are fun to catch but we have never really had much use for them except as bait; however, we might try smoking some sometime and seeing how that goes.
once the poles were in the water, we got a fire going over a grate and when it burned down to coals we put the brisket and chuckie over some heat:
the brisket, pictured on the left, and the chuckie were each put in a pot; a half-can of beer and a half-can of dr. pepper were added to each pot in order to provide some moisture and flavour as they heated up and simmered down into a thick, rich saucy treat for dinner.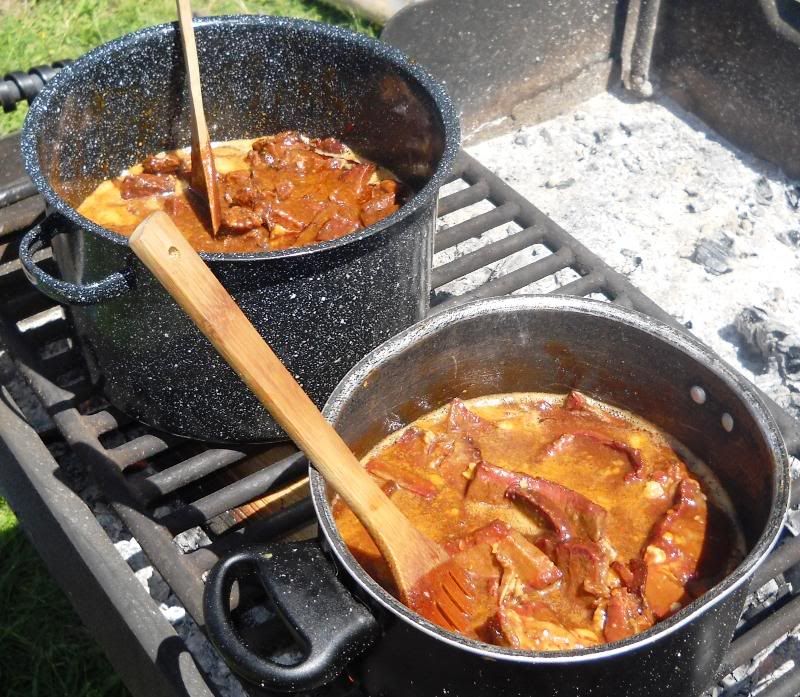 here's a close-up of the chuckie slices:
judging by the smells that were coming up as well as the occasional finger-dipping taste test, the beer/dr pepper combination as a reheating liquid was indeed a good idea ~
it wasn't long until we were catching fish as well, so we gave them a sprinkle of
alpine touch
, skewered them and tossed them on the grate. they were wonderful!
after a couple of hours, the main meats were bubbling thickly as the sauce reduced down. in everyone's opinion, this stuff was ready and waiting to be eaten: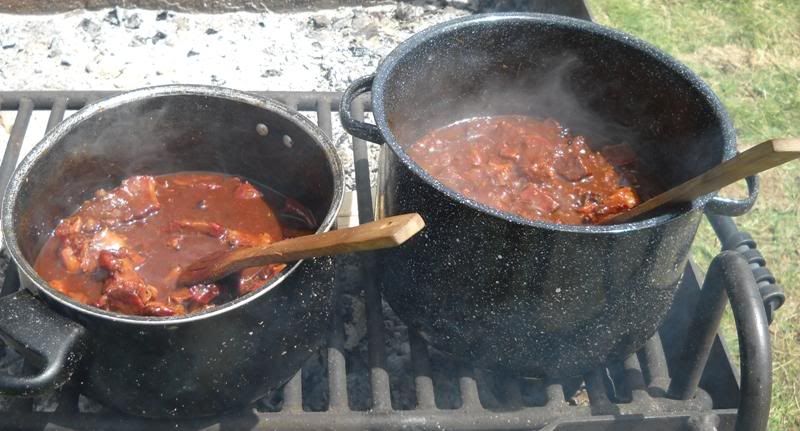 we served the meats on buns and tortillas, depending on the diner's choice, with some potato salad, pasta salad and chips.
all i can say was that everything worked perfectly and the flavours were out of this world! from the injection marinade to the slow smoke to the braising in sauce to the finishing over the fire, layer upon layer of goodness accumulated to produce excellent eats ~ everyone thoroughly enjoyed the barbecue - some preferring the brisket and some preferring the chuckie - some thinking both were outstanding! even the beautiful mrs. tas was impressed with the final product, so it must have been good ~
this concludes my brisket tutorial project, and i must say it was quite a success!