F채rsrullader
From Time/Life's Foods of the World - The Cooking of Scandinavia - 1968:
Makes 16 Roulades (to serve 4 to 6):

2 cups cold water
1 medium boiling potato, peeled and quartered
2 Tbsp butter
1/4 cup finely chopped onions
1 lb. finely ground veal (or beef)
3 Tbsp fine, dry bread crumbs
1/3 cup heavy cream
2 Tbsp water
1 &1/2 tsp. salt
1/2 tsp. white pepper
1 egg
2 Tbsp finely chopped parsley
1 Tbsp cornstarch
1/2 cup paper-thin slices of leeks, white part only
8 Tbsp (1 quarter-pound stick) butter
1/4 cup heavy cream

In a 1- to 1&1/2-quart saucepan, bring the cold water to a boil. Add the quartered potato and boil 10 to 15 minutes or until tender. Drain and mash with a fork. In a small frying pan, melt 2 tablespoons of butter. When the foam subsides, add the onions and cook 7 or 8 minutes, stirring frequently until they are soft and transparent but not brown. Scrape the onions into a large mixing bowl and add the mashed potato, ground veal, bread crumbs, cream, water, salt, pepper, egg, parsley and cornstarch. Mix well, then refrigerate for at least 1 hour. Brush a large wooden pastry board (or another hard, smooth surface) with water and pat or roll out the mixture into a 16-by-16 inch square about 1/8 of an inch thick. Your hands or the rolling pin should be moistened with water to prevent the meat mixture from sticking. With a pastry wheel or small, sharp knife, cut the rectangle of meat into 16 squares of 4-by-4 inches each. Put a thin layer of leek slices (about 1&1/2 teaspoons) on each square. With the aid of a knife, or better still, an icing spatula, roll up each square, jelly-roll fashion. Ideally they should now be chilled but may, if necessary, be cooked immediately.

Heat 2 tablespoons of butter in a heavy 10- to 12-inch skillet. When the foam subsides, add the roulades, 4 at a time, turning them gently with a spatula so that they brown on all sides. When they are a rich brown, set them aside on a heated platter in a 200-degree oven. Repeat the process, adding 2 tablespoons of fresh butter for every 4 roulades. Pour 1/4 cup heavy cream into the empty pan and boil it rapidly for 3 to 5 minutes, until it thickens, meanwhile scraping up the browned bits in the pan with a rubber spatula or wooden spoon. Taste for seasoning, adding salt as needed, and pour over roulades. If you must, cover the platter with foil and keep warm in a 200-degree oven for not more than 15 minutes.
here's a shot of the goods for a double batch - this one uses very simple ingredients, as you can see: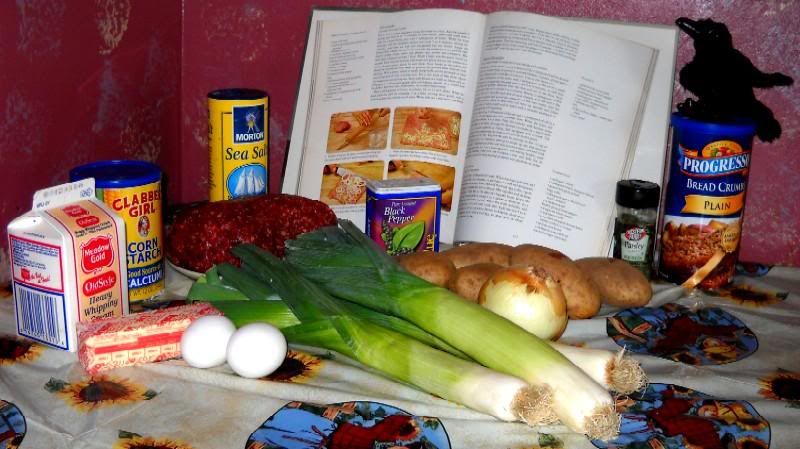 everything is available at any local grocery, except possibly the veal. rather than veal, which is evidently impossible to get these days even in montana, we used ground beef and there were no detrimental effects. the beef in this case was locally grown, slaughtered and processed; as you can see, it is quite lean and has very good colour.
my #3 son billy began cutting the potaotes into sixths and quarters, depending on size:
and then i sliced the leeks thinly in preparation for their later placement in the ruladers:
we boiled the potatoes on the stovetop, then drained then and began mashing them with a fork: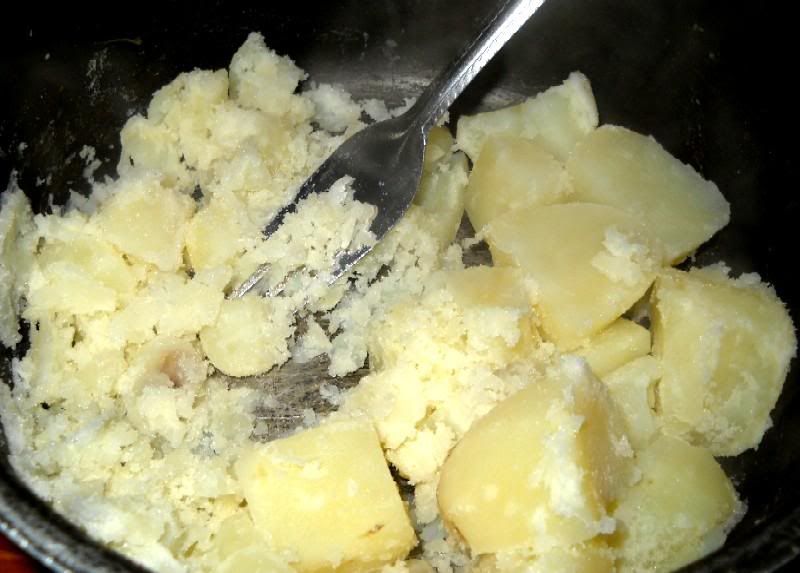 until they were this consistency: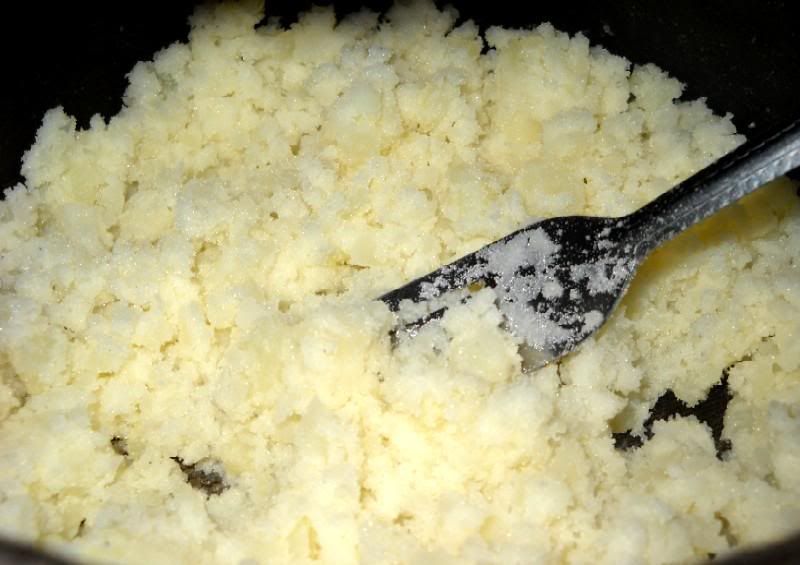 on a side note, i've always wanted to try making
lefse
, but have held back because the instructions i have always seen call for running the boiled potatoes through a ricer. i've decided, after this experience, that the ricer must be for convenience only, because the fork method seems to do exactly the same job. with this in mind, i might give the "swedish tortilla" a try!
once the potatoes were fluffy in texture and ready, we melted some buttter in a small cast iron skillet:
and proceeded to saute the onions as directed:
when they were ready, we added them to the fluffed potatoes in a large bowl:
and then added the proscribed amounts of ground beef, bread crumbs, cream, water, salt, pepper, egg, parsley and cornstarch:
we mixed it all together as thoroughly as possible:
and then set it in the refrigerator to chill for about an hour.
meanwhile, i was working on another project (
potage parmentier
) that same night for our first course, and took this opportunity to get it started.
when the meat had chilled thoroughly, we began the process of assembling the rullader. i decided rather than make a bunch of little tiny ones, i would make a dozen, each about the size of a burrito. to do this, i came up with an idea that hopefully would make the process easier. we covered our cutting board (which was just the right size) with foil, then sprayed it with olive oil and set half the meat mixture on it and flattened it out by hand as much as was practicable:
then rolled it out flat to the edges of the foil-covered cutting board:
i started to put the sliced leeks on, then remembered i had to section the meat mixture, so i removed as many leeks as i could and then used a knife to cut the mixture into six sections: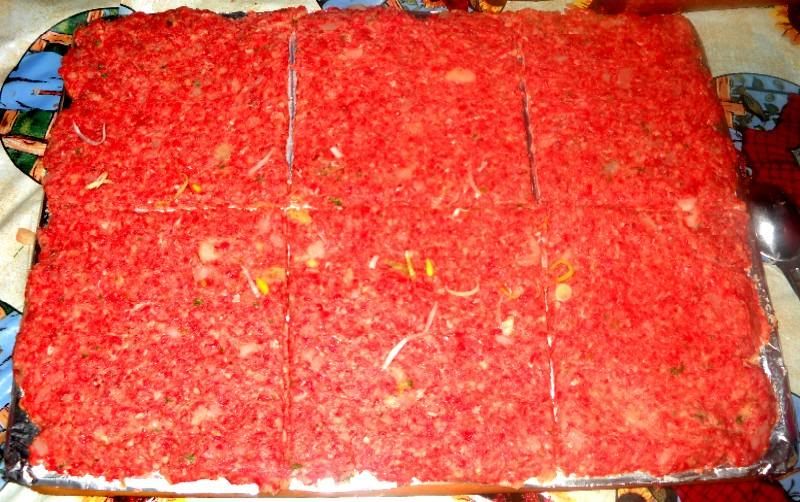 i then tossed the leek slices back on, roughly in the sections but also overlapping a bit:
now comes the tricky part, as anyone who has made a
fatty for barbecue
can attest. we carefully lifted the foil on the "long" side in a rolling motion and rolled the sections as tightly as possible whilst pulling the foil forward until the long roulade reached the middle:
when it reached that point, we stopped and reinforced the long cut we had made down the middle (which was now the divider between the "top" three and "bottom" three rolls), then pulled the foil back and reinforced the cuts for the "bottom" three individual rulladers as well.
we then used a spatula to lift the first three rulladers off and set them on a baking sheet lined with foil that had been sprayed with olive oil: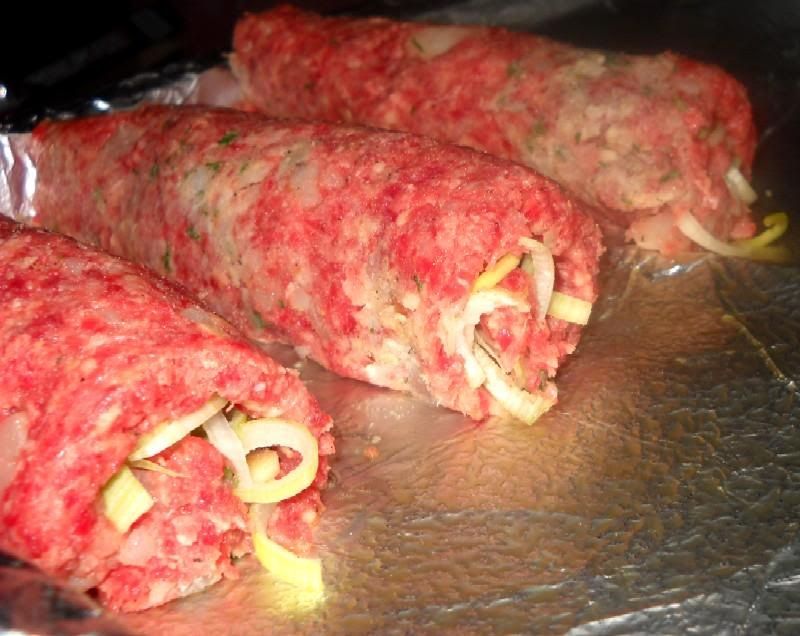 we repeated the procedure for the "other half" of the first batch, and then repeated the entire operation for the second half of the meat mixture, resulting in 12 rullader: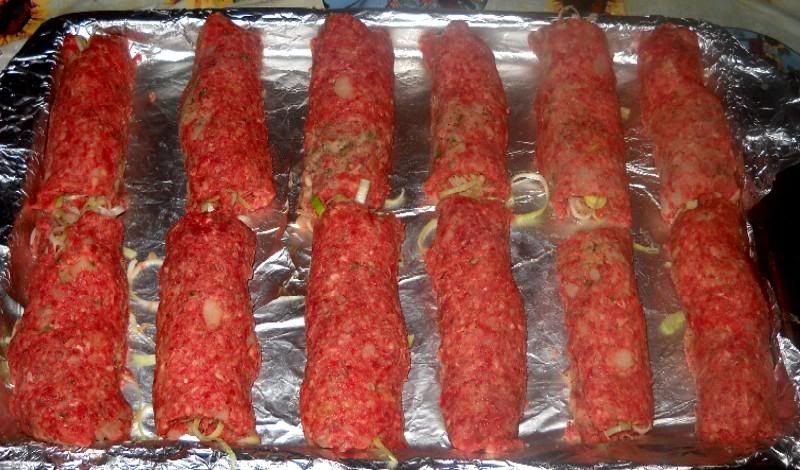 at this point, i made another deviation from the recipe, which called for frying the rullader four-at-a-time in butter. instead of that, i decided to bake them in the oven, which would hopefully be less labour-intensive and time-cosuming; also a tiny bit healthier, i suppose. it was mostly a decision of convenience and it worked just fine, as far as i could tell. here's how they looked after maybe 45 minutes of baking at 350 degrees, if memory serves: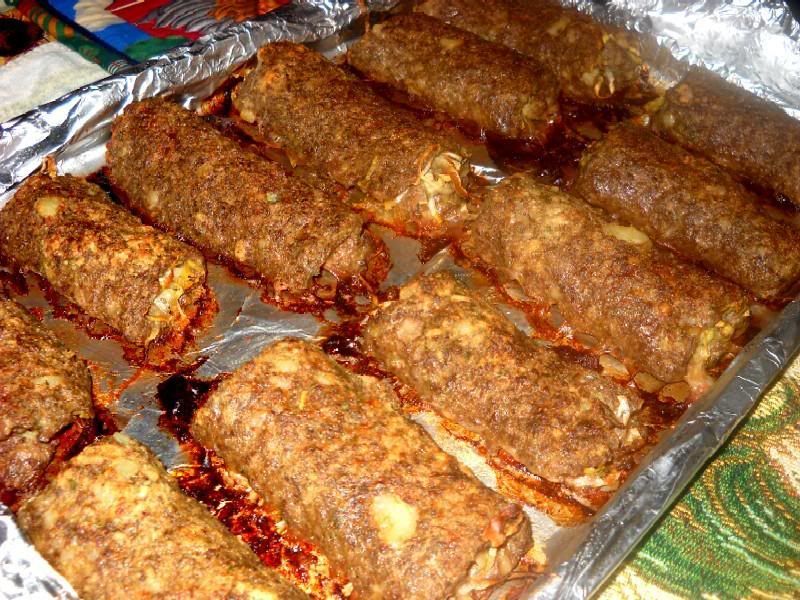 the smell while they were baking was incredible, and really brought out the best of the various ingredients, especially the leeks and onion. here's a closer shot of all that savory goodness:
the baking worked out just fine but there weren't many "drippings" to use in the sauce; nevertheless, we scraped as much as we could off the foil and put everything in the small cast iron pan we had used for the onions, along with the butter and heavy cream (what was it i said earlier about being concerned about calories?):
when the cream mixture started boiling:
we reduced the heat to low and stirred it vigorously, keeping it off the sides and in the middle as much as possible. it seemed to continue to boil too much, and i was worried about everything scalding or separating, so i also moved the pan halfway off the burner. after a while it started to darken and for a skin on top: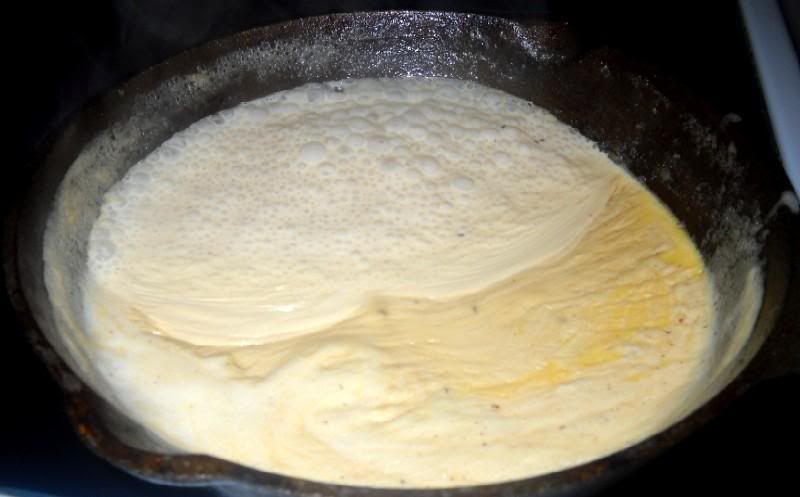 which i kept stirring back into the sauce as it continued to simmer. eventually it seemed to reach the consistency and colour that i thought it should and i plated two rullader per person on a small plate: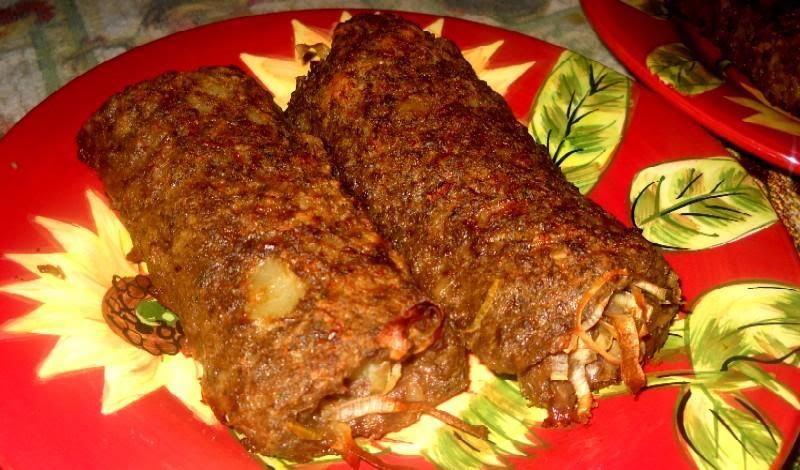 then drizzled the rich, creamy sauce over the tops:
and served them to my famished family (and the neighbour kid who had lingered around just to try them). here's a close-up of how they looked, and i can say without a doubt that they tasted even better!
everyone seemed to like them and i can rest assured that this was a success all-around. for some reason, i read the recipe wrong and ended up using twice the amount of leeks that i should, but this posed no problems; similarly, the baking rather than frying of the rullader was no problem, either, and resulted in firm, savory envelopes of goodness without the danger of falling apart. frying them would have resulted in a flavour that would have been a bit richer, but this served well to speed the process along, i think. then agian, who kows, it may have taken the same amount of time. either way, it's all good!
this is definitely a do-again dish for us and one that touches a bit on my swedish heritage. perhaps my own ancestors enjoyed a similar version of this dish on a cold, winter evening and in preparing this dinner i was also paying respect to that part of my background. you don't have to be of swedish derivation to enjoy f채rsrullader, though - all you need is some simple ingredients and the willingness to give them a try!