alright, this was an interesting and enjoyable one ~ fasten your seatbelts and let's go!
here are the goods for a double batch (not pictured - the onion):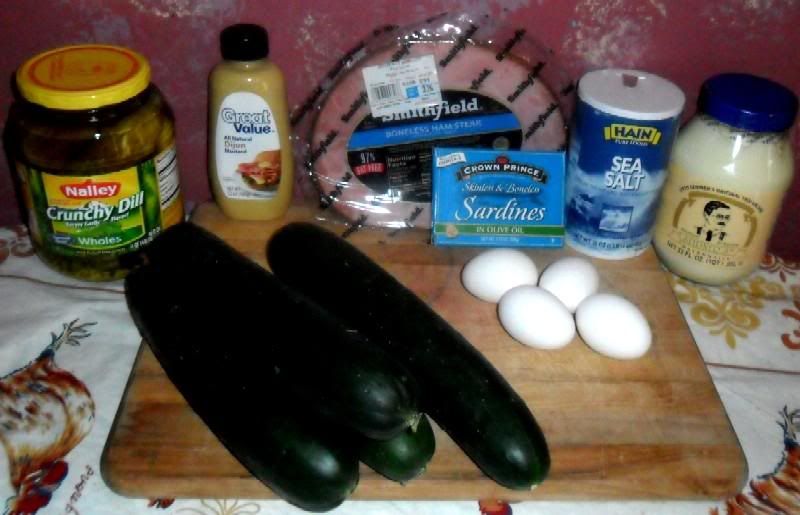 speaking of the onion, i figured that since we have the technology, we might as well use it in order to get some consistently-minced components, which would result in a better product - or, at least that was the theory, which turned out to hold up rather well!
with that in mind, i used our food processor to finely-chop the onion:
the pickles:
and the ham:
things were cruising right along, and then i cast my eyes upon the boneless/skinless that i had found:
many of you who have been following this recipe might be thinking: fish? mixed with everything else? and then put in cucumbers??
no worries, the sardines (and i suspect many other tinned and/or smoked fish) worked very, very well with the ambient flavours here, complimenting them and bringing out the best qualities in each other.
but let's not put those in the food processor, ok? we'll deal with those later. right now, let's turn our attention to....the eggs! i reserved the yolks and ran the whites through the food processor:
and finally, i peeled the cucumbers:
now came the tricky part - which is hollowing out the cucumbers:
i didn't have an apple corer, and couldn't find one at wal-mart; so, i grabbed a melon-baller instead. once i got the hang of it, it worked pretty well:
the trick seemed to lie in "corckscrewing" the small end of the melon baller whilst gently pushing it down the length of the cucumber; this caused balls of cucumber core to drop out like eggs.
you want to hollow out a cucumber to a point that is past halfway, then flip it around and work inward from the other end, until the two tunnels meet.
but there was definitely a learning curve:
the danger here is getting too close to the edges - you want at least a quarter-inch outside edge throughout the cucumber. based on this, my advice is to use an apple-corer (if you have one) for small-diameter cucumbers, and a melon baller for larger-diameter cucumbers. if you can't find an apple-corer, make sure your cucumbers are big around!
anyway, as the balls of cucumber plopped out, i saved them, then put them with some salt and pepper into a solution that was about 50/50 vinegar (i prefer white but today i only had apple cider, which works fine) and water, to serve as a sort of salad for another meal:
these are really good!
next, i put a bit of salt down into each cucumber and rubbed it around all over the inside as well as i could:
the effect was immediate - water started to practically run out of the cucumbers, which is what we want in order to release excess moisture.
i stuffed a paper towel through each one to soak up the water:
and also wrapped paper towels around each cucumber. this method worked pretty well, and i let those sit and "drain," rotating them a half-turn now and then, while i prepared the filling....
time to turn our attention back to the sardines! rather than use the food processor, i simply used a fork to mash the sardines well:
and then i stirred in the other "dry" ingredients:
eggs (mashing the yolks, first), pickles, onions and ham accoring to the measurements given in the recipe (x2 for a double batch).
after that, i added the mustard and half the mayonnaise, keeping in mind the admonition of the recipe: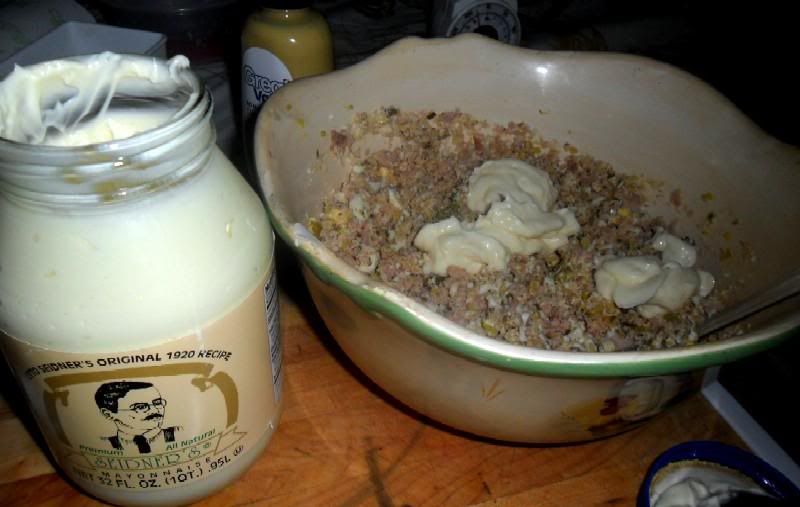 for the mayonnaise, i used some really good stuff that
dave sent from rhode island
, which comes from an old, local recipe. i was very impressed with the eprfect flavour that it provided, and heartily recommend it to anyone who can get it!
in this case, half the mayonnaise listed in the recipe seemed to be just right, providing the exact texture that i needed without being too wet or dry. i tasted the filling and it was really good! the saltiness seemed to be just right, so i didn't add more. i thought about adding pepper, but it's not listed; for the first time making something, i usually try to follow a recipe as close as possible, unless a clear reason for not doing so presents itself.
so, filling ready, i began stuffing it into the cucumbers, using narrow spoon and working it in from both ends:
i was sure to tamp it in tight as i went, and this worked quite well. had i thought of it, i would have used my jerky gun, but this was fine, too.
as i loaded the cucumbers, i sat them end-up on paper towels, as the moisture was still running out pretty well:
as you can see, quite a bit of water was soaked up.
after filling them full and pressing in from both ends too pack the filling well, i wrapped the cucumbers as tightly as possible in saran wrap:
and put them in the fridge so that they could firm up and the filling could set.
after about two-and-a half hours, i took the cucumbers out, unwapped them and began slicing them:
they were a little soft from the moisture that was still in them, but other than that, things worked very well! i think that when i make this again, i might double-or triple wrap the cucumbers in paper towels before the saran wrap, in order to soak this moisture up. as it was, the liquid is unable to drain off and i think they got a little soggy, but no worries - everything worked just fine:
here we are, all plated up and ready to serve: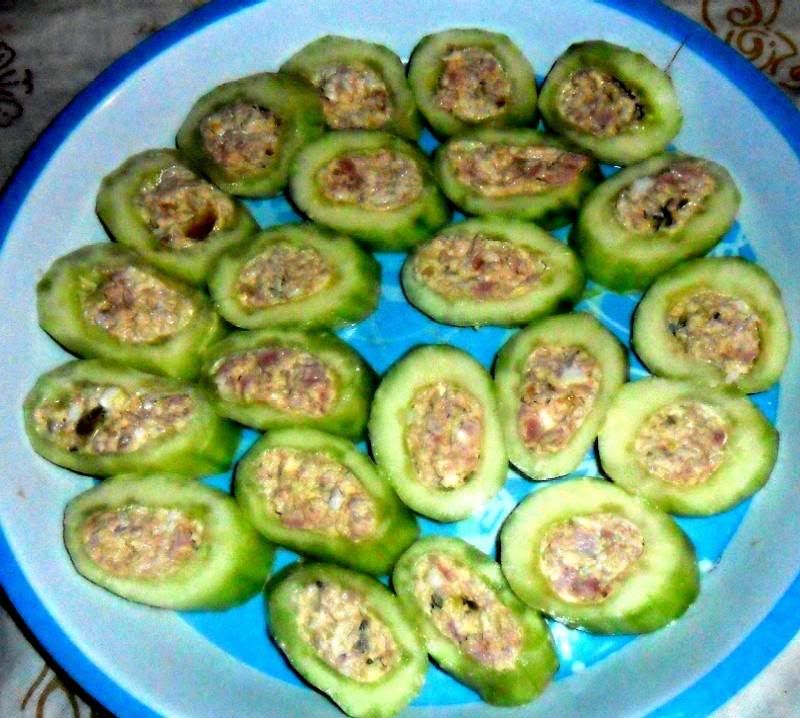 the taste....was great!
they were an immediate hit, and provided a very refreshing light lunch. the flavours all worked well, and as i said above, even the sardines played their part, adding a savory briney-ness to the sour from the pickles and the tang of the mayonnaise - all of that working very, very well with the freshness of the cucumber.
this is definitely a spring or summer treat to enjoy at any event, but it seems especially suited for an outside thing like a picnic or party ~ give it a try!