Köttbullar
Swedish Meatballs
Up here on the snow-swept plains of north-central Montana, we have made Swedish meatballs many times; it is one meal that both The Beautiful Mrs. Tas and I can agree on, and it is a perfect winter dish.
I have a healthy dollop of Swedish ancestry as my German great-grandfather, who emigrated from a Schwarzmeerdeutsche colony in Ukraine, married a fine Swedish beauty. They settled in the Killdeer Mountains of North Dakota, and worked hard to become part of the national fabric that holds this great country together. Montana and North Dakota were among the last areas of the continental U.S. to be settled, and they were settled by hardy homesteaders from Germany and Scandinavia who were used to hard work and harsh weather. These late 19th- and early 20th-Century pioneers persevered and thrived, and these states became part of America's bread-basket and larder.
Previously, when making "Swedish meatballs," we have always used the red McCormick envelopes, with adequate results - but surely, the genuine, Swedish, home-made version can do better than that, right? From the moment I first discovered this recipe while thumbing through my new (to me) Scandinavian volume of Time/Life's
Foods of the World
series, I was really looking forward to trying it and re-uniting with my heritage. Looking at the recipe, there are quite a few similarities between
köttbullar
and
Färsrullader
, and I am certain that, minor differences aside, the two recipes are simply different ways of achieving the same time-honored Swedish flavours.
Here's the recipe, from Time/Life's:
Foods of the World - The Cooking of Scandinavia
, 1968:
NOTE - my modifications/elaborations are in
italics
....
To serve 6 to 8 (about 50 small meatballs or 25 larger meatballs):

For the meatballs:

1 tablespoon butter
4 tablespoons finely-chopped onion
1 large boiled potato, mashed
3 tablespoons fine, dry bread crumbs
1 pound lean ground beef
1/3 cup heavy cream
1 teaspoon salt
1 to 2 teaspoons pepper, to taste (optional)
1 egg
1 tablespoon finely-chopped fresh parsley (optional)

To fry the meatballs (skip these ingredients, if you want to bake them):

2 tablespoons butter
2 tablespoons vegetable oil

For the sauce:

1 tablespoon flour
3/4 cup light or heavy cream
salt and pepper to taste (optional)
Milk as needed, to add to the sauce and bring it to the desired consistency (optional)

In a small frying pan, melt the tablespoon of butter over moderate heat. When the foam subsides, add the onions and cook for about 5 minutes, until they are soft and translucent but not brown.

In a large bowl, combine the onions, mashed potato, bread crumbs, meat, cream, salt, egg and optional parsley. Knead vigorously with both hands or beat with a wooden spoon until all the ingredients are well blended and the mixture is smooth and fluffy. Shape into small balls about 1 inch in diameter. Arrange the meatballs in one layer on a baking sheet or a flat tray, cover them with plastic wrap and chill for at least 1 hour before cooking.

Over high heat, melt the 2 tbsp of butter and 2 tbsp of oil in a heavy 10- to 12-inch skillet. When the foam subsides, add the meatballs, 8 to 10 at a time. Reduce the heat to moderate and fry the balls on all sides, shaking the pan almost constantly to roll the balls around in the hot fat to help keep their shape. In 8 to 10 minutes, the meatballs should be brown outside and show no trace of pink inside when one is broken open with a knife. Add more butter and oil to the skillet as needed, and transfer each finished batch to a casserole or baking dish and keep warm in a 200-degree oven. Alternately, you can bake them at 350 degrees for 30 to 50 minutes, depending on their size, until they are done inside and crusty-brown outside.

If the meatballs are to be served as a main course with noodles or potatoes, you may want to make a sauce with the pan juice. Remove from the heat, pour off all fat from the pan (keep the drippings in the pan), and stir in 1 tbsp of flour. If you baked the meatballs, de-fat the drippings, move them to a pan, and stir the flour into them over medium-low heat. Quickly stir in 3/4 cup of light or heavy cream and boil the sauce over moderate heat for 2 or 3 minutes, stirring constantly, until it is thick and smooth. Thin or stretch the sauce as needed with milk, and add salt and pepper to taste, if necessary. Pour over meatballs and serve.

If the meatballs are to be served as an hors d'oeuvre or as part of a smörgåsbord, they should be cooked as above, but formed into smaller balls and served without the sauce.
Good, honest Scandinvaian comfort food is just about as easy as it gets, and Swedish meatballs (
köttbullar
) are absolutely perfect for a cold, snowy Sunday evening. The taste and flavour of this recipe is all home-style-Swedish in character and wonderful for its filling goodness; the perfect embodiment of the Swedish concept of
husmanskost
and absolutely suited for a winter meal (or any time of year, for that matter).
Here's all you need (this is a double batch):
Note - The sour cream wasn't necessary or part of the recipe; I placed it in the photo by mistake. Other than that, you will need salt and pepper, butter, 1 average-sized potato per pound of meat, 1 egg per pound of meat, onion, bread crumbs, heavy cream, freshly-chopped parsley and wonderful, lean ground beef from our own herd of cattle.
Another note - If you really want a treat, you can add some wonderful flavour to the sauce - and keep it Swedish - by adding a chopped leek. The leek is not part of the original recipe, but we had one in the refrigerator that needed to be used, and leeks seem to go very well with the Swedish meat dishes that I've made so far.
To get started, I chopped the potatos into large cubes (well, not exactly cubes, but....you know what I mean), then put them on to boil:
The mashed potato will help form the body of the meatballs, providing an interesting flavour and contributing to a smooth texture.
While the potatoes began to boil, I also finely-chopped the onion:
One could add the onion to the meatballs raw, but to me, they taste so much better when the onions are pre-cooked; this method adds a lot of savory flavour and better texture to the final outcome, so I fried them in a little butter:
Once they passed transluscent and were beginning to caramelise, I removed them from the heat so that they could cool while I continued my prep work:
By now, the potatoes were boiled to a soft, mash-able state, so I drained them:
I've found that it is useful to allow the boiling-hot potatos to air-dry for a few minutes, in order to get rid of the excess moisture; so while that was happening, I measured out the rest of the ingredients needed for the meatballs. Here, we have freshly-chopped parsley, breadcrumbs, salt and pepper.:
Black pepper is not a part of the recipe provided by the book, but it simply seemed like the right thing to do; salt and pepper are a universal and ancient way to give meat a basic, fundamental and
effective
seasoning. it brought balance to the over-all dish as well, and is highly recommended.
I've seen a few Swedish or Norwegian meatball recipes with a little bit of allspice or nutmeg added, but to be honest, i've never felt a need to try them this way; The Beautiful Mrs. Tas is not a fan of "exotic" spices (which rules out
almost
everything other than salt and pepper!), so it's never come up any of the times I've made them. One day, I will give the added spice a try, for comparison; however, this recipe, from Sweden, does not contain any such spice.
Where the breadcrumbs are concerned, I've always thought it might be interesting to substitute oatmeal in place of the breadcrumbs. It seems to me that it might provide a traditional, rustic touch; oats have been grown in Scandinavia for a long time, and it stands to reason that someone, somewhere, has tried this. The next time I make this recipe, I'll give it a shot.
Finally, I chopped the leek up, so that it would be ready to go later on while I was making the sauce:
That's about it for prep work - let's get going!
First, my youngest son and helper mashed the potatoes:
Once it was fairly-well mashed, we fluffed it with a fork and added 2 pounds of ground beef to the bowl (remember, this is a double batch):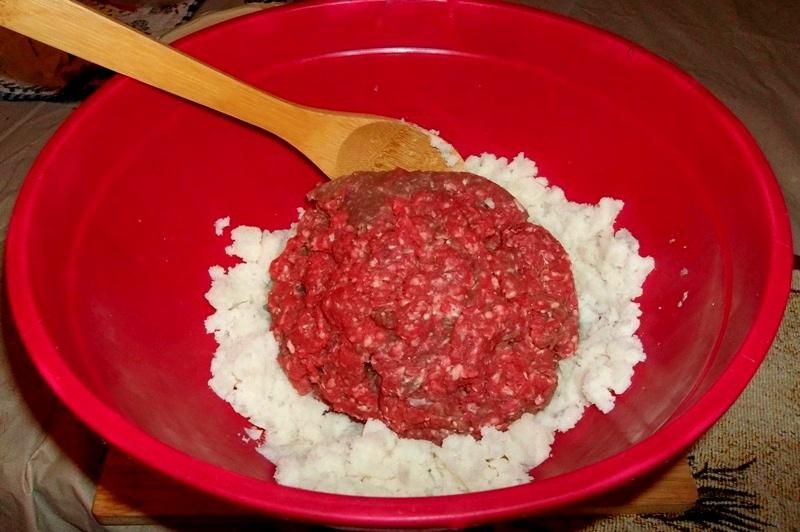 We then added the onions:
Here's an example of of an out-of-focus photo that probably doesn't belong here, but I figured what the heck; if nothing else, it can serve as a horrible warning: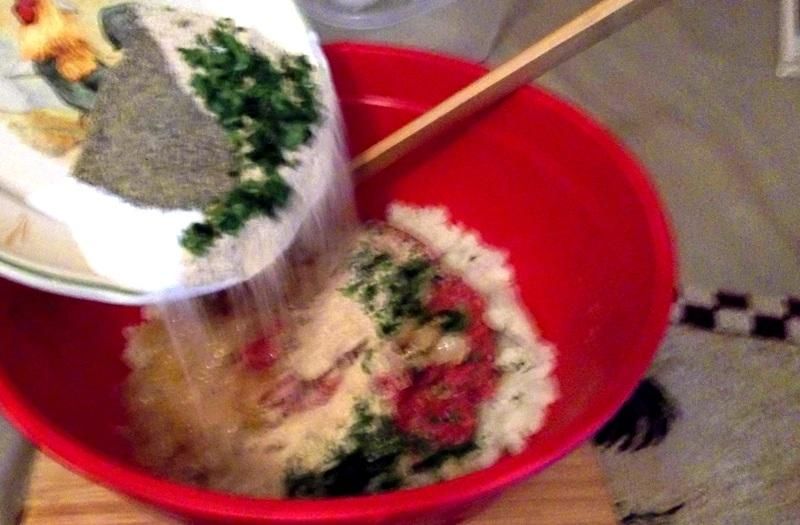 Once the breadcrumbs, parsley, salt and pepper were added, I poured in the cream:
And my son cracked in the eggs:
Look Ma, no eggshells!
From here, we mixed the ingredients into the ground beef as thoroughly as possible:
I've found during my various sausage projects that a potato masher works very well for mixing ingredients into meat, so I've gotten in the habit of using it.
Once everything was mixed together and well-incorporated into an almost-fluffy, spongy texture, it looked like this:
Next, we rolled the meat mixture into balls; I'll take a guess and say that they were around 1.5 to 2 inches in diametre:
When served as part of a
smörgåsbord
, the
köttbullar
are about half this size and called
små köttbullar
; they are also served in a chafing dish without the sauce. However, these meatballs were going to go on a plate as part of a hearty meal, so the larger size seemed like the thing to do.
Once all of the meatballs were made (as I recall, we ended up with 56 of them), I put them in the refrigerator for a while in order to firm up and chill. I'm not sure how necessary this step is, but it can't hurt, so in they went.
At this point, the recipe calls for the
köttbullar
to be fried in batches on the stovetop, but for health reasons, as well as to save time and ensure consistency, I baked them in the oven at 350 degrees for about 50 minutes; this is a perfectly-acceptable alternative, and I think they turned out quite well:
What do you think?
A nice, crusty-brown exterior with the promise of warm, satisfying things inside; pretty hard to beat, in my opinion:
In the recipe, the "drippings" from frying the
köttbullar
are reserved for the sauce; this can also be done when baking the meatballs. Proceeding on, I simply transferred them to a cast iron skillet:
And put it in the oven at the lowest setting to keep them warm.
Our own ground beef is quite lean, so there wasn't much very fat to separate; I removed what little there was from the baking sheet and reserved the crispy, golden-brown, savory drippings, which would be called
fond
in the bottom of a pan, I suppose.
On to the sauce! As I mentioned above, I was adding a leek to the party, so I first melted a pat of butter and gave the chopped leek a quick
sauté
in a cast iron pan:
When the leek was just starting to caramelise, I added the
fond
/drippings:
And then a little bit of flour:
I added a little more flour than is called for in the recipe, for reasons which will become clear in a moment.
I stirred the mixture around gently, coating all the pieces of leek and
fond
with the flour as it browned a bit from the butter and the heat of the pan to form a rudimentary sort of
roux
; once this was accomplished, I added the heavy cream: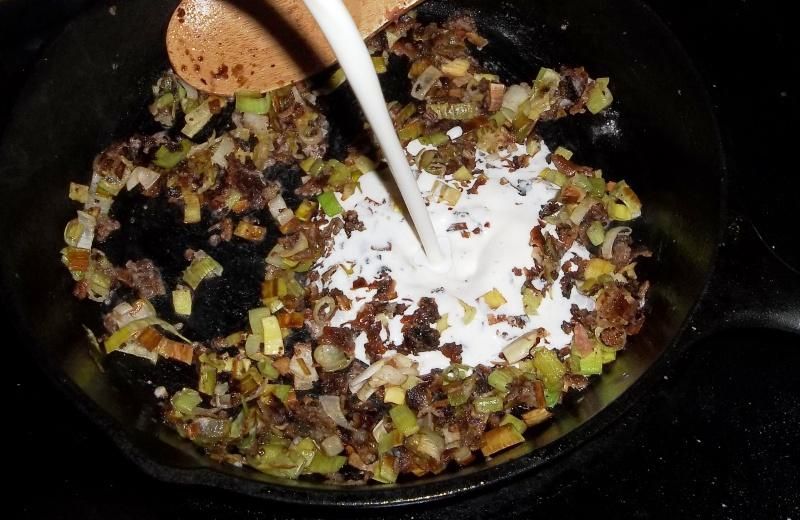 I stirred it around, then added a some milk, which is not a part of the original recipe, but served to stretch out the sauce and provide plenty of cover for the number of plates we were sereving. I don't recall exactly how much milk I added, but it was just enough so that it seemed like I would have enough sauce for the
köttbullar
.
I then stirred the sauce into a gentle simmer:
After a few minutes, the sauce smoothed out and thickened:
It also took on a nice, deep, creamy-golden-brown colour:
It smelled wonderful, with the bits of leek and the savory accent that was provided by the
fond
; this was really turning into a spectacular meal that would warm up the cold, grey day!
I tasted the sauce and reveled in the flavours; only a little bit of tweaking was necessary, so I added a pinch or two of salt and pepper, and then set the sauce on the table next to the pan of meatballs: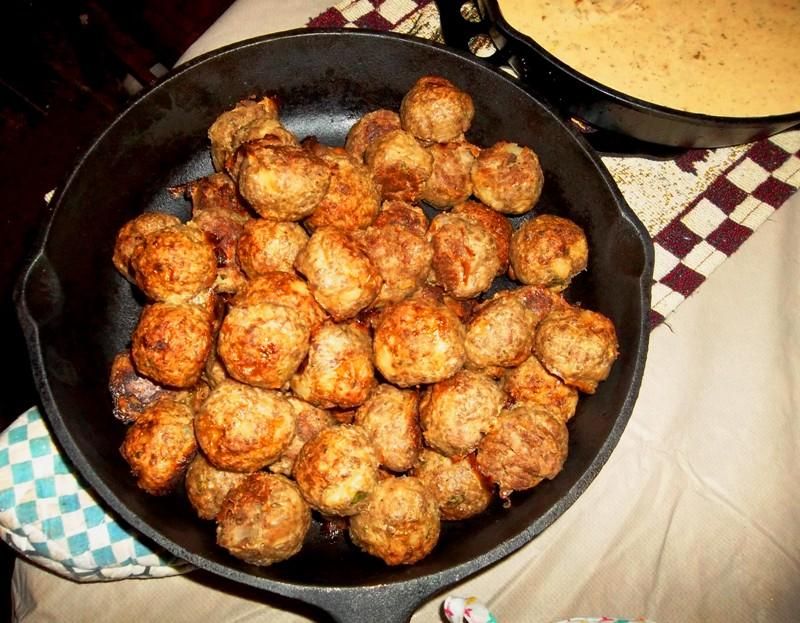 Suppertime!
Köttbullar
can be served alongside just about any starch that you prefer; One of the most common ways I've seen them served is with egg noodles; however, the Beautiful Mrs. Tas and I both find egg noodles to be...well, "eggy" in taste, and too wide to eat easily with a fork, and with a slippery texture that can be a little off-putting. I have also heard of them being served with rice, and this seems like a fine option; I'm even willing to bet that they would make wonderful open-faced or hoagie-style sandwiches, sauce and all. However, our favourite way to serve
köttbullar
 is with mashed potatoes, so that's what we used for this preparation.
First, I plopped some mashed potatoes on a plate, and then arranged a few
köttbullar
on and alongside them: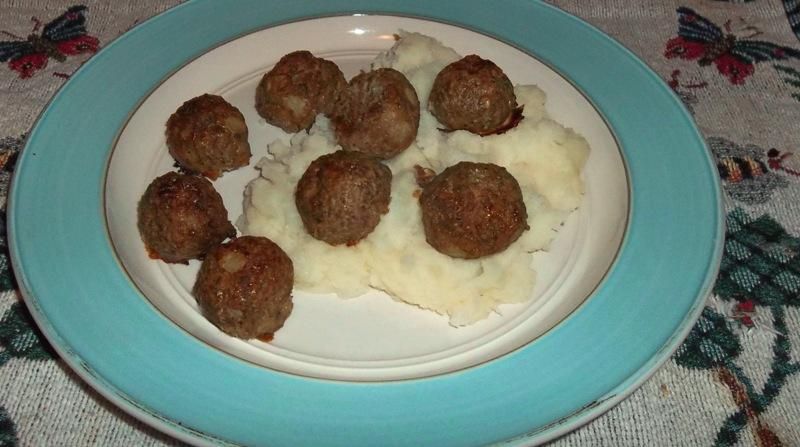 Then, I topped with the sauce:
Aside from the sauce, there are many other options for
köttbullar
; a favourite accompaniment in Sweden is with lingonberry jam or preserves, and I will try them that way the next time I make them.
After garnishing with a bit of chopped parsley, the
köttbullar
were ready to serve; as you can see, they turned out pretty well: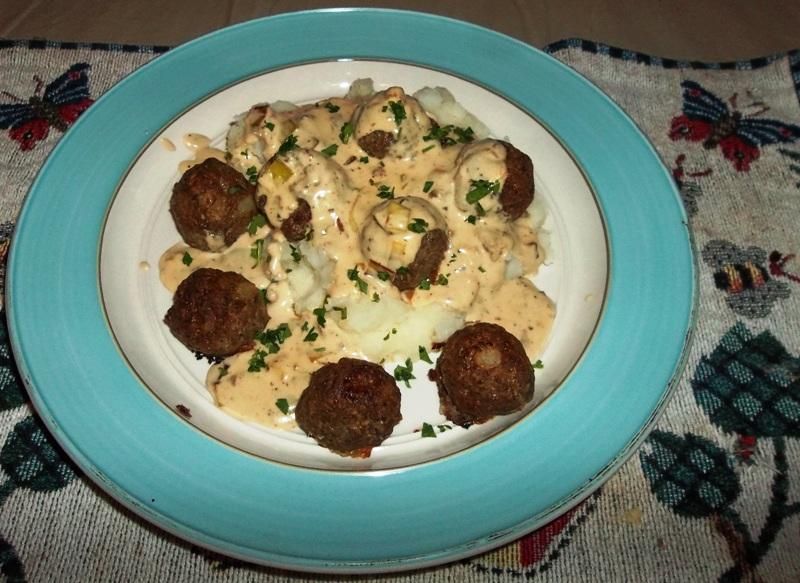 Much better, in my opinion, than using those seasoning envelopes that you find in the store!
Everything about these
köttbullar
was amazing - the flavours, the aromas, the smooth, velvety texture provided by the cream in the meatballs and the sauce, providing a counterfoil to the crisp exterior of the
köttbullar
; they were delicious, wonderful packages of warm comfort that would fend off even the worst northern winter evening.
While I can think of one or two different things to try next time (oatmeal in place of bread crumbs, lingonberry preserves etc.), I cannot, in all honesty, think of any way at all to improve on these beautiful, savory meatballs. It is not often that I am able to create something that works completely well in all ways, but this seemed to be one of those times. Even the addition of the chopped leek, while certainly very good, was only an accent to a meal that was already superb.
The entire family enjoyed the
köttbullar
, although the Beautiful Mrs. Tas said that the packaged stuff was easier and less work. This may be true; however, I am here to tell you that the taste difference, along with the wholesome, genuine ingredients, makes it very much worth the little bit of effort, in my opinion!
There were almost no leftovers, even for this large meal; I had just enough for a small lunch the next day, and they were just as good then as they were when served right out of the oven. As I heated them up in the microwave, the aroma permeated the office, and I received more than one inquiry as to what that wonderful smell was; upon hearing that they were Swedish meatballs, one co-worker said that
her
Swedish meatballs have never smelled that good! I offered to share the recipe, and spread the
köttbullar
gospel.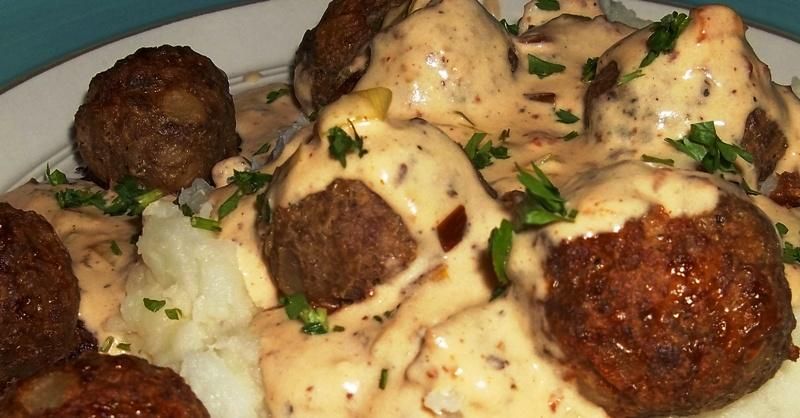 I cannot overstate how good and easy this meal was, and you really can't go wrong if you try this recipe; if you are already a fan of Swedish meatballs, then these will be some of the best you've ever eaten. If you've never tried them, then this is absolutely the way to experience them for the first time, and I can't recommend them enough. The instructions in the recipe are very easy to follow, or you can also incorporate any or all of my modifications with no trouble at all. So, for anyone who wants to give these a try,  I say, go for it!
 
Thanks for looking, and as always, if anyone had any questions, please feel free to ask.

Skoal!

Ron