Musakka'a - Baked Eggplant, Tomato and Chickpea Casserole
Baked Eggplant, Tomato and Chickpea Casserole
(From the Arab States)
From Time/Life's Foods of the World - Middle Eastern Cooking, 1969: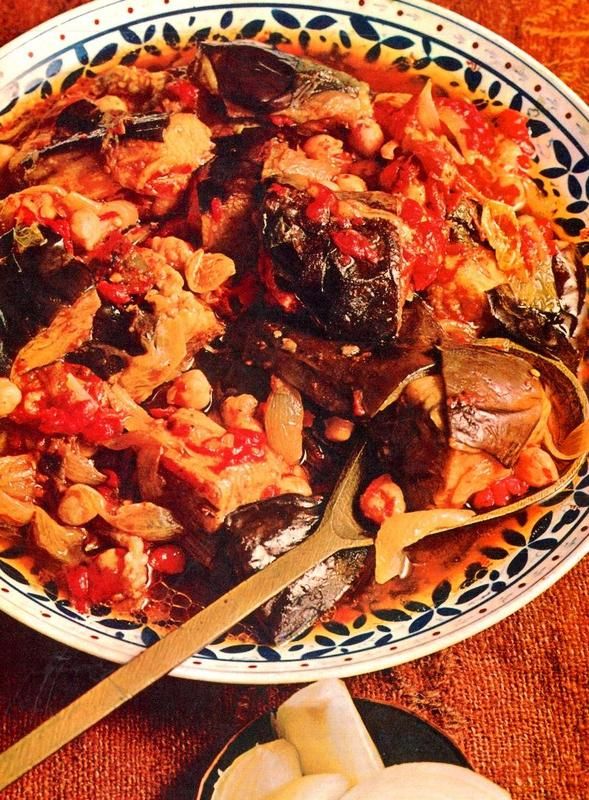 Three Middle-Eastern staples - eggplant, chickpeas and tomatoes - are blended in the savory meatless musakka'a.
To serve 6:
1.5 cups dried chickpeas (garbanzos), or substitute canned chickpeas, thoroughly drained and rinsed under cold water
Olive oil
2 medium-sized eggplants, about 1 pound each, washed but not peeled, cut into 2-inch cubes
3 medium-sized onions, peeled and cut into 1/4-inch thick slices
3 teaspoons salt
Freshly-ground black pepper
12 medium-sized fresh, ripe tomatoes, or substitute 4 cups chopped, drained canned tomatoes
1.5 cups water
Note: Starting a day ahead, wash the dried chickpeas in a sieve under cold running water, then place them in a large bowl or pan and add enough cold water to cover them by 2 inches. Soak at room temperature for at least 12 hours. Drain the peas and place them in a heavy 2- to 3-quart saucepan.
Add enough fresh water to the chickpeas to cover them completely and bring to a boil over high heat. Reduce the heat to low and simmer partially covered for about 2 to 2.5 hours until the peas are tender but still intact. Replenish with more boiling water from time to time if necessary. Drain the peas in a sieve or colander. (Canned chick peas require no cooking and need only to be drained and rinsed thoroughly under cold running water.)
Drop the fresh tomatoes into a pan of boiling water and remove them after 15 seconds. Run them under cold water, and with a small, sharp knife, peel them. Cut out the stems, then slice the tomatoes in half crosswise. Squeeze the halves gently to remove the seeds and juices, and chop the tomatoes coarsely. (Canned tomatoes only need to be drained and chopped.)
Preheat the oven to 400 degrees. In a heavy 12-inch skillet, heat about 1 inch of oil over high heat almost to the smoking point. Drop in the eggplant cubes and, stirring frequently, cook for about 5 minutes, or until they are lightly browned on all sides. With a slotted spoon, transfer them to a 9 x 14 x 2.5-inch baking-serving dish and spread them out evenly.
Add the onions to the oil remaining in the skillet and, stirring frequently, cook over moderate heat for 8 to 10 minutes, or until they are soft and delicately browned. Watch carefully for any signs of burning and regulate the heat accordingly.
Spread the onions and all of their cooking oil on top of the eggplant and pour over them an additional 1/2 cup of olive oil. Sprinkle the onions with 1 teaspoon of the salt and a few grindings of black pepper. Scatter the chickpeas on top, and cover them with the tomatoes. Sprinkle with remaining 2 teaspoons of salt and a few grindings of pepper and pour in the water.
Bring the musakka'a to a boil on top of the stove, then bake in the lower third of the oven for 40 minutes, or until the vegetables are very tender.
Cool the musakka'a to room temperature and serve directly from the baking dish, accompanied by Arab bread:
http://foodsoftheworld.activeboards.net/khoubz-araby_topic4006.html