Moros y Cristianos
Black Beans and Rice
This recipe was chronicled in Time/Life's Foods of the World - The Cooking of the Caribbean Islands (1970) and comes from Cuba:
To serve 6 to 8:

1 cup dried black beans
9 to 10 cups water
4 tablespoons vegetable oil
1 ounce (1/4 cup) lean salt pork, cut into 1/4-inch dice
1/2 cup finely-chopped onions
1/4 cup finely-chopped green pepper
1 teaspoon finely-chopped garlic
1.5 cups uncooked long-grain white rice
1.5 teaspoons salt
Freshly-ground black pepper

In a large sieve or colander, wash the beans under running water until the draining water runs clear. Transfer them to a heavy 3- to 4-quart saucepan, pour in 7 cups if water, and bring to a boil over high heat. Reduce the heat to low and simmer, partially covered, for 2.5 to 3 hours, or until the beans are tender but still intact. When the beans are done, almost all of the cooking liquid should have cooked away; if the liquid seems to be evaporating too quickly, add more boiling water when necessary.

Drain the beans in a sieve or colander. Mash 2 tablespoons of them into a smooth paste with a mortar and pestle or in a small bowl with the back of a fork. Set the beans and bean paste aside.

In a heavy 10- to 12-inch skillet, heat the oil over moderate heat until a light haze forms above it. Fry the pork in the oil, turning the dice about with a spoon until they are crisp and brown and have rendered all their fat. Remove them from the pan with a slotted spoon and drain on paper towels.

Add the garlic, onions and green pepper to the fat in the skillet. Stirring frequently, cook for about 5 minutes, until the vegetables are soft but not brown. Watch carefully for any sign of burning, and regulate the heat accordingly. Stir in the bean paste, then add the beans and pork bits; reduce the heat to low and simmer uncovered for 10 minutes.

Return the entire contents of the skillet to the saucepan and add the rice, salt and 2 cups of water. Stirring constantly, bring to a boil over high heat. Reduce the heat to low, cover tightly, and simmer for about 20 minutes, until the rice is tender and all the liquid has been absorbed. Taste and season with salt and a few grindings of pepper. Serve at once.
Along with the Time/Life version, there are probably dozens of ways to make Caribbean black beans and rice; Andy gives us a great method here:
http://foodsoftheworld.activeboards.net/moros-y-cristianos-black-beans-and-rice_topic914.html
Basically, it's good, home-style comfort food, versatile according to what is available at the time, and always soothing, satisfying and filling. The funny thing is, even though it is a Caribbean dish, it sure is nice on a cold winter's day up in north-central Montana, as well!
Here's what you need to get going:
A few notes:
The recipe called for salt pork, but in my little one-horse town, bacon was the closest thing we had, so I used that; truth be told, any hunk of pork would probably do, from a chunk of salt pork to a ham bone.
Also, as you can see, I used canned beans for this preparation. This decision was for one reason and one reason only: because I decided only that morning to make this dish for the meal that we were having that evening! Otherwise, I most definitely would have used dried black beans, preparing them as the recipe instructs.
Finally, I'm not a fan of green peppers, but I used one in this go-round, since it was intended for a pictorial, and the results were pretty darn good!
After some very easy prep work:
I rinsed the beans thoroughly and mashed a few of them with my mortar and pestle, as described in the recipe: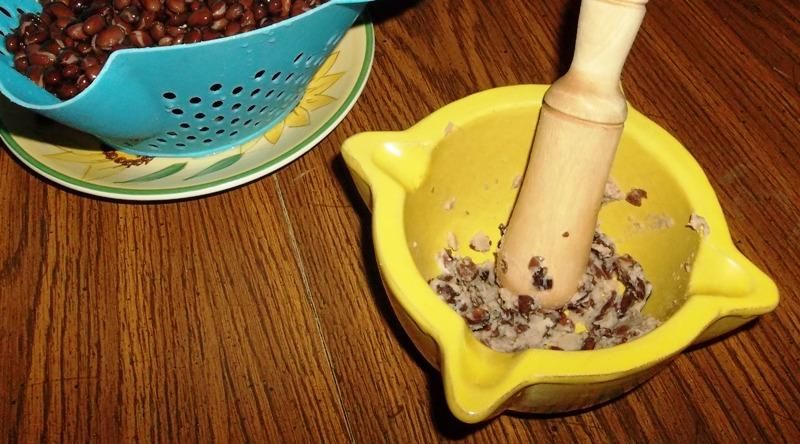 This will help later on, to thicken the sauce.
Next, I cooked the bacon on medium-to-low heat, in order to crisp it up and render out all as much fat as possible; when it was ready, I set it aside on a paper-towel-lined plate:
Using a modest amount of bacon left just enough rendered fat in the pan to get the onions and green pepper started:
After 7 or 10 minutes, when things were just starting to caramelise, I added the garlic for a couple of minutes, then the mashed-bean paste:
Once everything was fairly-well incorporated, I returned the bacon to the skillet, along with the beans:
That picture didn't turn out as nice as I would have liked; then I tried for a close-up:
Unfortunately, one side got a bit distorted from the steam and the flash, but hopefully you can see just how much goodness we were in for with this dish.
After letting all of these wonderful Caribbean flavours marry in the pan for about 10 minutes, I added the rice:
And the water: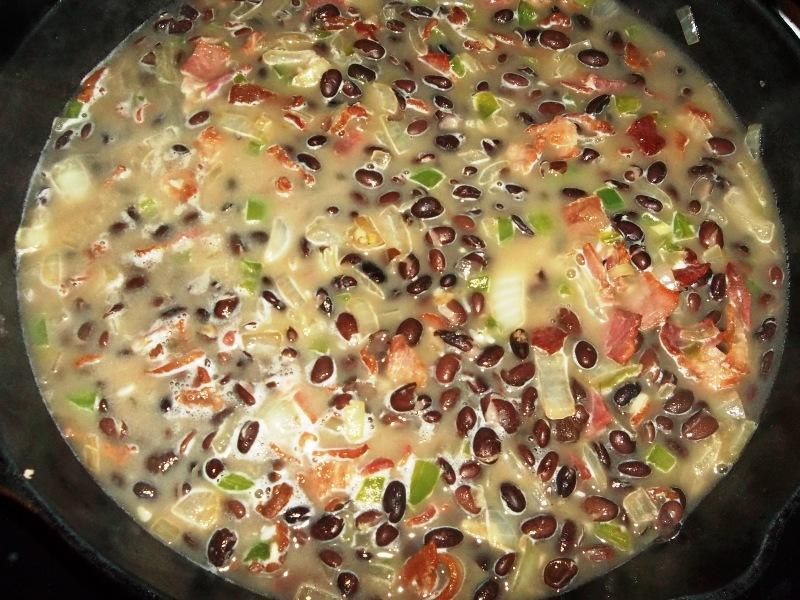 Note that if I would have started with dried beans, soaking them simmering them as the recipe describes, I would have used the bean-cooking water here, rather than plain, ol' tap water.
After that, I gave the whole mixture one gentle stir, then covered the skillet with its heavy, cast-iron lid and simmered for a little over 20 minutes.
When the beans were ready, I served them with some Cuban pork pernil:
We also served the meal with some freshly-baked banana bread:
http://foodsoftheworld.activeboards.net/banana-bread_topic3180.html
These beans tasted great, with all factors working together for perfect, soul-filled comfort food - just the ticket for a grey day in Montana, and I can only imagine how good they must be, served up at a beachside cafe in the Caribbean. They were a perfect, flavour-packed compliment for the exquisite pernil, and this is a combination that we will be revisiting again in the future!
Thanks for looking - if you want to give this dish a try, on its own or as part of a larger meal, you will not be disappointed. If you have any questions, please let me know.
Ron