Pernil Asado en el Estilo Cubano de Vilarchao
The Vilarchao Family Recipe for Cuban-Style Roasted Pork
When speaking of the Caribbean islands of Latin America, pernil - a beautiful and flavourful roasted pork shoulder - is synonymous with family, tradition and good times. I've made pernil before, as a prelude to preparing hot, pressed Cuban sandwiches:
http://foodsoftheworld.activeboards.net/sandwiches-cubanos_topic682.html
However, I never went all-out and prepared it in a traditional way as the centerpiece of a special meal; therefore, it is only fitting that my first true experience with this wonderful, time-honoured dish comes from an honest-to-goodness old family recipe. I'd like to thank Margi for sharing this recipe, and I sincerely hope that I paid proper respect to her friend's pernil.
Here's the recipe and some notes, submitted by Margi:
Margi wrote:

This recipe comes from my dear neighbor and friend, Maria Caridad Vilarchao, whose parents - hailing from Orense, in Spanish Galicia - were early 20th century Indianos, people who went to seek their fortunes abroad in the Americas; in this case, they settled in Havana, Cuba. Unfortunately, Castro confiscated all their belongings and businesses and thus, Maria, along with her mother, brother and sister, fled in 1960 to Miami Beach.

This is Maria's Pernil recipe:

1 head of garlic
2 tablespoons plus 1 teaspoon of kosher salt, divided
1.5 tablespoons of dried oregano
2 tablespoons of white wine vinegar
2 tablespoons of fresh lemon juice
1 tablespoon of freshly-ground black pepper
1 seven-pound bone-in pork shoulder (picnic) or blade roast (Boston butt), with skin on
Manteca de cerdo (rendered pork fat or lard)
Lime wedges, for serving

1) Mash the garlic to a paste with 2 tablespoons of kosher salt using a mortar and pestle, then add the oregano, vinegar, lemon juice, and 1 tablespoon of black pepper (freshly ground).

2) Pat the pork dry and, using a sharp small knife, cut a wide pocket at the large end of the roast to separate the skin from the fat, leaving the skin attached at the sides and stopping before roast narrows down to the bone.

Make deep, 1-inch slits in the pork under the skin and on all meaty sides, twisting the knife slightly to widen the openings, then push some of the garlic mixture into the slits with your fingers. Rub any remaining garlic mixture over the roast; not the skin.

Wipe the skin clean, then rub the skin with the remaining kosher salt in order to help it crisp when cooking. Transfer the pernil to a shallow ceramic or glass cazuela or casserole dish; cover, chill and marinate overnight for no less than 8 hours.

3) The next day - or eight hours later - put the pork skin-side up in a flame-proof roasting pan and discard any remaining marinade.

4) Allow the pork to rest for 1 hour at room temperature.

5) Pre-heat your oven to 350 degrees Fahrenheit.

6) Cover the pork with parchment paper, then seal tightly with foil and roast for 2.5 hours. Discard the foil and the parchment.

7) Add 1/2 cup water to pan (you can also use red or white wine, brandy or beer); rub the roast with manteca de cerdo, which will help to provide the crisp skin.

Return the pork to the oven and roast, uncovered, for about 2 hours longer, keeping a close eye on it until the skin is crisp and browned and the meat is fork tender.

8) Let the meat stand and rest while you pour the pan juices through a sieve into a fat separator or bowl; allow the fat to separate and then discard it or save for another project.

9) Add 3/4 cup of water (or other liquid) and the pan juices to the roasting pan and deglaze by boiling over medium-to-high heat, scraping up the brown bits and fond. After a minute or two, add more liquid if necessary, until you have roughly 1.5 cups of liquids total.

10) Cut the skin off the roast pork and cut it into pieces. If the skin is not yet crispy enough, rub with a little more manteca de cerdo and place it in the oven at 475 degrees Fahrenheit for up to 10 minutes, until it is crispy and takes on a deep, reddish-brown colour.

Slice (or pull with a fork) the pork into serving slices (or pieces). Serve the pernil with pan juices and a little pork skin along with appropriate side dishes, lime wedges and a fine Chilean Santa Dinga rosé or Sangria.
Now, reading the recipe and method above, it is easy to imagine just how good this can be - but why limit ourselves to reading about it, when we can watch it happen?
Here we go ~ starting with the ingredients for Maria's adobo mojado, which will provide the savory, aromatic and delicious profile for this meal:
Note: The olive oil shouldn't be in the picture, and I did not use it; I simply grabbed it without thinking, because it is part of a similar recipe that I have used before.
Another note: The tangerines and limes really didn't need to be in the photo, either. I did use the limes later on, cutting them into wedges and serving them with the meal; however, I wanted to provide a little bit of Caribbean atmosphere, and thought that an array of citrus fruits might help with that. Some recipes for adobo do indeed employ citrus juices for the acid component, but Maria's uses white wine vinegar along with lemon juice, so that is what I used.
I neglected to get any photos of the making of the adobo mojado, but it was very easy to do, following the instructions above; keep in mind that the odd teaspoon of salt needs to be reserved for later, when you rub it onto the pork skin before marinating over-night. If interested, you can see the adobo-making process very well here, where I provide instructions and photos for making a similar adobo with either a food processor or a mortar and pestle:
http://foodsoftheworld.activeboards.net/adobo-mojado_topic684.html
By far, the mortar-and-pestle method produces a superior adobo, in my opinion; but either method will indeed work just fine.
Next, I inserted the adobo into the pork roast. Normally, I cut all but a flap of skin away from the pork roast, fold the flap back, then cut slits in the roast and insert the adobo. Once this is done, I fold the flap back over the top of the roast. This time, however, I wanted to try it as described in Maria's recipe, so I did the opposite of what I normally do and opened up a "pocket" between the skin and the surface of the pork from the widest to the narrowest point, leaving the skin attached on three sides:
Once this was done, I went in underneath the skin, cut in the slits and inserted the adobo into the slits. This was a little tricky to do underneath the skin flap, especially near the attached end of the skin:
I ended up with some adobo spread along the top of the roast, but no worries; as you will see, the adobo would be protected by the skin as it cooks, and add its unique, assertive richness to the pernil.
Once I was finished with the top, I arranged the skin back down on top of the roast and wiped it fairly clean:
I then cut slits throughout the meaty portions of the sides of the roast and inserted adobo into those slits.
Finally, I placed the pork roast into my enameled cast-iron Dutch oven and rubbed the odd teaspoon of salt onto the skin: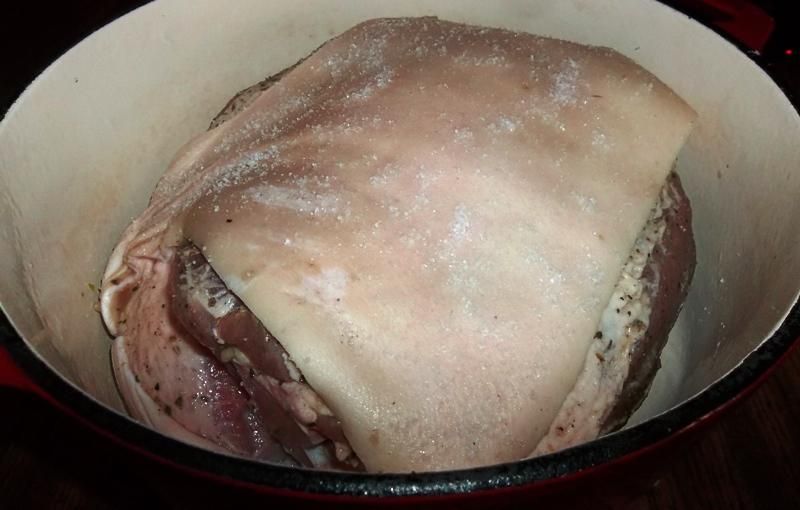 I then covered the roast and put it into the refrigerator to marinate over-night, allowing all of the flavours to marry and seep into each and every pore of the picnic shoulder.
Note: you want to marinate the roast 8 hours, or over-night at the very least; however, the longer the flavours work their way into the roast, the better. I have marinated pernil roasts for up to 3 days, and they only get better!
The next morning, I brought the roast out to rest and pre-heated the oven to 350 degrees so that I could get things started. There was only the tiniest bit of adobo left in the bottom of the Dutch oven; the rest was in the pork roast - where it belongs!
Once the pork was in the oven - covered by the heavy, cast-iron lid - I turned my attention to the busy day ahead of me, pondering the possible accompaniments for this meal; I finally decided on Moros y Cristianos:
http://foodsoftheworld.activeboards.net/moros-y-cristianos_topic3187.html
And banana bread:
http://foodsoftheworld.activeboards.net/banana-bread_topic3180.html
I chose to make each of these from scratch, for the first time ever, and had a great time doing it. You can click the links above to see the evolution of those dishes, if you wish.
Luckily, I was able to do most of the work for the side dishes as the pernil roasted in the oven. During the morning - and all throughout the day - the aromas coming from the kitchen were really and truly wonderful, and I can think of no adequate way to describe them. I can assure you, however, that if you try this recipe, you will fall in love with it, if for no other reason than the way it smells. Strange as it may seem, even though there were only 2 tablespoons of lemon juice in the marinade, the citrus really came through in the aroma, melding perfectly with the oregano, garlic and other ingredients to provide an inspirational symphony of love.
After 2.5 hours, I removed the roast from the oven and took a look at what I was making:
This second picture is rather redundant, but I couldn't bring myself to discard it; besides, it shows the beautiful, savory pan juices to advantage, so here you go:
At this point, a little bit of braising liquid is added to the pan in order to keep it moist and prevent the pan juices from burning. I had agonised a bit over what to use; as you can read in the recipe, there are many choices, ranging from simple water, to wine, even to brandy, if you prefer. I finally settled on beer, which I thought would lend the best Cuban and Caribbean flair.
But which beer, you ask?
Well, that's a good question - Let's rewind a little; back to a point earlier that morning....
I live in north-central Montana, which is almost as far away from the Caribbean as can be, both in terms of distance and climate; consequently, it can be difficult to get some products that would be at home in the tropics. A lot of beer drinking goes on in my little town, but strangely, the beer selection is pretty thin, and I don't have too many Latin-themed beers available. My first instinct was to get some Jamaican Red Stripe, but that would have been a 25-mile drive. Corona might have been an option, but it seemed to me that it would be too "expected." Dos Equis, perhaps; but - once again - it was 25 miles away....
I was at a loss, wanting to come up with something appropriate, yet unique; I went to the local grocery, resigned to the fact that I'd probably be using Bud Light or Old Milwaukee, which would be fine, but no fun.
So imagine my surprise and delight when, as I walked the aisles collecting ingredients for the Moros y Cristianos, I spied this:


http://www.landsharklager.com/default.aspx
And - even better - it was on sale!
It looked Caribbean to me, and seemed like a fun choice, so I grabbed a six-pack and brought it home.
Fast forward to where we were earlier, and here we are, with a bottle of beer added to the Dutch oven:
As you can also see, I rubbed on some manteca de cerdo onto the skin, in order to give it that stunning, deep-mahogany, crispy finish when it is done....
Okay, it wasn't true lard, or even home-rendered lard; however, it was carefully rendered and reserved bacon fat - and to me, that might even be a little better than lard! As you can see above, this beautiful stuff cut a pretty picture as it melted onto the surface of the skin, glistening with rich, shiny promise.
Following Maria's recipe, I returned the pernil to the oven, uncovered, allowing it to roast approximately 2 hours longer, maybe a little less, until a knife slipped effortlessly into the pork and the skin was crispy and had taken on that deep, rich, beautiful and indescribable colour: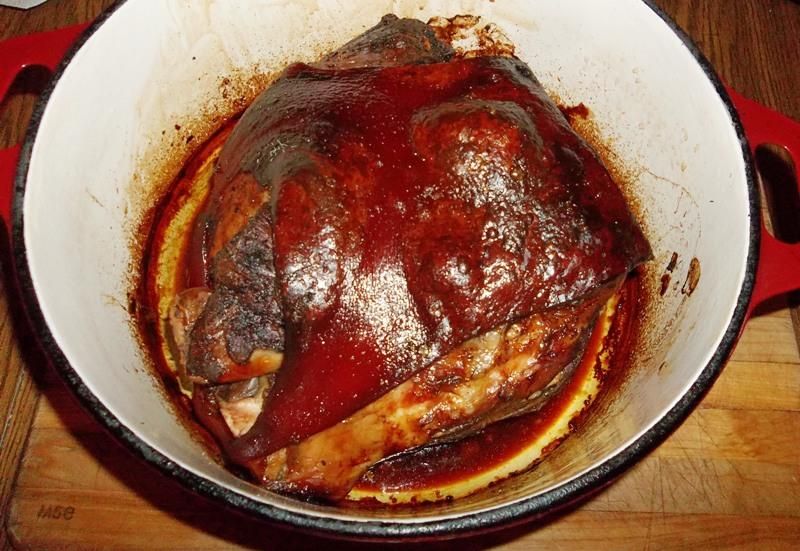 Yeah, take another look at that, and tell me you don't want to try it:
And just so that we have all the angles covered, here's another view:
As you can see, the fat from the roast is completely rendered, leaving behind nothing but beautiful, loving pork, wonderfully flavoured and smelling like a million dollars, thanks to Maria's adobo mojado. The mahogany-coloured, caramelised, crispy skin on top is a crowning glory, ready for eager family members to fight over it at the dinner table. It is easy to see why such a dish would be a Christmas tradition on the Latin islands of the Caribbean; in fact, the Christmas spirit even got to me, as I placed the pernil on this platter for carving:
While the pernil rested, drawing its savory juices back into itself, I turned my attention to the liquids left in the pan: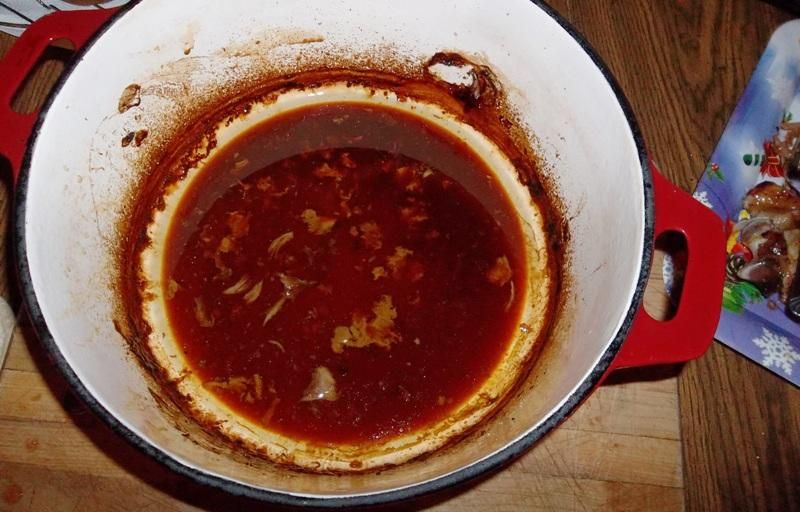 Following the recipe, I de-fatted the juices, adding the rendered, adobo-infused fat to the rendered bacon fat I had previously saved. I then returned the juices to the Dutch oven and and added some more beer; I used a full bottle of beer for this, and it seemed to be just enough as I heated the Dutch oven on the stove top, scraping the brown bits with a wooden spatula and de-glazing the bottom. I then simmered the mixture down to a perfect, rich, almost-but-not-quite-thick jus, full of savory, rich flavour and enhanced by the naturally-occurring gelatin in the pan juices....
Unfortunately, I was too excited about all of this to get a picture of the process, so you'll just have to imagine the beauty this treasure until I make this again and can add some photos...or - even better - you need to make this and see for yourself!
While this fat-free-yet-absolutely-decadent liquid gold simmered, my son removed the layer of skin and cut it into bite-sized pieces for serving: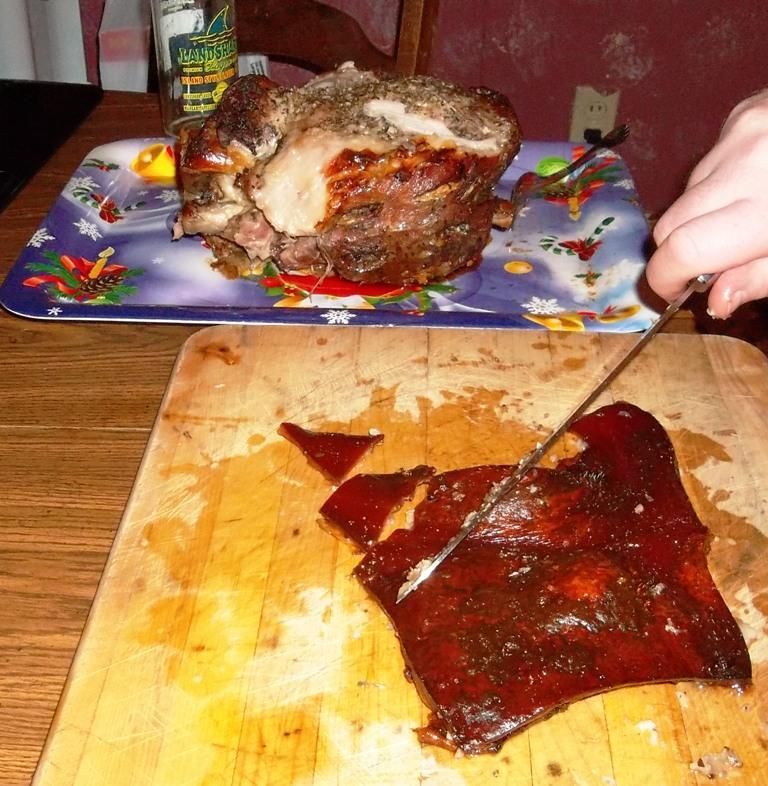 As advertised, it was crispy, crunchy, and eager to offer some cracklin' pleasure; the true highlight of a pernil meal.
Unable to suffer that amazing aroma any longer, I served the pernil with the black beans and rice - and of course the freshly-baked banana bread:
I didn't get too much time for photos, because the sight and smell was driving everyone crazy, but I managed to get one more here before the plate was snatched away:
I am happy to report complete success with the pernil - I can't think of anything that is so easy to make, yet packing so much flavour and happiness onto a plate. The pork was perfectly juicy and fork-tender, with each and every single ingredient in the adobo providing either a brick or some mortar with which to build a wonderful home of flavour. The Moros y Cristianos were excellent as well, especially when drizzled with that beautiful, reduced sauce of pan juices; a word to the wise: when it comes to a great braising liquid for pernil, beer is definitely the way to go! Finally, the banana bread, one of the best I've ever eaten, provided a great component, with its sweet, buttery, banana-packed flavour emphasising the savoriness of the pernil - a nearly-perfect compliment that fit the Cuban profile very well, in my opinion.
There was only one minor error, which was the fault of my execution and not the recipe ~ I could not get kosher salt in my little town, so I ended up using sea salt instead; the problem is - all things being equal - sea salt seems to be denser (and hence more salty-tasting) than kosher salt, and I forgot to reduce the amount to compensate. Because of this, the pernil was a little salty for a couple of family members; on the other hand, it tasted just about perfect to me, so it is probably a matter of taste. Be sure to use kosher salt when you make this or - if you use sea salt - reduce the amount by perhaps a third, and then adjust according to taste if necessary as you are simmering the jus during the final stage. In any case, as I said, this was my error, and the recipe is pretty much golden as-written!
My sincere thanks goes out to Margi for sharing this treasured recipe from her friend, and my deep appreciation is extended to the Vilarchao family for this truly wonderful and heart-felt Cuban treasure. I can't emphasise enough how good this is, and I really would urge any and all to try this, as it really must be smelled and tasted to be adequately appreciated. The recipe and photos above should provide easy, clear instruction; however, if anyone has any questions at all, please ask.
Thank you for looking, and of you do try this, please share your experiences ~
Ron